Austrian Business Cycle Theory
The six main steps of the business cycle can be seen in my flowchart below.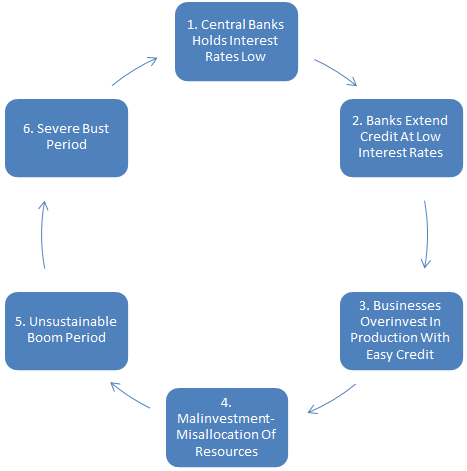 1. The first step to understanding an economic bust is knowledge of central bank policy prior to the bust period. The actions that explain the entire cycle are interventions undertaken by the central bank. For this example, we'll use the fictitious island of Senyek. In the fictitious land of Senyek, central bank policy maker Eknanreb chooses to fix interest rates at near .1% to stimulate economic growth. Eknanreb can hold interest rates near .1% through an incredible inflation of the monetary supply.
2. Eknanreb's actions bring us to the second phase of the cycle, actions taken by banks in response to central bank policy. As the monetary supply increases rapidly under Eknanreb's direction, more funds are able to be lent out. As more funds are able to be lent out, banks incentivize taking on a loan by offering a low interest rate.
3. Once banks offer credit at low interest rates, businesses respond to the market signal and start to take on debt. Businesses then overinvest in projects with easy credit. The fundamental problem exists in that the credit offered at low interest rates by banks is not a real market signal. Sure, it's a market signal in that it provokes another action, however, the origination of the market signal is inherently fake. In a free market, low interest rates arrive as a result of decisions made by market participants. For example, interest rates naturally reach low levels if market participants choose to save instead of borrow. As market participants stop borrowing and start saving, banks respond by lowering interest rates to incentivize borrowing. Decisions made by banks to lower interest rates in response to market signals from other market participants create real market signals as the signals represent actions of other market participants. Decisions made by banks to lower interest rates in response to policy directives from a central bank create false market signals, as the signals fail to come from the market.
4/5/6. The next phases of the cycle can be explained by malinvestment. Malinvestment, the misallocation of resources, occurs once businesses have over-invested in projects with easy credit. A great way to explain malinvestment comes from Mises's Human Action. Mises uses the example of a master builder who planned to build a large house. The builder, unaware that he doesn't have enough bricks to complete the house, continues to build a house he can't complete. The building of the house creates a great economic boom, and everyone involved in the project is thrilled. Once the builder reaches the last brick, he realizes what has happened, and the project comes to a grinding halt and an economic bust ensues. This example does a great job explaining what is happening on the island of Senyek. On Senyek, businesses are unaware of the false market signals driving their malinvestment. Likewise, the builder is unaware his great house has too few bricks. The builder has been fooled into allocating resources into building a giant house while Senyek businesses have been fooled into investing in projects derived from an artificial market signal. At last, the unsustainable boom period fueled by easy credit and fake market signals leads to a severe bust period. If only someone told the builder that he had too few bricks earlier, the fallout of the bust would be less severe. Likewise, if the central bank hadn't created an artificial market signal, the economic bust period would be less severe.
Applying Austrian Business Cycle Theory
In the U.S., the Federal Reserve buys $65B worth of bonds every month. In accordance with the Austrian School, this fake stimulation is currently fueling malinvestment and overconsumption. Once the "Fed" completes the "taper" of Quantitative Easing, the current bond buying program, the master builder will realize the market signals he received were false, and his house will crumble. Likewise, the next catastrophe in the U.S. is not too far in the future. Actions taken by the Federal Reserve in response to the Great Recession have fueled a boom period characterized by overconsumption, and a severe bust will follow.
Disclosure: Lionfin Capital is a group of investors. I have no positions in any stocks mentioned, and no plans to initiate any positions within the next 72 hours. I wrote this article myself, and it expresses my own opinions. I am not receiving compensation for it (other than from Seeking Alpha). I have no business relationship with any company whose stock is mentioned in this article.