by Nick Hodge
Three weeks ago, I wrote to you about Goldman's upgrading of the solar sector. I concluded by saying that my top pick was the same as Goldman's: JA Solar (NASDAQ: JASO). It was trading for $4.64 that day.
Today?
If you'd have taken my advice, you could be sitting on a 33% gain in the same time the Dow dropped another 5%:
Click to enlarge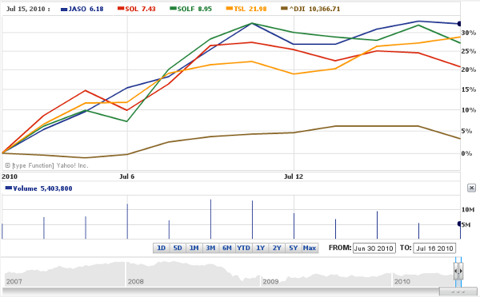 But not to worry, solar stocks are going to deliver plenty more returns this year... if you know how to play them.
Banking on solar
To recap, here are the bullish points Goldman offered about the solar sector:
benefits from large-scale projects ultimately overwhelming near-term challenges and accelerating the transition from subsidized markets towards parity

widespread grid parity as early as 2012

higher-than-expected demand and price declines will deliver stable returns even without subsidies
I noted that companies have to reduce costs, foster customer relationships, and enter new markets as solar becomes increasingly commoditized. And last week, another bank validated my assertions.
According to research put out by Jefferies analyst Jesses Pichel, "brand positioning and cost structure will determine solar company profits and valuation in 2011."But that was only part of what the bank had to say...
It also noted that 2010 industry volumes should reach 12.9 GW — up about 80% from last year, with 100%-plus growth in Germany and 47% growth in the rest of the world. And Reuters reported yesterday that solar is in for healthy second quarter earnings reports, adding that "several companies including First Solar (NASDAQ: FSLR) have said they sold out all their production for 2010."
But they won't all be winners...
Even though Jeffries placed buy ratings on Trina Solar (NYSE: TSL), Yingli Green (NYSE: YGE), and JA Solar (NASDAQL: JASO), it noted that solar will be a stock pickers' game in late 2010 and 2011.
It advised waiting for "a better entry point" even on top picks while downgrading both SunPower (NASDAQ: SPWRA) and MEMC (NYSE: WFR).
A better entry point
As you can see in the chart above, solar stocks have been trending higher for the past month — high enough that I wouldn't risk buying just yet.
Germany, Italy, Spain, and a few other European solar markets are in the midst of changes to solar subsidy schemes. Jefferies notes that demand for solar is high this year as companies race to complete projects before subsidies expire. The demand case for 2011 isn't as clear.
Nonetheless, the frenzy of solar buying this year is going to make for some surprise earnings reports to the upside. Solar earnings season kicks off in earnest the first week of August. You'll want to be buying the dips of solid solar companies in anticipation of good earnings.
Disclosure: No positions