My previous Netflix (NASDAQ:NFLX) article was almost spot on in predicting Q1 numbers for Netflix. This article provides an updated outlook for Netflix for the remainder of the year, after updating my model with this quarter's numbers.
Netflix reports "contribution profit" by segment and I've made a chart per subscriber by those segments - DVD, Domestic Streaming and International Streaming:
Based on this chart, we can see that the DVD segment performance is essentially flat, the domestic streaming is slowly rising and I expect the international segment to reach break even sometime this year, most likely Q3.
If we take Netflix's revenue and earnings numbers and calculate them per subscriber we see that Netflix has been doing a fantastic job of increasing profits even as revenue declines per subscriber.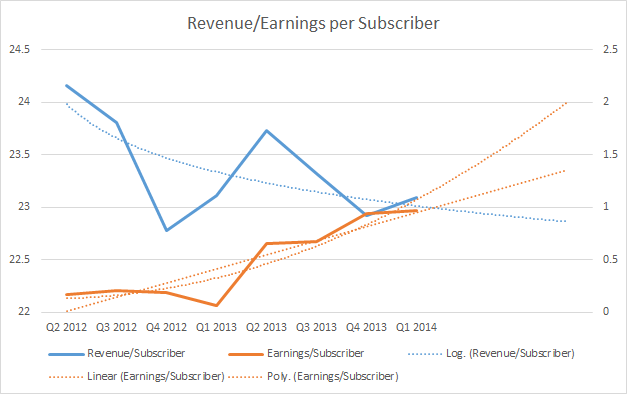 The revenue decline per subscriber is mostly from the shift to streaming from DVD as evidenced from the subscriber growth: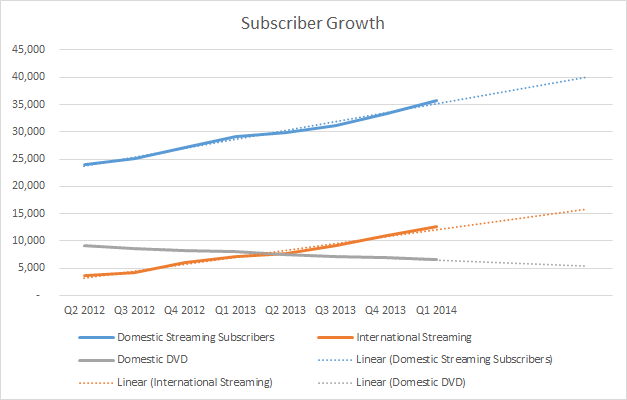 There have been opponents to my linear subscriber growth model for Netflix, thanks to estimates of total broadband subscribers in the US and possible Netflix penetration. However, Netflix has consistently proved doubters wrong and continued their linear growth. I expect nothing to change for the foreseeable future.
For Q2 Guidance, Netflix provided EPS of $1.12 and Net Income of $69 million, higher than my original Q2 estimates of $1.09 and $68 million. Reading the guidance, this is from higher than expected reductions of losses in the International segment.
Here is an estimate of Netflix Share count (in thousands) based on past dilution:
| | | | | |
| --- | --- | --- | --- | --- |
| | Q1 2014 | Q2 2014 | Q3 2014 | Q4 2014 |
| Netflix Share Count | 61,548 (actual) | 62,195 | 62,649 | 63,102 |
I expect that earnings will grow somewhere between the two trendlines in the "Revenue/Earnings per Subscriber" chart above. This is a revision from my previous model, updated upwards thanks to Netflix's upbeat guidance. Here are my estimates going forward:
Q1 2014
Actual
(Estimate)

Q2 2014
Estimate
(Guidance)

Q3 2014
Q4 2014
FY 2014
Revenue
1,270,089 (1,271,845)
1,292,416
1,347,550
1,402,746
5,312,802
Earnings
53,115 (53,806)

71,153
(69,000)

89,116
109,772
323,156
EPS

0.86
(0.87)

1.14
(1.12)
1.42
1.74
5.16
Netflix also announced that will raise pricing for new customers around the end of June. This might have a slight impact with increased customer growth at the end of Q2 but the full effect will only be felt by Q3 and I will update this model when Netflix reports Q2 earnings and we have more details on the new pricing.
Netflix had FY13 EPS of $1.85, so the growth is tremendous and Netflix has made great progress in reducing losses internationally. I have only one gripe with Netflix - they are consistently working to slow down the very profitable DVD segment. Going to the main Netflix website, you wouldn't even know that the DVD business exists. Plus, I had a hard time signing back on the DVD plan when I cancelled it while I was on vacation. The website constantly redirected me to the streaming part.
But my gripe aside, based on my model, the future looks bright for Netflix with even more original content coming soon, including their partnership with Disney (NYSE:DIS). Here is what Netflix has to say about their growth:
"We are approaching 50 million global members, but that is far short of HBO's 130 million. We are eager to close the gap."
Note: All charts are my own based on numbers reported by Netflix.
Disclosure: I have no positions in any stocks mentioned, and no plans to initiate any positions within the next 72 hours. I wrote this article myself, and it expresses my own opinions. I am not receiving compensation for it (other than from Seeking Alpha). I have no business relationship with any company whose stock is mentioned in this article.