When dividend investors look for new stocks to add to their portfolio, valuations can often get put on the back burner in favor of dividend yield and growth. However, capital appreciation and dividend yield are attainable if you can buy quality undervalued dividend paying stocks. In this article, I'll cover Ford (NYSE:F) and Apple (NASDAQ:AAPL) and show why they are undervalued with little downside while offering attractive and increasing dividend yields.
| | | | | |
| --- | --- | --- | --- | --- |
| | Market Cap. | P/E (TTM) | Fwd. P/E | Dividend Yield |
| Ford | $ 63.4 | 9.1 | 12 | 3.1% |
| Apple | $ 471.9 | 13.1 | 12.1 | 2.3% |
Ford
While Ford had disappointing January and February sales due to the abnormally cold winter, the company has seen pockets of strength in the first quarter as well as the highest sales in the month of March in eight years. January and February total vehicle sales were down 7% and 6%, respectively. However, areas of strength during this difficult sales period were sales of the Lincoln and F-150 as well as an increasing presence in China, Europe and India.
Lincoln sales, and in particular Lincoln MKZ sales, were up high double digits over the first quarter from last year. During the last 6 months, Lincoln sales have increased 27% with 43,445 vehicles sold. Ford's most profitable and popular vehicle is the F-series. The F-series had its best February sales in eight years and surpassed the 70,000 vehicle sales mark in March with 70,940 trucks sold. The F-series has only passed the monthly 70,000 truck mark 4 times in the company's history. This will be significant for earnings, since the F-series has one of the highest profit margins for the company.
Ford's push into China may be the bright spot for the company this quarter as sales increased 45% and total monthly sales topped 100,000 for the first time in March with 103,815 vehicles sold. Ford's international strategy is not only paying off in China, but also in India and Europe where sales continues to increase and the company is gaining market share.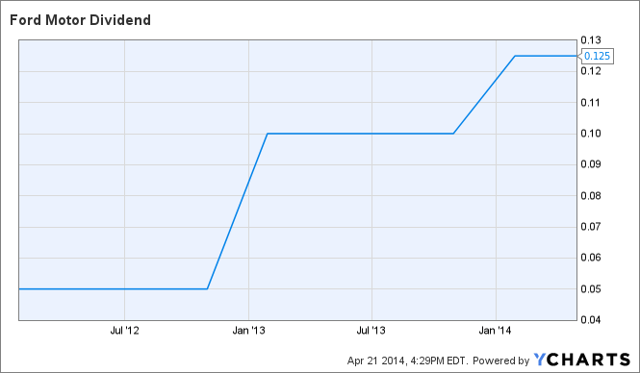 Since Ford reinstated its dividend payment in 2012, the company has raised its dividend 75%. The company now pays a quarterly dividend of $0.125/share or roughly 3.1%. While the dividend makes the company attractive, the real value in Ford comes from the capital appreciation potential. The stock is trading at low multiples and is trading at a discount to competitors. The auto industry averages a P/E just over 12 compared to Ford's P/E of 9.1. Look at the chart below, the company is trading below its yearly average which signals the company is undervalued and has good downside protection.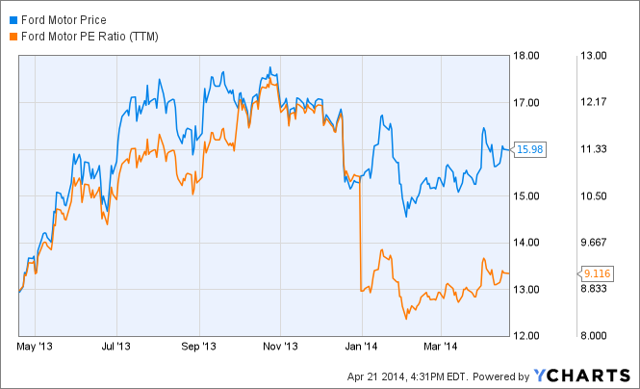 It will be interesting to see how the market reacts to Ford's nearly 3% decline in first quarter vehicles sales due to the abnormally cold winter. The company's strong sales for the month of March and continued growth in China and Europe will help the company going forward. Taking a long-term view, 2 bad months due to weather related issues should have no influence on investors. The stock remains undervalued when taking into account its strong international growth and continued success of the F-series, one of its most profitable vehicles.
Apple
Apple generally isn't thought of as a dividend stock, but the company reinstated a quarterly dividend in Q3 2012 after a 7 year break. In April 2013, the company increased its quarterly dividend by 15% to $3.15/share. It's been 1 year since a dividend increase, making Wednesday's earnings release the optimum time to do so. The company has incredibly high free cash flow and over $158 billion in total cash, making a dividend increase easy to sustain and likely to happen. Even being conservative, another 15% dividend increase would push the quarterly dividend to $3.50/share and bump up the dividend yield to approximately 2.6%.
Over the past year and a half the stock has lagged the S&P 500 as analysts and investors begin to view the stock as a value play rather than a growth stock. So then how is the stock undervalued? Over the past 12 months the company has spent over $40 billion on share buybacks. By being opportunistic with share buybacks, the company has installed a virtual floor in the stock.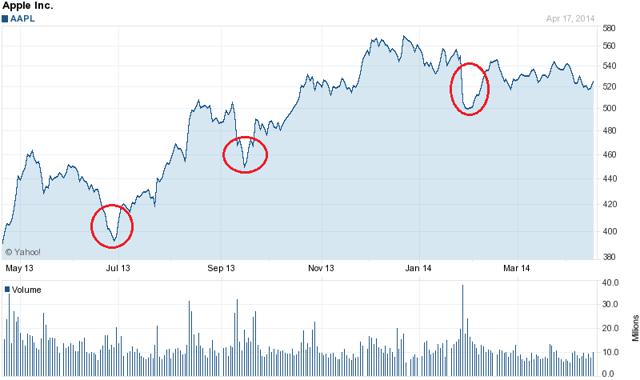 Apple CEO, Tim Cook, says Apple will be aggressive and opportunistic with their share buybacks. Every sharp drop in share price has been met with a sharp increase in price within a small time frame. One of the big reasons for this is Apple's flexibility and commitment to buying back shares at levels they believe to be attractive. The clearest picture we have into this was after Apple's disappointing earnings release in January 2014, resulting in an 8% decrease in share price. After this drop, the company spent $14 billion in buybacks over a two week period. This resulted in a bottoming of the share price and a bounce back up to levels near the pre-earnings release.
Potential investors can look at this in 1 of 2 ways. First, investors can feel confident in buying into Apple at current levels because they know that if Apple sees a rapid decline in share price, the company will come in and repurchase huge blocks of stock and the price will appreciate. Second, investors may want to wait for a decline in price and wait for the company to flex its muscle and move the price back up to levels where the company doesn't view the stock as undervalued.
With the company revamping its product lines this year with a fourth-generation of Apple TV, iWatch, iPhone 6, sixth-generation iPad and possibly third-generation iPad mini, the company will grow earnings going forward. The stock is trading at historically low levels, which creates a buying opportunity.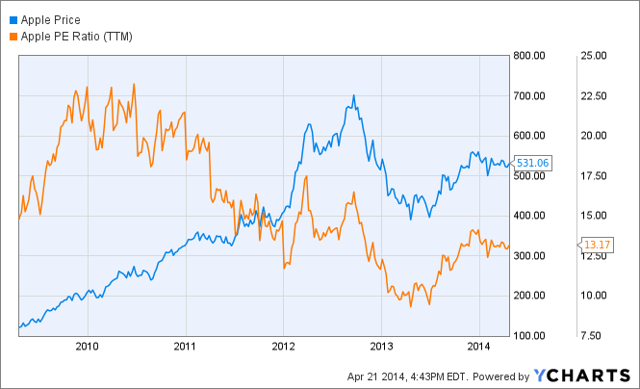 Dividend investors may be new to Apple, but with a massive share buyback program creating floors in the stock price and a potential upcoming dividend increase, the stock holds little downside and strong capital appreciation potential once the company begins its 2014 product launch.
Conclusion
Ford and Apple are 2 stocks that pay decent dividend yields and are currently undervalued in the market, creating the potential for capital appreciation. Holding dividend stocks with growth potential in a dividend portfolio can add an additional element of income for investors. By buying undervalued stocks, dividend investors can attain a higher dividend yield as well as enjoy profits from capital gains. Too often dividend investors will focus exclusively on dividend payments and will ignore valuations because they intend to hold the stock indefinitely. This, however, misses a key opportunity to enhance your portfolio's return through capital gains.
Disclosure: I have no positions in any stocks mentioned, but may initiate a long position in F over the next 72 hours. I wrote this article myself, and it expresses my own opinions. I am not receiving compensation for it (other than from Seeking Alpha). I have no business relationship with any company whose stock is mentioned in this article.