Volcanoes, Not Just El Nino Will Impact Global Weather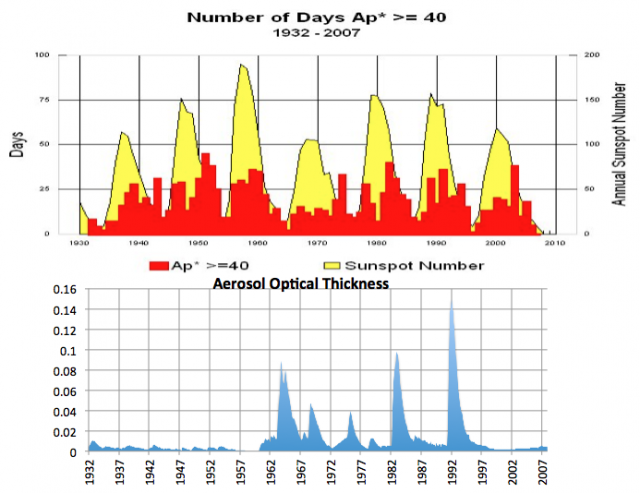 I have fielded a bunch of questions with respect to what implications the recent earthquakes in Chile and volcanic activity in Indonesia and in northern latitudes, might suggest for global crops and especially to U.S. temperatures and the natural gas market. Volcanic eruptions could increase earthquakes in certain parts of the world and copper traders are paying close attention to seismic activity in Chile (world's #1 copper exporter).
This past winter, the combination of warming in the eastern Pacific, low geomagnetic and solar activity and volcanic eruptions in the northern latitudes, all contributed to the 50% rise in natural gas prices and the near record cold, snowy U.S. winter.
First of all, with respect to natural gas (NYSEARCA:UNG), I am still of the opinion, that the early March "wash-out" of speculators by hedge funds and commercial hedgers, was healthy for the market. Natural gas stocks are extremely tenuous and it will take a consistently cool summer to bring stocks back to a comfortable level next fall-winter.
The diagram above portrays a relationship between what we call geomagnetic activity (AP--red) above the earth's surface, sunspot activity and volcanic aerosols.
Briefly, history seems to show that when we have low solar activity, combined with low geomagnetic activity here on earth, that global volcanic eruptions tend to increase. While the top chart has not be updated since 2010, in the years ahead, an expected decline in solar activity and historically lower geomagnetic activity, may portend a trend in colder winters in the northern hemisphere. While again, I a firm believer in climate change and global warming, this scenario described above, could throw off enough stratospheric aerosols to potentially at least "slow down" the acceleration in warming. This does not suggest that the earth is going to heal itself from environmental catastrophes! I think part of the Brazilian drought had to do with the increase in deforestation; something very few news services have ever even discussed.
Volcanoes in the northern latitudes have different global ramifications than those spawned over the tropics. For instance, El Nino phenomena's tend to occur more frequently with southern latitude eruptions, while northern volcanoes (if strong enough) can block out enough sunlight to contribute to colder U.S. and/or European winters. Stay tuned
Coffee Prices Soar, While Traders Watch Midwest Corn Planting Weather
The big weather market of late continues to be in coffee (NYSEARCA:JO), in which we alerted our clients about 2-3 weeks ago, that the Brazilian coffee crop may fall below 46 million bags and that pre El Nino conditions may actually mean heavy rains that would hinder the maturation of coffee beans and the early harvest, in Brazil. In one of the most volatile commodity markets in months, prices for JO may still have another 10% upside in coming weeks, particularly if crop estimates keeping coming down in Brazil. The way I have advocated trading this market has been with options. Then the question becomes for later this year, whether El Nino will nip crops in Central America, Columbia, Brazil and Vietnam later this year? If so, prices would reach $3.00 before or by 2015.
The drought in Brazil has also cut the orange crop. This development, in combination with citrus greening in Florida and the smallest orange crop in at least 28 years, if off-setting poor demand in the OJ market; otherwise, prices for juice would be over $2.00 /lb.
SOURCE OF MAP: STORMVISTA
The blue area you see represents above normal rainfall in key Brazilian coffee areas, well into early May. While drought conditions have been easing, and a few weeks ago resulted in a "psychological" sell-off in coffee, it offered a great buying opportunity on the reality, that rains were too little, too late. Now rains could further aggravate the Brazil harvest.
Other than global wheat weather and the Ukraine situation, that traders are watching very closely, the next potential concern in the ag markets, will be the possibility of early planting delays for corn. The weather pattern for late April and May will turn wet, cool and muddy for many states such as Iowa, and while summer grain weather could be bearish, it would not take much to excite corn traders (NYSEARCA:CORN) in the weeks ahead if wet weather continues.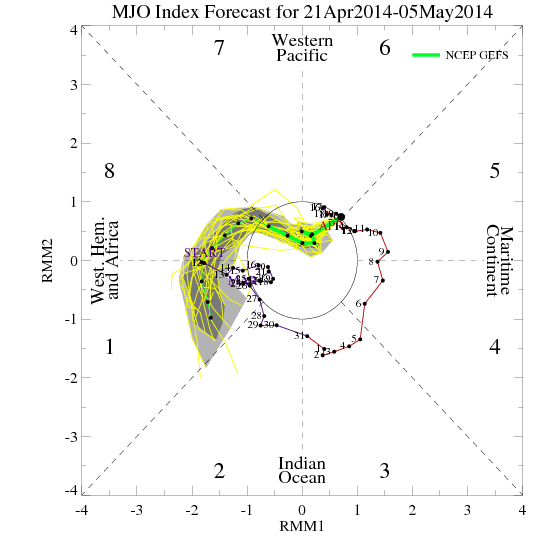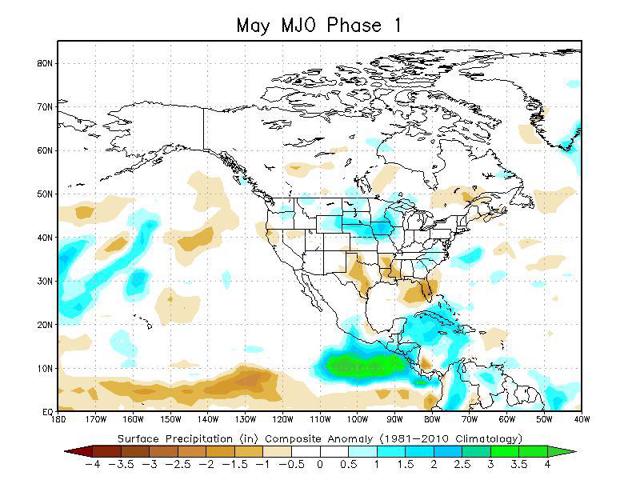 Source of Maps (CWG)
The two maps above show the MJO phase projections and associated rainfall into early May. The blue (2nd map) represents above normal rainfall in at least Iowa that will likely slow corn planting into early May. If this continues, we may begin to see some of the corn-soybean spread reverse in coming days/weeks. It may take an historical 1993 flood type situation to create a major bull market in new crop corn and soybeans; but nevertheless, traders will be looking for direction from the weather
Disclosure: I have no positions in any stocks mentioned, and no plans to initiate any positions within the next 72 hours. I wrote this article myself, and it expresses my own opinions. I am not receiving compensation for it (other than from Seeking Alpha). I have no business relationship with any company whose stock is mentioned in this article.