The yield on the 10-Year note remains within the range of my annual pivot at 2.999 and my annual risky level at 2.813. Gold bounces off $1175 after strength last week failed just below my semiannual pivot at $1218.7. Crude oil continues to yoyo around my annual pivot at $77.05. The euro is finding a barrier at 1.30. A daily close below my weekly pivot at 10,019 would be a problem for stocks. More troubling housing and employment data! If you are in NYC on Monday, August 9th come to my presentation at Bloomberg Headquarters at 5:30 PM.
10-Year Note – (2.937) My weekly value level is 3.013 with my annual pivot at 2.999 and annual risky level at 2.813. Semiannual and quarterly value levels are 3.479 and 3.486 with quarterly and semiannual risky levels at 2.495 and 2.249. The low yield for the move was 2.879 set on July 1st, and was a failed test of my 2.999 and 2.813 annual risky levels.
click to enlarge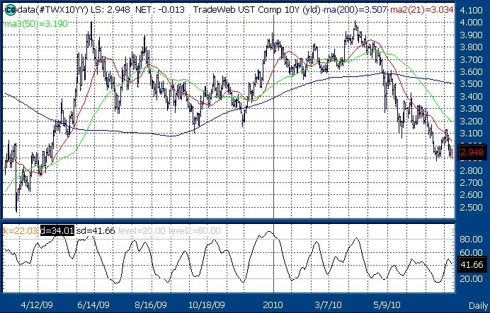 Courtesy of Thomson / Reuters
Comex Gold – ($1192.0) My quarterly and annual value levels are $1140.9 and $1115.2 with daily and semiannual pivots at $1201.0 and $1218.7, and semiannual, weekly and monthly risky levels at $1260.8, $1264.3 and $1279.3. The all time high of $1266.5 set on June 21st was a test of June's monthly resistance, as a significant top for gold.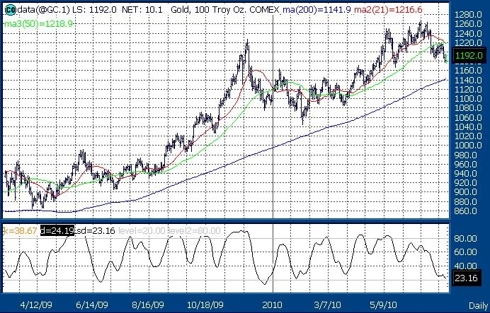 Courtesy of Thomson / Reuters
Nymex Crude Oil – ($77.44) Still influenced by my annual pivot at $77.05 with monthly, and weekly risky levels at $79.36 and $79.87. My quarterly value level is $56.63 with semiannual risky level at $83.94.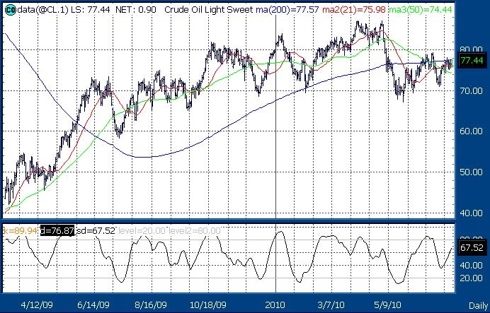 Courtesy of Thomson / Reuters
The Euro – (1.2884) My weekly value level is 1.2366 with a daily pivot at 1.2914, and the 200-day simple moving average at 1.3664. Monthly and quarterly value levels are 1.2035 and 1.1424 with semiannual risky level at 1.4733. Beware of a potential key reversal.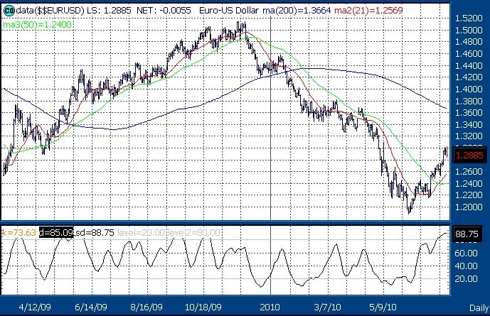 Courtesy of Thomson / Reuters
Daily Dow: (10,154) This week's pivot is 10,019 with daily and annual pivots at 10,353 and 10,379, and semiannual and monthly risky levels at 10,558 and 10,891. My quarterly value level is 7,812 with my annual risky level at 11,235, which was tested at the April 26th high at 11,258. This test marked the end of the bear market rally that began in March 2009. We are in the second leg of the multi-year bear market that began in October 2007 targeting 8,500 before 11,500. My zone of weekly pivots for the Major equity averages have been magnets: 10,019 Dow, 1061.3 SPX, 2193 NASDAQ, 4163 Transports, and 618.68 Russell 2000.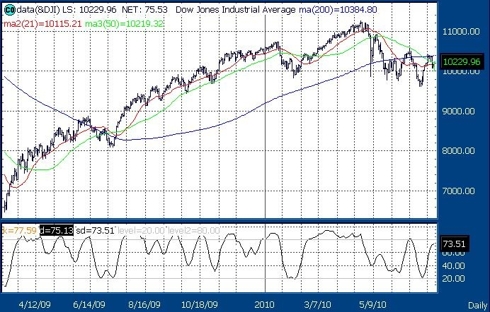 Courtesy of Thomson / Reuters
More Tough News for Housing - Housing Starts fell 5% in June led by a 21.5% decline in multifamily units started. Single-family housing starts were about unchanged for the month at an annual rate of 454,000 units. Total production was at a 549,000 annual rate. This was actually followed by a decline in the National Association of Home Builders Housing Market Index, which fell to 14 from 16 in July. It was an opposite story for building permits, which rose 2.1% in June with permits for single-family homes down 3.4%. The bottom line is housing activity continues to suffer.
The Obama Housing Program Loses Participants - The Obama Administration's program to help homeowners refinance to a more affordable mortgage program has hit a snag. Last month 530,000 mortgage borrowers dropped out of the program, which is more than 40% of the nearly 1.3 million who enrolled since March 2009. This is a clear sign that another wave of foreclosures are on the horizon. The game changer seems to be that homeowners dropped out rather than provide proof of income, which is a direct link between having a job and owning a home. Borrowers complain about paperwork snafus saying that banks lost documentation. Many who get proposals for modifications from their bank say thanks but no thanks; I still can't afford that monthly payment. To show how ineffective the program has been the Government Accountability Office indicates that through mid-May only $132 million incentive money has been given to more than 100 participating mortgage companies out of the potential $75 billion allocated to the program.
Mixed Readings for Unemployment - The Unemployment Rate declined in 39 states in June because more people left the workforce unable to find a job. In June only 21 states saw actual job gains compared to 41 in May. Businesses remain reluctant to hire even as the national unemployment rate fell to 9.5% from 9.7% as 650,000 potential workers left the labor force.
Disclosure: No positions