(Editors' Note: AGTech trades on the Hong Kong Stock Exchange, symbol 8279, with average daily volume of HK$29 million.)
The Chinese lottery market is currently undergoing massive structural change. The primary driving force behind this is explainable: greed. As of 2013 the total annual market for lottery sales in China stood at RMB 309 billion (per Ministry of Finance statistics). Care to guess how large the underground, unofficial gambling market is? Try RMB 600-800 billion (unofficial estimates). It was just a matter of time before the Chinese government stepped in - it would have never allowed this to continue forever, at least without them taking a much larger cut.
There are two types of legalized lottery in China, which are run by the China Welfare Lottery and the China Sports Lottery agencies. Lottery is regulated by the Ministry of Finance, and authorization is issued by two national government entities. The lotteries are operated by provincial authorities, who partner with third-party companies for intellectual property, hardware, and game management. Games need to receive regulatory approval before they can be rolled out to customers. This is where AGTech comes into play.
Value Driver 1: Virtual sports lotto
AGTech Holdings (OTCPK:AGTEF) (8279.HK) is a Hong Kong-listed company that provides unique gaming content to lottery operators in China. They are currently the only private company in China with approved virtual sports lottery games. Yes, in China, people actually bet on virtual sports games. Imagine yourself watching a video game race i.e. Gran Turismo and betting on which car you think will take the checkered flag. This actually takes place in Europe as well, but understandably is not a common concept in the US.
Right now, the vast majority of sports betting in China is centered around US NBA and European soccer. Imagine getting up at 5am to watch who wins between the Spurs versus Lakers - not exactly a convenient proposition for the average Chinese citizen. AGTech's "Lucky Racing" game takes about 2.5 minutes to complete one race. After this, the player has another 7.5 minutes to pony up money for the next round of betting. Presto - instant gratification. After this single game was piloted in Hunan, total provincial wide sports lottery sales skyrocketed by 49.1% during the first year. You can imagine the other provinces are salivating to get this game up and running in their home towns as we speak. It seems Lucky Racing has already secured nationwide approval, and the company is more or less hammering out the contractual details with each province from a commercial perspective.
AGTech is able to provide superior gaming content via their 51% joint venture partnership with Ladbrokes (per the company annual report), a large UK betting operator. This entity has an exclusive license to distribute virtual gaming content in China with Inspired Gaming, one of the world's top gaming technology companies. Because of this strong operational and technological foundation, it would seem very difficult for the majority of the local Chinese operators to compete on the quality of content.
Last November AGTech received approval and launched their second virtual sports lotto game, "Electronic Ball," which is essentially virtual soccer. This was approved as a pilot in the much wealthier province of Jiangsu. You can imagine after Lucky Racing's success, the biggest and most powerful provinces lobbied hard for this preferred rollout timing. According to channel checks, the pilot appears to be going rather smoothly. With demand being quite healthy, the completion of the six-month trial phase should pave the way for national rollout later this year.
A potentially enormous upside catalyst could be the launch of Electronic Ball on a national internet platform. This would provide an exponentially broader scope as the game will be available via an online system. The Chinese government seems keen on having this national system up and running by the World Cup, or sometime this July. Whether it is this July, this December, or even in 2015, there is tremendous value waiting to be unleashed if this is implemented.
Assumptions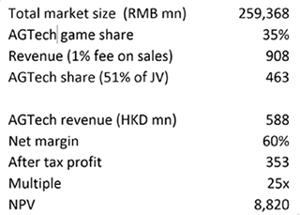 Source: Internal estimates
Assuming a 25% CAGR from 2013, total China sports lottery sales will reach 259 billion RMB in 2016. I believe this is reasonable because sports lottery sales are already growing at around 20% per annum even without the mass rollout of AGTech's games. Assuming the games are rolled out in most provinces with 35% in sports lottery market share, AGTech will generate HKD 588 million in sales. As can be determined using statistics from the Ministry of Finance, in 2013 AGTech's single game made up 26% of the entire sports lottery market in Hunan province. The model assumes that the company's next hit game, Electronic Ball, in combination of all future games will collectively contribute an incremental 9% of market share. Based on these estimates, the company will generate HKD 353 million in after tax profit, which leads to HKD 8.82 billion in value on a 25x PE multiple.
Again, these numbers are based on the simple assumption that sales will occur via the traditional, kiosk-type lottery terminals. If and when these games are offered via the internet potentially even later this year, sales have significant upside potential.
The best part of all of this is, we have just scratched the surface on AGTech's full potential. Value drivers two and three discussed below are generally not included in any sell side analyst projections.
Value Driver 2: Mobile scratch lotto
The Ministry of Finance has recently given the Welfare Lottery permission to allow 12 provinces to trial technology partners for mobile instant games such as traditional scratch lottery. It is expected that testing and pilot rollouts may occur at some point this year. Scratch lottery is completely different from every other existing product that is available in lottery stores in China in that it is on demand, or instant play. This means that the player is allowed to play continuously and instantly, without waiting for a scheduled drawing event or betting round. In this respect, scratch games are an ideal game to be played via smartphones. They are instant, convenient, fun, and addictive.
Paper scratch lottery is currently about 15% of the RMB 309 billion total market (or roughly RMB 45 billion), via 200,000-250,000 points of sale across China (internal estimates). To put this opportunity into perspective, with mobile device availability, the number of points of sale will jump to about 500 million, or an increase of 2,000-fold.
I believe AGTech will likely be selected first to run a pilot launch, followed by an official approval as an operator later this year - here is why. AGTech has established a partnership with Microgaming, a well-known mobile gaming operator in Europe. It will supply its technology as well as robust back-end IT support as AGTech rolls out its mobile scratch platform, which should give the company a massive edge over any of its peers. In addition, it is worth mentioning that the chairman of AGTech, John Sun, used to be the CEO of China LotSynergy, one of the leading welfare lottery operators in China. Also, it seems he is extremely well connected within Chinese authorities. After all, he did manage to secure two game approvals from the Ministry of Finance, when no one else seems to be succeeding in getting anything approved.
The two other notable lottery competitors, Rexlot and LotSynergy, have sourced most of their content for their games internally until now. Whether or not they venture out to an outsourced model for mobile scratch remains to be seen. Pilots will probably be awarded to ten players, and licenses should go to a handful, say five players. I would personally be shocked if AGTech does not end up getting a license, and at a very bare minimum be selected as a pilot operator. Either of these scenarios should be very positive for the share price.
Assumptions
Current approximate size of scratch lotto sales in China (250k terminals): RMB 45 billion
Estimated opportunity after mobile device launch (500 million terminals): RMB 100 billion
5 operators are awarded licenses (assume 20% market share): RMB 20 billion
Assume 2-4% long term sustainable commission rate (use 3%): RMB 600 million
Assume 50% net profit margin on commissions: RMB 300 million
Assume 25x-50x PE multiple: RMB 7.5 - 15.0 billion (HKD 9.3 billion - HKD 18.6 billion)
Regarding PE multiples, as this new business kicks into gear, it is highly likely that AGTech's earnings will be growing in the triple digits. Since it is difficult to predict what sort of multiple the market will be willing to pay, two different assumptions have been used.
Value Driver 3: Macau
Admittedly, this may be considered a "call option" to some investors. However, if all call options were this attractive, I believe I would quit my job and become a derivatives trader. Anyway, I will let you be the judge.
AGTech has entered into a strategic partnership with Mr. Cheung Lup Kwan as of May 2013. Mr. Cheung can more or less be considered "Mr. Macau" due to his prominence in Macau's political and business inner circles. Mr. Cheung has taken a significant equity stake in AGTech (currently ranked second largest shareholder with 7.1%, Bloomberg), and is together with the company exploring gaming opportunities in Macau. There is unconfirmed speculation that Mr. Cheung may have a good shot at securing a prime plot of land in the Cotai Strip in Macau, with potential access to a couple hundred gaming tables. Whether this is true or not is irrelevant at this stage. All we need to know is that the Macau opportunity is extremely plausible, and that there are real economic incentives among the relevant parties for this to take place in the near future.
You may be wondering how a new casino player can even enter into Macau in the first place. In 2002, the Macau government ended the gambling monopoly and awarded six main casino operating concessions and sub-concessions (Macao Gaming Inspection, and Coordination Bureau). New entrants can potentially come in and enter into a service agreement with one of the concession holders, and essentially run a satellite operation. So, although they would not be technically labeled as a concession holder, the economics would essentially replicate closely that of an actual holder. Take Macau Legend Development (1680 HK) for example. This company has a service contract with SJM, one of the original concessionaires, which outlines the casino profit/loss sharing and operational responsibilities (Sun Hung Kai Financial Research, 1680 HK initiation 9/2/2013). Also, having the influence of Mr. Macau on your side helps just a bit.
On top of this, I should note that in Macau, the sports betting monopoly controlled by Stanley Ho has not been broken up yet. If and when this takes place, just as was the case for casinos, there could be very large potential for market growth. I would be extremely surprised if AGTech, with all of its experience in sports lottery, odds fixing, and technological superiority, does not play a major role in this next chapter of Macau. None of this is incorporated into market expectations, or even in my financial projections below.
By the way, AGTech is scheduled to attend a Macau Gaming conference in Las Vegas, this May. This could be another opportunity for institutional investors to hear and understand the story and investment thesis. Fortunately for us, there is still plenty of time to get involved before this event takes place.
Assumptions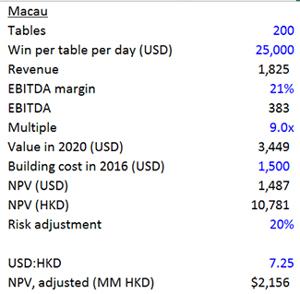 Source: Internal estimates
As can be seen from the NPV calculation above, this base case assumes a conservative 80% discount factor to account for execution and the fact that no announcement has materialized. I personally feel there might be a greater than 20% likelihood that this will happen given the very large economic stakes involved with Mr. Cheung, but because this is not a 2014 event I am siding with caution. As a reminder, this NPV does not account for any potential future opportunities that may open up in regards to sports betting in Macau, which as mentioned can lead to further upside.
Conclusion
Pulling AGTech's three value drivers together, we get to a base case NAV of roughly HKD 20.3 billion. This leads to a 2016 target price of HKD 4.74, or 159% upside compared to the stock's last closing price of HKD 1.83. The downside scenario would involve no Macau opportunity, complete failure on mobile scratch, a disastrous rollout for Electronic Ball with zero new provinces signing on, and a lower 20% CAGR of the market even with the new game launches.
In the bullish scenario laid out, the casino in Macau is confirmed, and the market gives the mobile scratch business a 50x PE multiple given its rapid growth from scratch. If for whatever reason the market decides to rerate the stock with an even higher multiple given its likely triple digit growth rates, we may need to create a fourth, "ultra Bluesky" scenario if I am still working and not retired by then.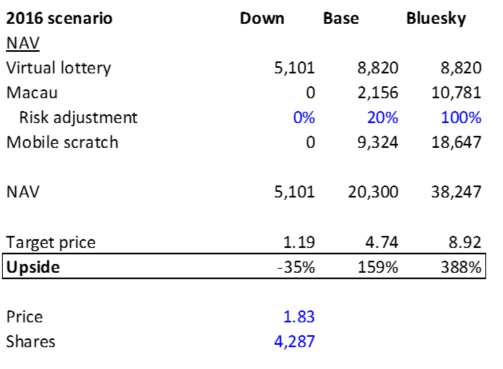 Source: Internal estimates
The primary cause of this large gap between perception and reality is due to the fact that institutional investors are generally very biased against giving credit to earlier stage companies prior to seeing hard numbers flow through to the P&L. No matter how likely or how high of a probability the investment thesis commands, fund managers fear their own job security if for whatever reason something goes wrong, which occasionally leads to semi-discovered ideas such as AGTech that still have significant upside that is up for grabs.
As mentioned above, there are three primary drivers to the story. If any of the three are realized, considerable upside can be achieved. From a near-term standpoint, we should expect to hear news flow of the mobile scratch pilot operators within the next few months. Just the announcement, regardless of whether AGTech is actually chosen as a final operator in the end, will have a major positive boost to the market's sentiment on the stock. Also in the near term, we should start to hear finalized contracts with several more provinces on Lucky Racing. In the second half the year, Electronic Ball should start to ramp in full force which should also keep the positive news flowing. If a national online sports lotto platform is executed at any point this year, this should again provide a major positive sentiment boost for the sports lottery business. The Macau opportunity is much more difficult to pinpoint in terms of timing, but I would guess we will begin to hear more concrete chatter by the third or fourth quarter this year.
AGTech is one of the best positioned plays on China's structural and inevitable change in its national lottery operations. As discussed, I believe there is still plenty of low hanging fruit for everyone to enjoy due to the typical behavioral biases that institutional investors just cannot seem to get a handle on. The one downside that was not mentioned is that you will probably need to open up a brokerage account that has access to the Hong Kong stock exchange. Happy investing!
Disclosure: I am long AGTEF. I wrote this article myself, and it expresses my own opinions. I am not receiving compensation for it (other than from Seeking Alpha). I have no business relationship with any company whose stock is mentioned in this article.
Additional disclosure: This Report is not an invitation or inducement to engage in investment activity, nor is it an offer to buy or sell securities, and does not constitute tax, investment or other advice. Through this report, Blackcrane Capital does not aim to provide advice which is appropriate to the individual circumstances of the private investor. Use of this Report is not a substitute for obtaining proper investment advice from an authorized investment professional. While the information contained herein has been obtained from sources deemed reliable, Blackcrane Capital cannot guarantees that it is accurate or complete or makes any warranty or representation with regard to the results obtained from its use Any statements regarding future events or outcomes are the personal opinion of Blackcrane Capital and the author of this report and should not be relied upon as statements of fact or guarantees of the future. Potential investors are urged to consult their own authorized investment professional before entering into an investment agreement. Blackcrane Capital makes no warranty or representation that this Report or its contents are current or that they have been updated based on changes in the economic market or other factors. In particular, but without limiting the preceding sentence, statements of fact or opinion made by Blackcrane Capital in this Report may not be up-to-date and may not represent the current opinion of Blackcrane Capital. The analyst(s) involved in the preparation of this report have not visited the material operations of the subject company (AGTech). For more information on our structure, please use the following link: blackcranecap.com. This report may contain material that is not directed to, or intended for distribution to or use by, any person or entity who is a citizen or resident of or located in any locality, state, country or other jurisdiction where such distribution, publication, availability or use would be contrary to law or regulation or which would subject Blackcrane Capital or its affiliates to any registration or licensing requirement within such jurisdiction. Blackcrane Capital may have issued, and may in the future issue, other communications that are inconsistent with, and reach different conclusions from, the information presented in this report. Those communications reflect the different assumptions, views and analytical methods of the analysts who prepared them and Blackcrane Capital is under no obligation to ensure that such other communications are brought to the attention of any recipient of this report. Past performance should not be taken as an indication or guarantee of future performance, and no representation or warranty, express or implied, is made regarding future performance. Information, opinions and estimates contained in this report reflect a judgment at its original date of publication by Blackcrane Capital and are subject to change without notice. The price, value of and income from any of the securities or financial instruments mentioned in this report can fall as well as rise. The value of securities and financial instruments is subject to exchange rate fluctuation that may have a positive or adverse effect on the price or income of such securities or financial instruments. Blackcrane Capital, its owners, employees, and or clients are currently owners of the subject company AGTech. To clarify, the AGTech position owned refers to the Hong Kong listing, 8279 HK.
Editor's Note: This article discusses one or more securities that do not trade on a major U.S. exchange. Please be aware of the risks associated with these stocks.