Microsoft (NASDAQ:MSFT) will do its earnings report tomorrow. Like the previous two quarters, I expect the company to beat Street estimates. I am guesstimating that Microsoft will deliver an EPS of 0.64 tomorrow. Estimize's buy-side people are even more optimistic, their average EPS estimate is 0.67.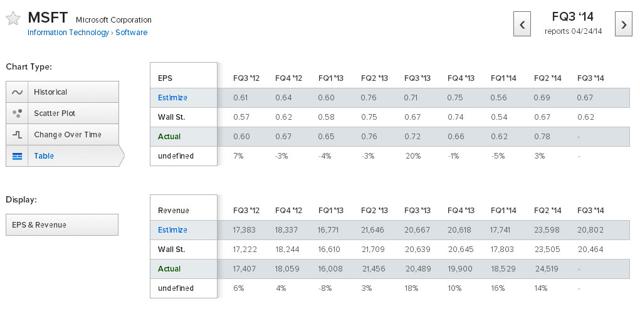 Source: Estimize.com
Even my current favorite Seeking Alpha contributor, Mr. Michael Blair, sees a $0.71 for Microsoft. I share Blair's bullish sentiment over MSFT. I agree that releasing a native version of Office for iPad was brilliant - 12 million downloads in one week is very impressive. It shows that Apple (NASDAQ:AAPL) loyalists still prefer to pay for Microsoft's Office productivity suite rather than use free apps.
Microsoft is sleeping with its lesser enemy, Apple, comfortably and profitably. The 200 million iPad owners will deliver billions of dollars of easy money to Microsoft's coffers. Nadella's judicious decision is like going to a more successful neighbor's yard and shooting fish on his big barrel of affluent customers.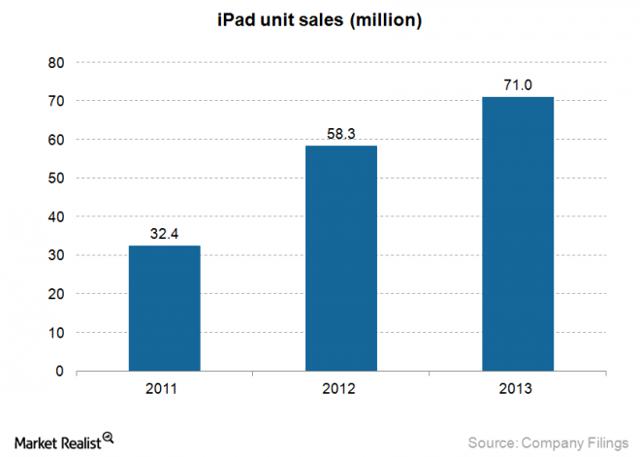 Microsoft is maybe losing money on contra revenue for its mobile push but IDC's data shows Windows Phone is the fastest growing mobile OS platform. IDC predicts that 2014 will deliver 47 million unit sales of Windows phones. Microsoft-powered smartphones annual sales volume is expected to grow to 121.8 million by 2018.

Source: IDC
Nokia D&S Buyout Finalization Can Increase Sales
However, I'm more optimistic that Windows Phone 8.1 will help Microsoft do 50 million sales this year. Momentum is on the side of Microsoft. From 2011 to 2013, Windows Phone sales did a 90% or higher year-over-year growth. The 33.4 million sales for 2013 and the 47 million estimate only projects for a 40.7% growth this year.
Microsoft finally completes its $7.2 billion purchase of Nokia's (NYSE:NOK) phone division this coming Friday, April 25. With Nadella in complete control of Nokia's global distribution network, Microsoft can use its hoard of Android licensing money to accelerate Windows Phone 8.1 sales.
Intel (NASDAQ:INTC) is using contra revenue to push its 40-million-tablet-chip campaign for 2014. Microsoft can use the same contra revenue tactic to really saturate the world with $100 Lumia 520 and 521. Emerging markets like China, India, Russia, and the Philippines still adore the Nokia brand.
Windows Phone is not only limited to emerging markets. The low-entry Lumia 521 has been adopted by T-Mobile and metroPCS. The zero profit margin on $100 Windows Phones can be recouped through advertising and app downloads.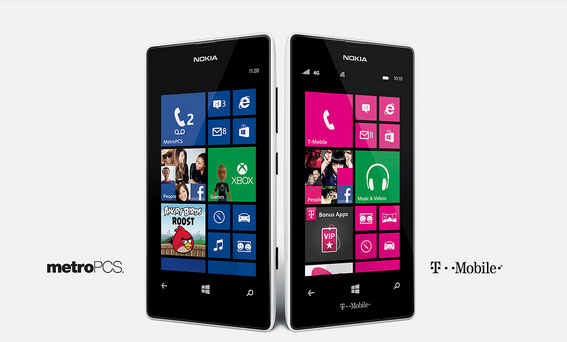 Source: Nokia
The Nokia X Lets Microsoft Sleep with its Worst Enemy
Microsoft should continue the Android Open Source Project Nokia X platform. The early success of the Microsoft apps-embedded Nokia X is the main reason why Google is now plotting for a $100 Nexus phone. Android phones without embedded Google (NASDAQ:GOOG) (NASDAQ:GOOGL) apps and services from big brand companies, is toxic to the search giant's advertising revenue stream.
Google will greatly suffer from Google-free Android phones. The Android ecosystem now generates more mobile ad traffic than Apple's iOS. The Nokia X is Microsoft's backstab approach towards killing Google's lucrative mobile advertising cash cow. Windows phones only account for 0.18% so Nokia X is a sharper knife against Google's mobile ads.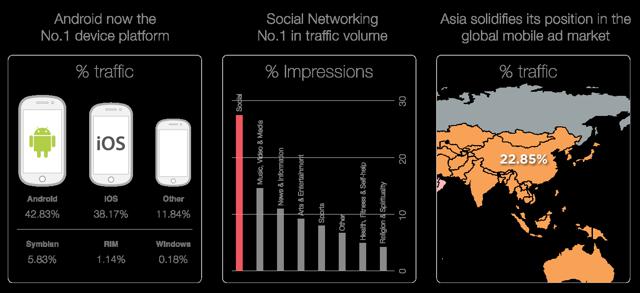 Source: Opera MediaWorks
Android now accounts for 42.83% for mobile ad traffic and Asia owns 22.85% of global mobile ad traffic. A $100 Lumia 521 and a $100 Nokia X non-Google Android phone are two knives that can gradually deliver deadly blows to Google's mobile advertising. Using your enemy's own operating system's popularity is the best revenge.
Furthermore, the D&S deal also includes Nokia's still popular feature phone Asha product line. Microsoft can further increase its mobile advertising presence by embedding future $70 Asha phones with Bing and Microsoft services. The Asha 503 dual-SIM phone is still popular in Asian and emerging markets.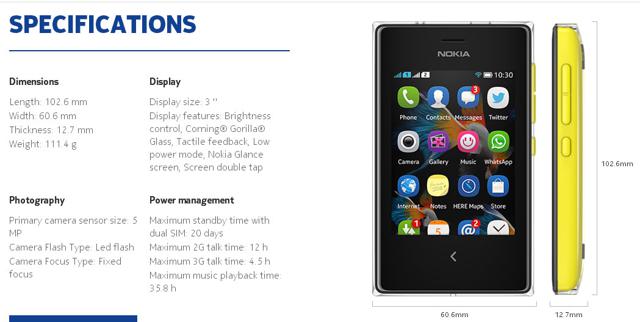 The Asha 503. Source: Nokia
Conclusion
Microsoft can sleep with and slowly poison Google with Android Open Source Project smartphones like the Nokia X. It may even be best if Nadella drops the FastLane interface and really copy the usual user interface of other regular Android phones made by Samsung (OTC:SSNLF) so that first-time buyers can easily adjust.
An Android phone that has Microsoft apps & services embedded that look and operates like a regular Google-approved phone, is much better than the current Nokia X version. Microsoft is set to become a more pragmatic clone of Apple - a more nimble hardware & services company which can profit from high-end and low-end customers.
Microsoft is a BUY. Alpha Omega Mathematica rates MSFT a Strong Buy. Microsoft has great fundamentals and Nokia's D&S talent and resources now offers MSFT a chance to be a growth leader again.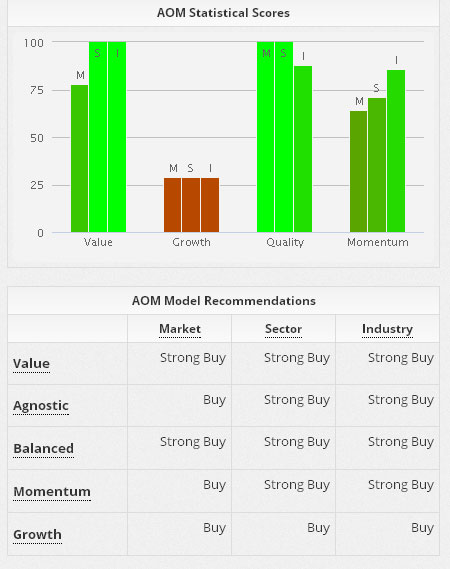 Source: getaom.com
Disclosure: I am long NOK, AAPL, GOOG. I wrote this article myself, and it expresses my own opinions. I am not receiving compensation for it (other than from Seeking Alpha). I have no business relationship with any company whose stock is mentioned in this article.
Additional disclosure: I might make a small position on MSFT within 48 hours.