Seagate Technology Plc (NASDAQ:STX) is a supplier of electronic data storage products. The key products of the company include hard disk drives, usually known as disk drives, hard drives or HDDs. The company recently publicized the unveiling of its latest Enterprise Capacity 3.5 HDD v4, a hard disk drive (HDD) with a 6TB (Terabyte) capacity. This device is regarded as the world's fastest 6TB HDD and will increase the company's industry-leading position. The launch of the device is seen as a significant advancement in scale-out data infrastructures providing gigantic storage and enterprise reliability to cater to the rapid growth of corporate and cloud-based data centers.
As a result of the favorable hard drive market outlook, Argus upgraded Seagate from hold to buy. They currently have a $65 target price on the stock, while it's currently trading around $54.88.
In this article I will discuss the company's latest unveiling and its prospects considering the market outlook. Let us begin with a discussion on the company's recent launch of the Enterprise Capacity 3.5 HDD v4.
Enterprise Capacity 3.5 HDD v4
The key features include industry-leading performance, as the drive supports quicker data transfers by building on an eighth-generation platform and the extensibility for future-proofing the systems. The drive provides up to 12 Gb/sec SAS or enterprise-ready 6 GB/sec SATA HDD interface for easy system integration and faster performance. This enables the drive to be 25% faster than competitive 6TB drives, making it a supreme choice for 24x7 substantial data storage.
The drive is also available in 5TB, 4TB and 2TB capacities in addition to the 6TB per drive for maximum density server and storage solutions. Additionally, the 3.5 HDD v4 enfold RAID (Redundant Array of Inexpensive Disks) solutions facilitate data storage by using multiple drives and numerous data duplication strategies to minimize the effect of the failure of any one drive.
Moreover, Self-Encrypting Drives "SED" with Instant Secure Erase for convenient drive discarding or repurposing and FIPS SED security options provide the device with best-in-class security.
Furthermore, the drive engages best-in-industry multi-drive rotational vibration tolerance for stable enterprise-class performance and superior error correction for accurate data storage in high density environments, making the device more reliable. With its vigorous 7200-RPM performance, ramp load technology, and a humidity sensor, the drive provides the finest performance even in severe environments.
Overall the company's new 3.5 HDD v4 product delivers a more flexible, efficient, and cost effective solution that is anticipated to increase overall drive capacity, reliability and performance. In addition to providing high-capacity storage, the new drive also provides innovative cloud-based solutions to customers, thus harmonizing the workload across strenuous data centers and platforms. Purpose-built for enterprise environments, the drive employs the T10- and T13-compliant power management criteria, empowering organizations to adapt systems for optimal energy consumption, resulting in up to 90% more power saved.
Market Outlook and Prospects for the Company
Big Data to Get Bigger
With data growing very rapidly, the IT industry is putting added effort into sorting out how the storage market will adapt to handle the increase. Data storage and cloud dealers need to cater to the storage issues related to rapidly growing data. According to EMC's recent report on storage trends, the top challenge encountered by IT managers is handling storage growth. As per the December 2012 report, IDC and EMC projected that from 2005 to 2020, the digital universe will expand by a factor of 300. This means that global data will be near 40 trillion GB by 2020 in aggregate.
Although the quantity of data is growing rapidly, the cost per GB continues sloping downward. A report on average hard drive storage costs from statisticbrain.com states that a GB of data storage that cost $437,000 in 1980 has declined to $0.05 in 2013. Looking forward, the prices per GB are forecast to continue that downward trend as data creation escalates the need for bigger storage capacities. You can see from the following graph that Seagate's average capacity per drive among shipments made has risen from 653 GB in Q2 FY 2012 to 992 in Q2 FY 2014. This trend is in line with the industry as bigger storage capacities are in high demand. Therefore, the company's new 6TB drive capacity will definitely be in high demand.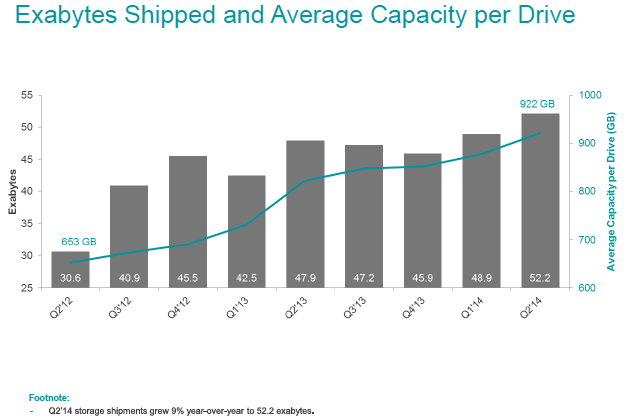 Source: STX Fiscal Q2 2014 Presentation
In a recently issued research report, Wikibon also declared its bullish standpoint on the big data services and analytics industry. The research firm projected that the big data industry is set to grow from $18.6 billion in 2013 to $50.1 billion in 2017, reflecting a remarkable 28.1% annual growth. According to IDC, unstructured data growth is doubling exponentially and will push the digital universe to reach 16 Zettabytes of data by as quickly as 2017. This will push cloud service providers to look for innovative ways to store more data while lowering operational costs.
According to Dave Reinsel, IDC Group's vice president for storage and semiconductors, the cloud service providers across the world are building up terabytes of digital content every month, and the number is projected to continue its violent growth in the coming year. Storage of unstructured data has turned into a key high performance for analytics. Huge amounts of raw data need to be securely kept in non-volatile memory before it can be processed and eloquent conclusions can be reached from it. Moreover, the data needs to be backed up and should be available without delay by using high performance memory disks. This is where Seagate and its most recent drive come into play.
The big data services and analytics industry is undergoing rapid growth due to the growing worldwide internet penetration, emergence of e-commerce industries in developing markets, and the move to high-resolution media standards. The partners of the company are also optimistic about the functionality and usage of the company's new drive.
Seagate's Partners are Optimistic
According to Meiji Chang, the general manager of QNAP, QNAP is eager to offer support for Seagate's new 6TB Enterprise Capacity 3.5 HDD v4 to its users. With 50% superior storage density and improved performance for near-line storage, QNAP regards Seagate's new 6TB HDD as the perfect tool to cater to the needs of QNAP's cloud data center customers who require optimized hardware for their exclusive workloads. It will also cater to the company's high capacity SAS-enabled Turbo NAS users who require high capacity and high reliability data storage.
According to Alex Wang, CEO of Synology, Inc., Synology is also very delighted to work with Seagate to enhance its device offerings. According to Synology, the integration of Seagate's new 6TB Enterprise Capacity 3.5 HDD v4 into Synology's upcoming product lines will help provide the company's customers with quicker access to their content and increased capacities. Hence, the considerable growth of digital data and growth in the relevant market leading to higher demand for storage are likely to drive Seagate's near-term financial results as it innovates to effectively address emerging factors.
Return to Shareholders and Concluding Remarks
The following chart illustrates Seagate's dividend per share history over the past two years. The company raised its dividend from $0.18 per share distributed in Q2 FY 2012 to $0.43 per share paid in Q2 FY 2014.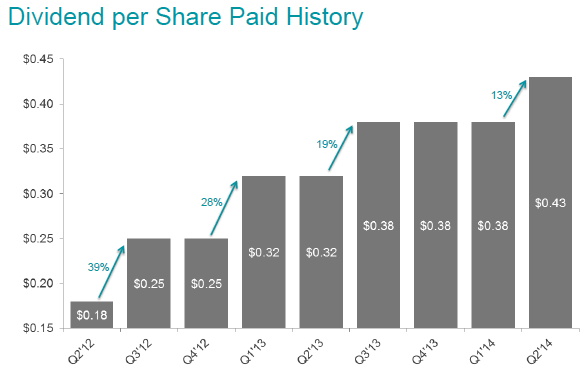 Source: STX Fiscal Q2 2014 Presentation
In addition to higher dividends, the company is also spending cash to buy back shares, as shown in the following chart.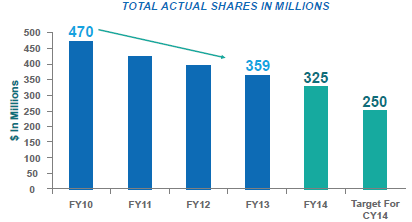 Source: STX Strategic Update 2013
Currently, Zack's ranks the company as buy. On average, analysts forecast Seagate will post EPS of $5.11 for FY 2014, up from $4.81 earned in FY 2013.
The company is capitalizing on the rapidly growing data storage industry. The demand for data storage drives with bigger storage capacities, enhanced performance, and low cost is set to rise. Global internet penetration, the rise in e-commerce in emerging markets, and move to high-resolution media standards are drivers of the rise in global data and thus the need for more storage devices. Seagate's recent launch of Enterprise Capacity 3.5 HDD v4 is acclaimed by the company's partners. The drive not only has high capacity, but is built to perform faster and ensure accurate and secure data storage to prevent data loss even in harsh environments. The drive is also cost effective and saves power making it more suited to customers' preferences.
Disclosure: I have no positions in any stocks mentioned, and no plans to initiate any positions within the next 72 hours.
Business relationship disclosure: The article has been written by a Gemstone Equity Research research analyst. Gemstone Equity Research is not receiving compensation for it (other than from Seeking Alpha). Gemstone Equity Research has no business relationship with any company whose stock is mentioned in this article.