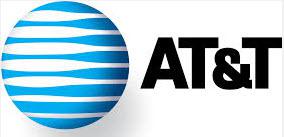 AT&T (NYSE:T) has been on my radar screen for quite some time. I recently penned an article where I detailed there were some downside risks related to earnings this quarter. There was significant potential for investors to be disappointed by earnings due to misinterpretations of the numbers. There were many moving parts to the past quarter. Nevertheless, seeing the forest through the trees, it looks like AT&T is in great shape and just went on sale. In the following sections, I will detail my bullish case on the stock and why the sell-off is a major buying opportunity.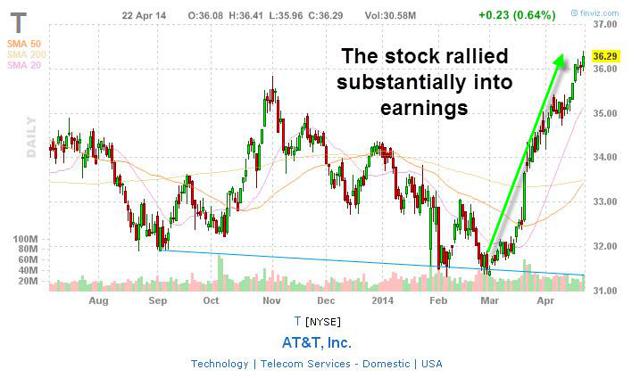 (Chart provided by Finviz.com)
AT&T reported in-line earnings, yet sold off in after-hours on the news
AT&T reported first quarter EPS of $0.71, beating the Street's expectations by $0.01. Revenue of $32.47 billion was up 3.5% year over year and in line with estimates. AT&T reiterated full-year capital expenditure and free cash flow guidance of $21 billion and $11 billion, respectively. Even so, the stock sold off irrespective of the beat.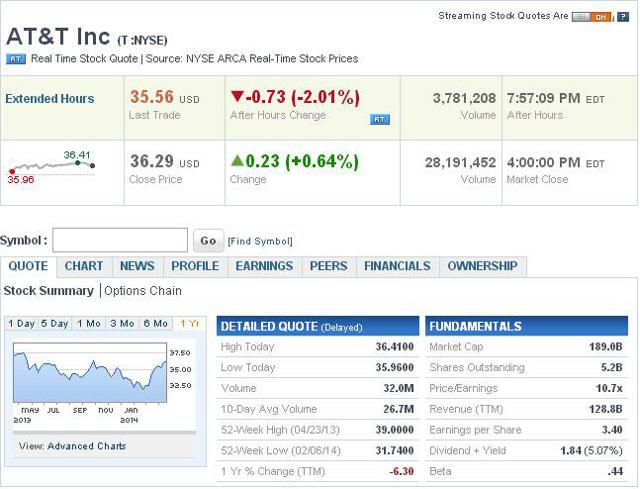 (Chart provided by CNBC.com)
Revenue was up, yet revenue per subscriber was down, which spooked investors somewhat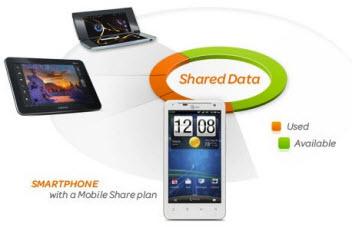 AT&T's new NEXT and Mobile Share plans were a huge success. In fact, the company signed up 625,000 net new wireless subscribers in the quarter. The robust growth was the best in five years. AT&T's CFO John Stephens stated:
"We are very pleased with the take rates. I believe 35 percent the will become a new standard."
Mobile Share accounts were up three fold year-over-year. 11.3 million customers were signed up to Mobile Share. This less expensive program caused average revenue per subscriber to drop. The pressure from competition is strong. I see the vast increase in subscribers as great news. It shows AT&T's sales campaigns are working. The hit to average revenue per user is a transitory cost of acquisition that can be recouped over time. This was no reason to sell.
The sell-off was unjustified.
The report was solid and the company is making the right moves in regards to service. CFO Stephens stated:
"In the first quarter, we really began to see the benefits of this transformation effort. You've seen us transform our networks from the legacy services to an all IP platform and a best in class network. We named two leading companies, Amdocs (NYSE:DOX) and Juniper Networks (NYSE:JNPR), as primary vendors that will help us achieve our vision of a user-defined network cloud of modern cloud-based architecture."
My key positive takeaways from the earnings call were as follows:
AT&T reported EPS for the quarter of $0.71. On an adjusted basis, this is up nearly 11% year-over-year.
Cash from operating activities for the quarter was the highest since 2007 at $8.8 billion, netting $3.0 billion in free cash flow.
The company bought back 37 million shares for $1.2 billion over the course of the quarter. The rest was utilized to fund Project VIP and the various drivers of growth for the business.
This was all great news as far as I can see. I posit the sell-off was unjustified based on the fact market participants unwittingly sold off shares. They were unable to see the pot of gold at the end of the rainbow, so to speak. Any sell-off should be seen as a chance to lock in shares at a higher yield.
The unjustified sell-off has created a buying opportunity in the stock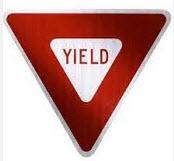 It's all about the dividend yield. I posit the unjustified sell-off has unwittingly increased the yield, thereby creating a buying opportunity in the stock. AT&T has a solid long-term growth story and pays a hefty dividend of 5% or better based on a potential sell-off. Furthermore, AT&T is a dividend-paying stock with the potential for both capital gains and income production. This combination of capital gains and income production will be necessary to fund the lengthening retirement that comes with a greater life expectancy for investors.
AT&T's TTM P/E ratio of 10 is among the lowest of any stock in the industry, and signals that investors have not been willing to pay a premium for this company's business prospects.

(Table provided by Scottrade.com)
AT&T trades for a P/E of 10.2, while the industry average is 20.8. This implies AT&T has significant upside simply to trade on par with the company's peers. Based on the current facts available, I posit AT&T should be trading for at least a P/E of 12.5 by 2015. This implies the stock has 25% upside and a $45 price target seems entirely possible based on future projected growth rates. Couple the potential for substantial capital appreciation with a current 5% dividend yield, and you have a recipe for profits.
Conclusion
AT&T is a better hedge against inflation than fixed income instruments such as bonds and CDs. Furthermore, dividend-paying stocks have always outperformed non-dividend-paying stocks. With AT&T's outstanding 5% dividend and the company's opportunity for growth, you have a recipe for outstanding returns. Nevertheless, if you choose to start a position in any stock, I suggest layering in a quarter at a time at a minimum to reduce risk.
Disclosure: I have no positions in any stocks mentioned, but may initiate a long position in T over the next 72 hours. I wrote this article myself, and it expresses my own opinions. I am not receiving compensation for it (other than from Seeking Alpha). I have no business relationship with any company whose stock is mentioned in this article.