Yesterday, Goldman Sachs issued a 6.375% fixed to float perpetual preferred (wrote about it here). Looking at it versus peer alternatives, I opined:
Bottom Line: Unless an investor has a specific need for Goldman preferreds, or is adverse to or overweight the other companies in the peer group, additional yield can be gained by purchasing the preferred stock of the peer group. Similarly, an investor does not have to give up significant call protection to trade away from the new issue.
Well, as luck would have it, today Morgan Stanley (NYSE:MS) provided investors with an alternative.
Before I dig in, I just want to tell those of you who read my articles that I have made changes to my spreadsheets (based on reader comments) in order to increase the information content. Hope you all view it as a favorable change.
The details of the new Morgan Stanley Series G preferred stock are:

The term sheet can be found here, the prospectus here.
As with most preferred stock of financial issuers, the Series G Preferred Stock may be redeemed prior to July 15, 2019 upon the occurrence of certain events involving the capital treatment of the Series G Preferred Stock (a "Regulatory Capital Treatment Event"). While the Series G currently qualifies as Tier 1 capital, should this change, the firm would have the ability to redeem the shares even if prior to the optional redemption date of May 2024.
First, a look at the new preferred versus existing Morgan Stanley preferred stocks:
click to enlarge)

As the above table shows, the new Series G preferred compares favorably to existing preferreds. With that said, should an investor prefer a fixed to float structure, the MSpF and MSpE are only 5 basis points lower in yield than the new issue.
Given the higher dividend rate of the Series F preferred, it should perform better in a rising rate environment.
In order to determine if the new preferred series has value outside the Morgan Stanley complex, a comparison to peers Goldman Sachs (NYSE:GS), JP Morgan (NYSE:JPM), Citigroup (NYSE:C) and Bank of America (NYSE:BAC) is in order:

The above table shows that Morgan Stanley trades at a higher yield than peers. Whether it is the new Series G fixed of Series E or F fixed to float, the issuer provides investors with a higher yield than comparably rated peers.
Finally, the "equity check" to see if the market views Morgan Stanley as weaker than peers: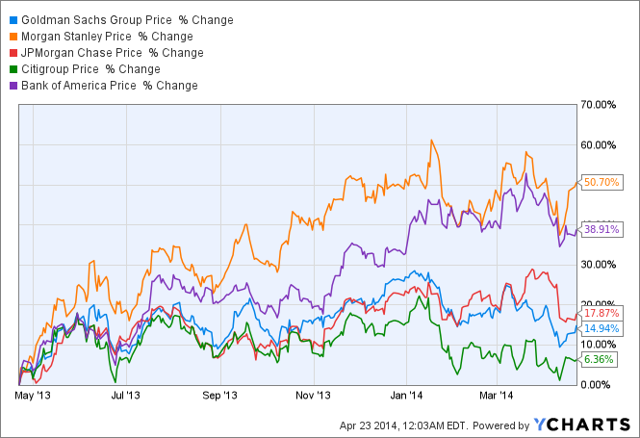 As the chart above shows, Morgan Stanley has done quite well over the last year and continues to turn in strong results.
Bottom Line: I like the Morgan Stanley preferred complex relative to peers and believe that the new issue is no different. Depending on an investors' rate view, the fixed and the fixed to float both represent decent value.
As a secondary view of the Morgan Stanley preferred, the company also issued $1,000 par non-cumulative fixed to float at 5.45%, approximately 120 basis points below this fixed issue.
Goldman yesterday issued a $1,000 par fixed to float at 5.70% while their $25 par fixed to float was priced at 6.375% or approximately 68 basis points above the institutional.
The differential (while comparing fixed to fixed/float) also helps show the value in the 6.625% Series G.
Sources:
SEC filings of the issuer.
Data compiled by author.
Disclosure: I am long BAC, C. I wrote this article myself, and it expresses my own opinions. I am not receiving compensation for it (other than from Seeking Alpha). I have no business relationship with any company whose stock is mentioned in this article.
Additional disclosure: ***Author may initiate a long in the Series F preferred. **This article is for informational purposes only, it is not a recommendation to buy or sell any security and is strictly the opinion of Rubicon Associates LLC. Every investor is strongly encouraged to do their own research prior to investing.