Analysts estimates Apple (NASDAQ:AAPL) Q2 2014 revenue will land around $43.5B and earnings per share of $10, roughly the same as Q2 2013. I expect Apple to slightly beat that estimate due to its recently inked China Mobile deal. This deal opens up Apple to potentially 750M customers but most will not be able to afford the iPhone 5S at $5288 Yuan unsubsidized. That's about $870 USD and out of range for most Chinese. There's been nothing indicating the iPhone 5S/C was a big hit or a flop. The unexpected news is that customers preferred the 5S over the 5C. That should raise ASP leading me to believe it will beat expectation by a hair.

Bigger Is Better
Apple users have been asking for a larger screen on the iPhone for quite some time. During Steve Jobs's reign, iPhone got a modest .5" increase to 4" from the iPhone 4S to iPhone 5/5S. That still pales in comparison to the large high definition 5" screens of high end Android/Windows smartphones like Nokia (NOK) Lumina Icon. Even Apple had to admit they are losing potential sales in their internal study.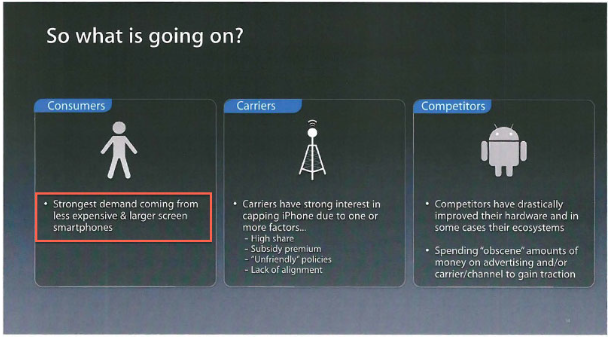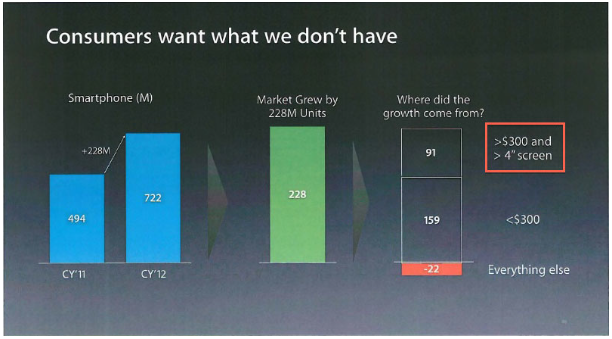 Are Growth Rates Really Decreasing?
When you look at percentage growth of iPhones, it doesn't look favorable to Apple's growth. Yes, there is deceleration of growth but it is because nominal numbers have increased dramatically making it difficult to keep up high percentage growth. The chart below also went from annual to quarterly sales growth which caused an inconsistency in data presentation. When you look at Apple's iPhone sales chart, it tells a different story.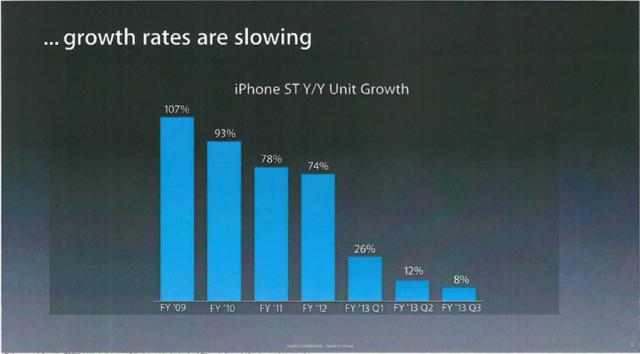 Observing Apple's quarterly sales from 2007 to 2014, there's nothing alarming about the deceleration of growth. Apple's iPhone sales show a general upward trend with no indication of stagnation.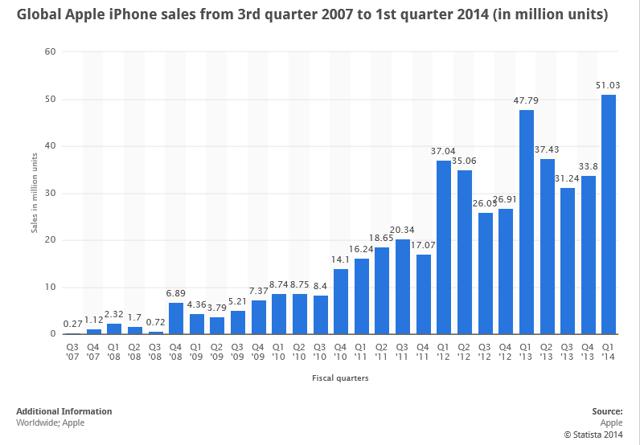 Growth Deceleration Could Reverse
ChangeWave Research recently completed a survey measuring potential demand of the upcoming iPhone6. The surveyed consumers were told to assume probable features of a larger screen, iOS8, a faster processor and gesture control. Consumers responded overwhelmingly better compared to a previous survey about iPhone 5S.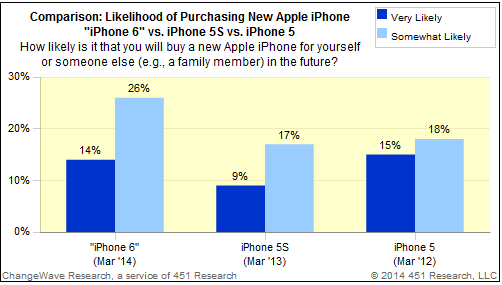 Additional survey questions showed an increasing trend of demand for larger screens. Apple seem to have listened to their customers demand this time with multiple sources saying a 4.7" and a 5.5" iPhone is coming in 2014. There's rumors of the 5.5" being delayed due to battery problems.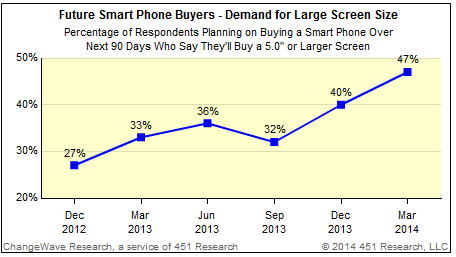 Even though the iPhone 5S did not stir as much excitement as the iPhone 5, sales did not suffer. First day sales were very high and user upgrades from previous iPhones were at a record 86%. This could also mean that the iPhone 5S did not get many new users from other platforms. However, sales chart showed that iPhone 5S had significant growth over iPhone 5.

If rumors of the iPhone 6 being 4.7" is true, then the increased demand for iPhones will drive significant growth for iPhone sales. iPhone sales make up more than half of Apple's revenue. Any growth in iPhone sales would have significant impact on total revenue.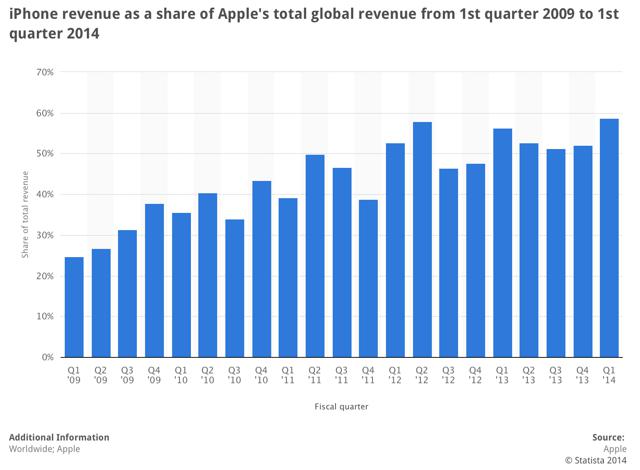 Cumulative Effects Of Increased Devices
Apple's iTunes revenue show no sign of slowing down, showing high YoY growth. Q1 2014 netted $4.4B in revenue vs $3.69B for Q1 2013. This makes Apple iTunes the most successful music purchasing platform in the world.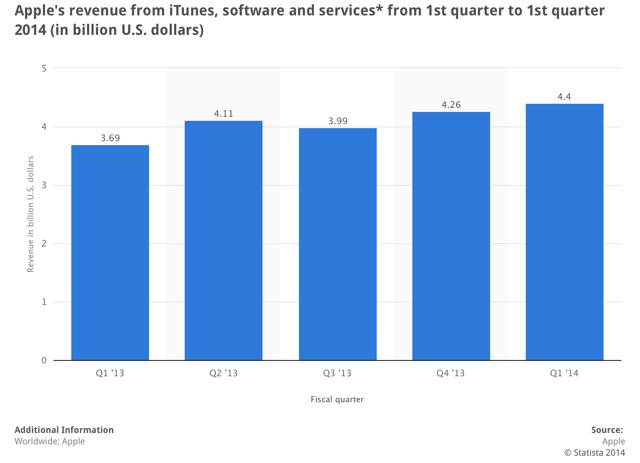 In the US, iTunes accounted for almost 2/3 of all paid digital music downloads despite iOS having less market share than Google (GOOG) Android platform. The second largest competitor is Amazon (AMZN) with only 16%. It's no question that iTunes remains the premiere paid choice since its creation. As sales of Apple devices grow, iTunes sales should also grow with it.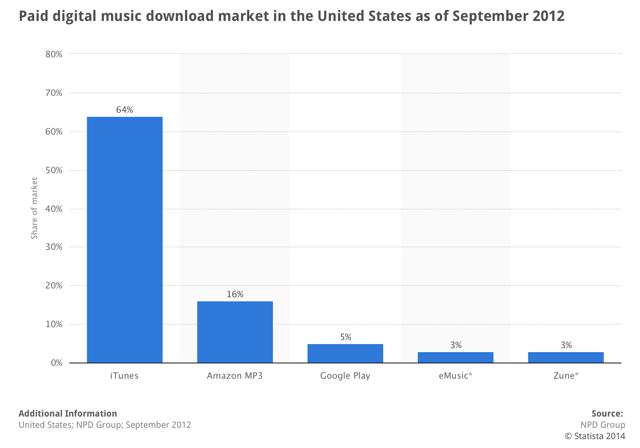 In 2013, Android had 29B total app downloads compared to Apple's 27B. However, Apple's app store revenue is more than 5 times the Android platform. The majority of Apple users have paid more than $1 for an app. No other platform comes close. The Windows platform seems to perform much better than Android netting 80% of Android's app revenue with less than 1/5 of the downloads. Apple simply have no competition when it comes to music and app store revenue.

Conclusion
There hasn't been much excitement for Apple in 2013 as far as revolutionary products. Investors should not expect any significant positive surprise for Q2 14 earnings. However, 2014 is the year Apple will introduce iPhone more users demanded. The bigger 4.7" screen will definitely increase sales by a large amount and will significantly impact iTunes and App Store sales. I believe Apple's revenue will see a massive increase after the iPhone 6 launch.
Investors should expect to see much higher share prices and dividends as a result. Apple's current PE ratio of 13 and over $150B cash reserve makes it an attractive value with little risk. Considering significant upside later in the year, I hold a very bullish stance towards Apple.
Disclosure: I have no positions in any stocks mentioned, but may initiate a long position in AAPL over the next 72 hours. I wrote this article myself, and it expresses my own opinions. I am not receiving compensation for it (other than from Seeking Alpha). I have no business relationship with any company whose stock is mentioned in this article.