One of the reasons why I bought Micron Technology (NASDAQ:MU) was because the market grotesquely undervalued Micron's EPS growth prospects and underestimated the probability of a forceful recovery in Micron's underlying profitability. In addition, Micron has attracted more and more investors in 2013 who saw the potential of the undervalued chip maker. As a result, investor and analyst sentiment has noticeably improved over the last couple of quarters. Micron Technology's second quarter results also were more than solid and could trigger a series of earnings estimate revisions in the coming quarters.
Micron Technology is another textbook example that contrarian investing does indeed work: Micron Technology was trading at around $5 just one and a half years ago. Investors who bought then are already looking at a whopping capital gain of 400%.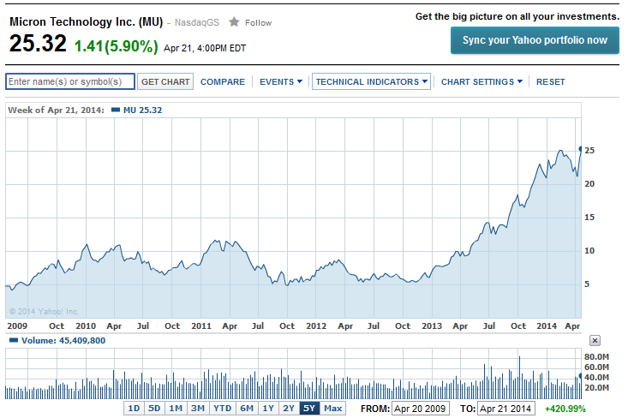 (Source: Yahoo Finance)
Why is the sell side always lagging?
Micron had two strong trading sessions Monday and Thursday last week. The rise in Micron's stock price was largely fueled by two events: 1. SanDisk's (SNDK) strong quarterly financial results presented last week including a respectable earnings beat and 2. Drexel Hamilton's substantial target price upgrade for the chip maker.
Drexel Hamilton increased its 12-month price target for Micron Technology from $30 to $50 -- quite a revision to say the least (see Barron's piece here). Given that Micron currently trades in the mid 20s, the broker-dealer sees solid potential for Micron to double. While I agree that a combination of easing pricing pressure in the memory market and cyclical tailwinds benefit an investment in the semiconductor firm, I wonder why sell side analysts are often late to the party and how serious investors really should take sell side target prices.
Micron Technology was starting to turn around in the fourth quarter of 2012 -- at least in terms of share price. Of course, we need to recognize that share prices turn around before the company actually presents a turnaround in underlying profitability.
Only a minority of analysts recommended Micron at a share price of $5. Most analysts play it safe, because, ultimately, not only is their professional reputation on the line but also the reputation of their employer (a good example of regret aversion bias). Imagine broker-dealers taking a risk by recommending a company that goes through a serious restructuring to their customer base (both retail and institutional) and the stock tanks another 50%. A sure fire way to lose customers, and, most importantly, commissions. Sell-side analysts play a rigged game: They will recommend anything that encourages investors to trade -- even if it is completely mind- and senseless. At the end of the day, commission income is what counts. Their target prices for stocks are also often revised upwards when a particular stock is doing well and vice versa.
Although I agree with Drexel Hamilton's opinion about Micron's upside potential -- I wrote the article "Micron Technology: Can it double once more?" in October 2013 when the stock was trading at $17 --, it goes to show that sell side analyst target prices can change abruptly (in either direction) and should therefore viewed with a general sense of caution.
One of the many benefits of Seeking Alpha relates to the diversity of its contributor base. Many contributors on SA are niche players trying to sniff out value in the most unlikely of places. More importantly, contributors and a good chunk of readers are independent thinkers and analysts who have uncovered the Micron Technology story long before Wall Street did. There is a reason why Seeking Alpha outperforms the sell side.
Earnings estimate revisions driving upside potential
Yahoo reported on Drexel Hamilton's target price update and the cycle of earnings estimate upward revisions:
Drexel Hamilton may not exactly be one of the first brokerage firms that investors think of when it comes to technology investing, but the firm has a call out that will stand out handily above the rest of analysts. Monday, Micron Technology Inc. was reiterated as a Buy, but the price target was raised to $50 from $30 by the firm.

What investors need to know is that Micro is a $24.60 stock - and that is after close to a 3% gain early Monday. In short, Drexel Hamilton is calling for Micron to double - after its shares have already more than doubled from the lows of 2013

Keep in mind that Micron's numbers were raised at Sterne Agee after earnings recently was well. That firm raised its rating last week to $32 from $30 and gave higher earnings expectations. Sterne Agee also talked up the DRAM spot price outlook, based on an uptrend, on Monday as well.

Also last week we saw that Merrill Lynch raised its 2014 and 2015 earnings per share by $0.16 per year to $0.19 and $0.20 after a good quarter with good guidance.
While in this particular case I agree with Drexel Hamilton's update of Micron's target price and reasons to do so, the revision also shows how unreliable conventional price targets of Wall Street institutions are and actually raises doubts about the quality of the underlying research that led to such as meaningful target price revision.
Technical picture
For the time being, positive sentiment suggests that Micron is about to crush its 52-week High at $25.68. Technical investors, however, should tread carefully here: The Relative Strength Index suggests that Micron is quickly approaching overbought territory and the chart depicts two smaller gaps at $22.50 and $24.00: Investors clearly got excited by SanDisk's top notch first quarter results and by Drexel Hamilton's new price target for Micron. In any case, a short-term consolidation and a test of the $24 level are highly likely.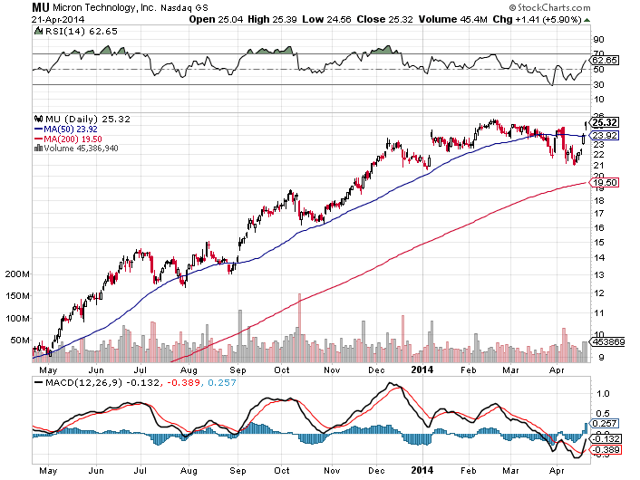 (Source: StockCharts.com)
Conclusion
I have argued before that Micron Technology is extraordinarily cheap based on a low free cash flow multiple of approximately seven which gives investors serious upside potential. As a value investor, however, I appreciate a gradual and consistent increase in share price over short-term pops that are driven by speculators and unsustainable.
Investors should not make the mistake and chase the stock price now. Drexel Hamilton's optimistic price target has led to a visible increase in short-term momentum which is unlikely to be sustained. Instead, long-term investors should sit back and purchase the semiconductor company on any setback to the $22.50-23.00 region. Long-term BUY.
Disclosure: I am long MU. I wrote this article myself, and it expresses my own opinions. I am not receiving compensation for it (other than from Seeking Alpha). I have no business relationship with any company whose stock is mentioned in this article.