Telecommunication companies have been staging a strong comeback lately and many income3oriented investors surely know about the attractiveness of the telco sector for recurring income: Relatively inelastic demand and stable cash flow, exposure to mobile broadband segments for growth, high dividend yields and, generally speaking, low volatility.
While many investors look to traditional high-yield pockets of the stock market (Real Estate Investment Trust, Business Development Companies, Master Limited Partnerships, tobacco companies) for their income investments, the telco sector is also offering competitive yields and risk/reward ratios.
Share performance
AT&T (NYSE:T), the focus of this article, is a valid alternative to traditional high-yield investments. The company also had a nice run lately with a share price shooting up from about $32 at the beginning of March to over $36 now: A plus of approximately 13% in a little less than two month.
I have previously recommended AT&T for income investors because of its attractive yield, capital appreciation potential and relative underperformance compared to other large-cap telco enterprises (see here).
AT&T has consolidated for much of 2013 and the forceful rebound in investor interest in March is a clear signal that the stock has been driven way too low: Just two month ago investors could pick up AT&T and pocket a yield approaching 6% with minimal risk.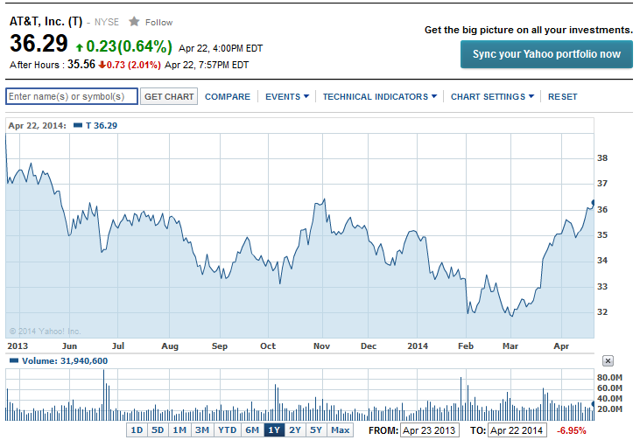 (Source: Yahoo Finance)
Verizon Communications (NYSE:VZ) has had a less impressive rebound in its share prices lately, but has still delivered better returns to their shareholders over longer performance measurement periods.
AT&T gained 19% over a two-year measurement period while Verizon Communications returned 24% and CenturyLink (NYSE:CTL) lost 9%. CenturyLink gained about 11% since the beginning of March though.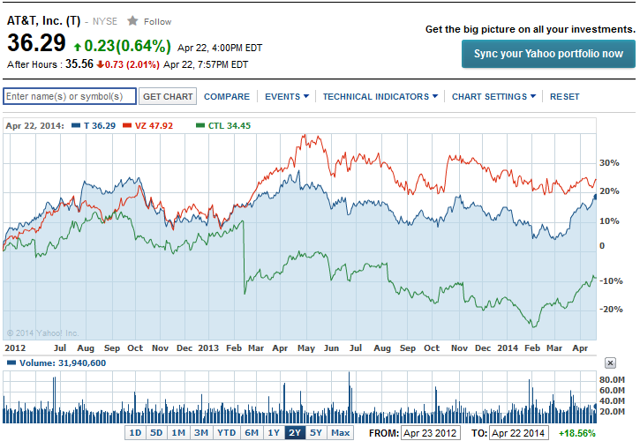 (Source: Yahoo Finance)
Intrinsic value estimate
Yesterday, AT&T reported a first quarter diluted EPS of $0.70 compared to last year's $0.67 while adjusted EPS was reported at $0.71 vs. $0.64 in the year ago quarter. Revenues increased by more than a billion to $32.5 billion and climbed 3.6% y-o-y. AT&T's Wireless business presented solid results as well with revenues up 7.0%, operating income up 8.1% and EBITDA up 7.3%.
AT&T's strong underlying first quarter results are also the reason why I slightly updated my FCFE estimates for 2015-2017. I conservatively estimate that AT&T can grow FCFE between 3-4% in 2015 and 2016 before the growth rate settles down at 3% in 2017. Using equity cost of capital of 10%, AT&T's intrinsic value comes in at approximately $42.40. Considering a current share price of $36.29, AT&T retains approximately 17% upside potential.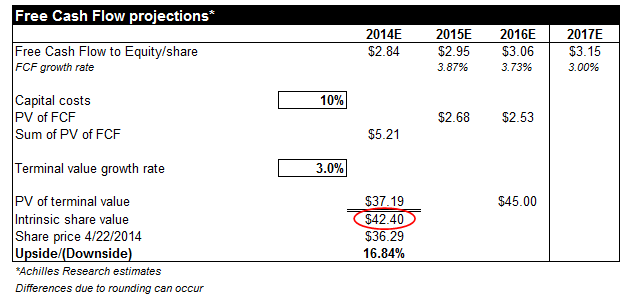 (Source: Achilles Research)
Market valuation
Since I last recommended AT&T (at a price of approximately $33), the stock has moved up sharply. The move from $33 to $36 is not without consequence for income investors: Buying at $36 instead of $32 means 0.5% lower annual yield. However, I believe the current valuation metrics still signal that AT&T is an attractive income vehicle for long-term investors.
AT&T presently trades at less than thirteen times forward earnings while Verizon Communications commands a forward earnings multiple of 12.43 and CenturyLink of 13.57. The peer group average P/E ratio stands at 12.95 indicating that neither company is relatively under- or overvalued. AT&T's 12.84 forward earnings multiple translates into an initial earnings yield of approximately 8%.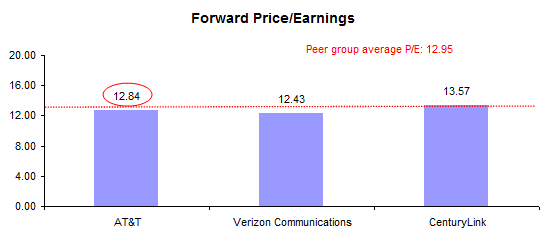 (Source: Achilles Research, Finviz.com)
AT&T currently pays investors a quarterly dividend of $0.46 per share translating into annual payments of $1.84 per share. I expect that AT&T will increase its annualized payout to approximately $1.90 per share in 2014 which would equate to an annualized forward dividend of 5.24%.
Income investors who want to venture out of the domestic telco sector, could also consider Telefonica (NYSE:TEF), Spain's dominating telecommunication company with significant operations in Latin America and strong upside potential as well. US-based investors will need to consider currency risk with an investment in Telefonica as the company pays its dividend in Euros.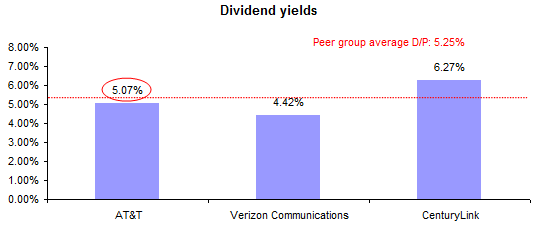 (Source: Achilles Research, Finviz.com)
A summary table containing AT&T's valuation metrics and discounts to the respective peer group averages is presented below:

(Source: Achilles Research, Finviz.com)
Conclusion
I cannot help but like AT&T: The valuation is low, the dividend is high, free cash flow is strong, its past remuneration record suggests that dividend hikes are likely in the future and the company is still lagging its main peer Verizon Communications. Lagging performance is always a good contrarian indicator of above-average return potential. Investors who want to get exposure to a large-cap, domestic carrier offering high recurring income and healthy upside potential could consider AT&T for their income portfolio. Long-term BUY.
Disclosure: I am long TEF. I wrote this article myself, and it expresses my own opinions. I am not receiving compensation for it (other than from Seeking Alpha). I have no business relationship with any company whose stock is mentioned in this article.