With the BioTech stocks Exchange Traded Fund (NASDAQ:IBB) recovering to back above its 200-day EMA, now may be a good time to consider looking at Harvard Apparatus Regenerative Technology (HART), a new biotech which has surprisingly received very little coverage of the company's synthetic tracheae and "rotating bioreactor" solution.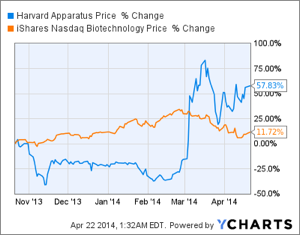 As a recent spinoff from Harvard Bioscience (NASDAQ:HBIO), HART's IPO on Oct. 21 has so far been a success. At the launch IPO price of $2, the stock spiked to $6 at the close, a three-bagger for the day on remarkably low volume.
It wasn't until 19 weeks later, on Feb. 28, when HART broke out above $5, that trading volume increased in earnest. Since the breakout, volume has been rather impressive, indicating to us that reasonable liquidity will most likely remain at HART in the foreseeable future.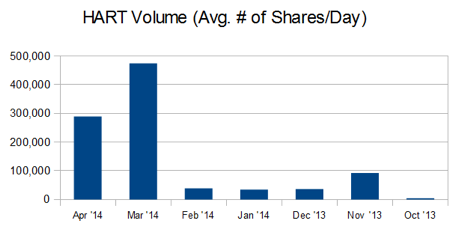 Data Source: Yahoo Finance; Chart: JasonBondPicks.com
HART Demonstrates Truly Groundbreaking Technologies
According to the company website, HART is a "clinical stage regenerative medicine company developing organs for transplant." In addition to the company's initial focus of obtaining government approvals for its InBreathTM Airway Transplant System (technical abstract), HART plans to expand its technologies to include the production of synthetic GI tracts, lungs, kidneys and heart valves, all made from the patients' own stem cells.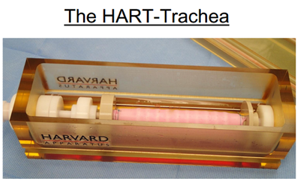 Presently, HART's synthetic trachea is undergoing tests in Russia, with clinical trials within the European Union set later this year. Though the company has no trials yet in the United States, HART expects to enter Food and Drug Administration trials in the near-future. See "Clinical Trials" from HART's website.
Since 2008, of the eight successful implantation of synthetic tracheae, the last four have been achieved using HART's so-called "lab-made scaffolds," according to HART CEO, David Green, in his interview with MIT Technology Review.
Each scaffold is made from nanofibers (1/100 the width of a human hair) and customized to "fit each patient," according to the Cambridge, MA-based publication. Stem cells are then taken from the patient's bone marrow and "rained down over the top of the scaffold, much like a chicken in a rotisserie," added Green.
After two days of rotating in the bioreactor, the trachea is ready for transplant. Five days after the trachea is implanted, the trachea shows new cell growth, generated from the patient's own body, "eliminating" risk of rejection, according to Green in his interview with Bloomberg Television.
"History Made" in Sweden
On Jul. 7, 2011, the University College London successfully implanted a synthetic trachea at the Karolinska University Hospital in Stockholm, Sweden. The synthetic trachea was designed and developed by Professor Alexander Seifalian of UCL Division of Surgery & Interventional Science and "grown" for implantation using the HART bioreactor.
"For the first time in history, a patient has been given a new trachea made from a synthetic scaffold seeded with his own stem cells," stated Science Daily.
The revolutionary trachea implant procedure, performed on a 36-year-old man, was headed by Professor Paolo Macchiarini of Karolinska University Hospital and Karolinska Institutet. The patient had been diagnosed with late-stage tracheal cancer, a condition that most likely ends in fatality.
"Professor Macchiarini has previously performed successful transplants of tissue engineered tracheas, but on those occasions the tracheas [sic] used were taken from organ donors and then reseeded with the patient's own stem cells," according to Science Daily.
"What makes this procedure different is it's the first time that a wholly tissue engineered synthetic windpipe has been made and successfully transplanted, making it an important milestone for regenerative medicine," the magazine added. "We expect there to be many more exciting applications for the novel polymers we have developed."
World's Second Synthetic Trachea Implant
On Nov. 29, 2011, Harvard Bioscience issued a news release, announcing the successful completion of the world's second synthetic trachea implant at the Karolinska University Hospital in Stockholm, Sweden. The patient was a 30-year-old U.S. national who had been suffering from late-stage tracheal cancer.
Watch the four-minute video that features the synthetic trachea and its implantation. Note: password = stockholm11
Analysis of Opportunity for Investors
Like most companies that pioneer new products within a nascent market, the runway to a profitability can be quite long, but investment returns can also be astounding for those who choose wisely, sit patiently and continually evaluate the company's progress. In our opinion, HART offers a reasonable risk/reward profile for investors seeking high risk to an equally high reward.
The following is HART's strategic plan to profitability:
HART's strategic initiatives to profitability appear quite reasonable at this stage, as the company states on its website that it's targeting "life-threatening medical conditions" as a first step to generate revenue and market exposure.
Fast Path to Trials: HART's solution to tracheal cancer or trauma can be evaluated for efficacy within one year, the expected survival time remaining for patients with no other solution but surgical implantation. Essentially, efficacy is determined by whether the patient survives beyond one year, according to the company. So far, of the eight patients who've received a synthetic trachea, six have survived. The remaining two patients died of other factors unrelated to the surgical procedure.
Favorable Reimbursement Profile: According to HART's website, once the surgical procedure is approved by the Food and Drug Administration (FDA) and other equivalent agencies overseas , the company expects reimbursement to be covered under major medical plans no differently from other surgical procedures, especially as the procedure is expected to be identified as a cost-containment alternative to what is now reasonable and customary treatments for patients with damaged tracheae. HART expects insurance companies would accept between $100k and $200k as a fee for its product in lieu of the risk of much higher exposure to the ongoing and usually protracted costs of immune suppression and chemotherapy. According to HART's research, present treatment protocol costs between $50k and $100k for approximately four months per patient. A single admission to the hospital costs approximately $250k for an average 22-days stay to treat tracheal trauma.
Orphan Status Likely: After the FDA or EU equivalent agency assigns "Orphan Status" to either a drug, durable medical equipment or device, speedier approvals and extended exclusivity awards are enjoyed by the applicant. HART expects FDA approval within four years, according to statements made by the CEO on Bloomberg News. Additionally, the company states on its website that Orphan Status at the FDA could come some time in Q2 of 2014.
In essence, HART appears to be moving rapidly toward developing a moat to protect its business from competitors. With more than 300 patents pending internationally and its first-in position within the marketplace, HART enjoys a distinct advantage to potential future interlopers.
Given the difficulty to market entry, we expect at some point in the company's early years that investors have a reasonable chance of cashing-out from a takeover.
HART estimates the market for trachea implants at between $770M and $1.54B per year within the combined markets of the United States and European Union.
Aside from the company's pilot project, HART's pipeline includes the following: (see chart, below, courtesy of Harvard Apparatus Regenerative Technology, Inc.)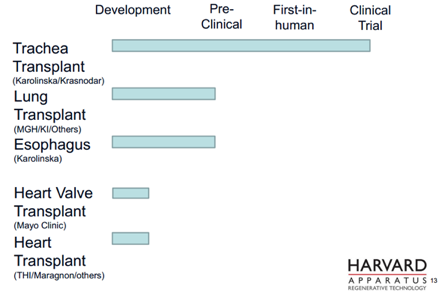 Source: Harvard Apparatus Regenerative Technology
As ONVO Sinks, HART Soars Past Nasdaq BioTech ETF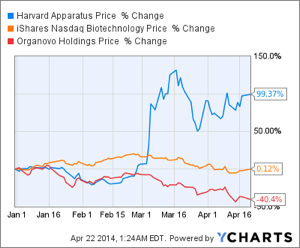 Valuing a company such as HART, or any other enterprise at the development stage, can be quite difficult as private equity investors know well. However, the following list of stocks and their relevant metrics could help investors glean a sense of the stock's value (see Exhibit A).
In particular, we'd like to highlight the metrics of Organovo Holdings, Inc. (NASDAQ:ONVO), a red-hot stock whose business model has been questioned recently.
From the Motley Fool website:
Recently, however, some short-sellers have begun circulating news that Organovo's scientific founder, Dr. Gabor Forgacs of the University of Missouri Columbia, has made it clear he doesn't think the days of printing organs will ever come.

That news was confirmed earlier this week, when Forgacs penned a letter with Organovo CEO Keith Murphy stating: "Will we be able to bioprint copies of the organs we carry in our body? Perhaps not due to a number of factors in addition to the technology hurdles."
With the additional information about ONVO provided here, our intention is not to knock ONVO. We would like to, however, point out the relative value proposition with which investors are presented with the debut of HART to the Nasdaq.
Exhibit A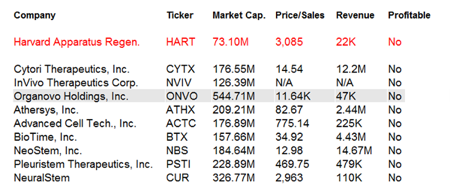 HART has received much less media coverage and exposure than ONVO, yet HART's simplistic technologies offer a reasonable alternative to ONVO's exotic solution to some of HART's targeted organs.
Our question to investors: Is ONVO worth $544.71M? Or compared with ONVO, is HART grossly undervalued at $73.1M? We believe HART offers a much better value proposition to ONVO's market cap at this time.
Risks
With revenue of only $22,000 and a market capitalization of $73M, HART's volatility will most likely be high in the future, especially taking into consideration the company's low float of 6.7 million shares. Setbacks and successes will likely create tremendous volatility in the stock price.
If the company burns cash at near the rate experienced during fiscal 2013, HART's cash balance of $14M will allow funding into late fiscal 2015. At no later than late fiscal 2015, we expect HART to seek funding via a dilution of the company's shares, an establishment of a credit facility, or both. CEO David Green told Bloomberg News that he has estimated a four-year approval process time line at the FDA before the commercialization of HART's InBreathTM Airway Transplant System.
Though there is no guarantee of FDA or European Medicines Agency (NYSEMKT:EMA) approval of any of HART's products, we believe the company comes with an impeccably credentialed and experienced team of medical advisers and executives who are aware of the pitfalls and workings of regulatory bodies.
However, though we do not follow capital flows from institutional, mutual and private equity funds, we are comforted by the impressive list of professionally-managed sponsorship of HART, as reported by Yahoo Finance. According to Yahoo, as of Dec. 31, 2013, one of the largest money managers of the world, BlackRock, and its family of investment funds, combined, owns approximately 10.4% of HART's outstanding float.
Disclosure: I have no positions in any stocks mentioned, but may initiate a long position in HART, ONVO over the next 72 hours. I wrote this article myself, and it expresses my own opinions. I am not receiving compensation for it (other than from Seeking Alpha). I have no business relationship with any company whose stock is mentioned in this article.