Apollo Investment Corporation (NASDAQ:AINV) is a business development company, or "BDC". This company announced a secondary offering of roughly 12 million shares in late February, and that put pressure on the stock. Just before this news was announced, these shares were trading close to the 52-week high of $9.21. It currently trades for nearly a dollar less, at just over $8. This stock has stabilized from the secondary offering, and now appears to be giving investors an ideal buying opportunity.
Apollo Investment Corporation makes debt and equity investments in a wide range of sectors, including distribution, healthcare, technology and more. Its investment portfolio includes well-known companies like Booz Allen Hamilton (NYSE:BAH), Chesapeake Energy Corporation (NYSE:CHK) and others. The fees, capital gains and interest income it earns is used to pay shareholders a very generous yield of about 10%.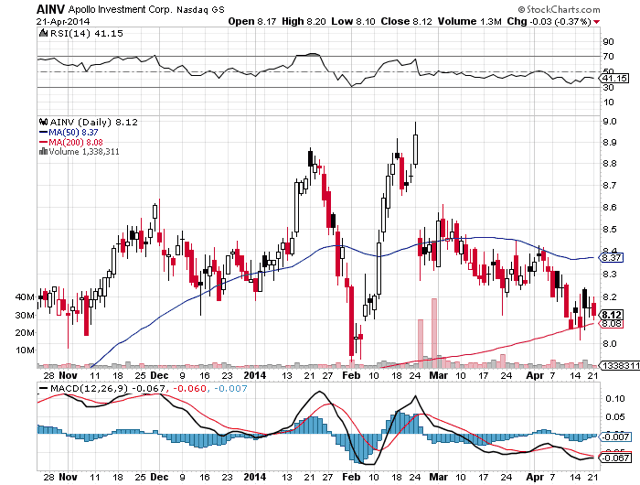 Analysts are bullish on Apollo Investment shares. Zacks Equity Research issued a "buy" rating on March 12, 2014. On April 16, analysts at JPMorgan (NYSE:JPM) upgraded this stock with an "overweight" rating and set an $8.50 price target. The JPMorgan analyst noted Apollo Investment's "improved capital structure and investment prospects". Analysts at Maxim Group have a buy rating and a $9.50 price target. At current levels, investors who buy now could be looking at significant upside (based on these price targets), as well as a generous yield.
This stock has not experienced a significant rebound since the secondary stock offering was announced. The pullback on this news appears overdone, and the stock looks like a high-yielding bargain. Multiple insiders did not hesitate to buy the stock around the time of the secondary, which also indicates this stock could be too cheap. On February 28, 2014, Edward Goldthorpe (an officer) purchased 10,000 shares for $8.64 each in a transaction valued at $86,400. On the same day, Jeannette Loeb (a director) bought 13,500 shares at $8.62 per share in a transaction valued at over $100,000. On February 10, 2014, Gregory Hunt (an officer) purchased 10,000 shares in a transaction valued at roughly $84,000.
With the secondary offering out of the way and with the share price at depressed levels, downside risks appear limited at current levels. The economy continues to push higher in a slow recovery, which could increase the value of its investment portfolio and limit potential risks for investors. The dividend also appears secure at a rate of 80 cents per share annually, since the earnings estimates are at 90 cents per share for 2014.
Apollo Investment recently declared a quarterly dividend of 20 cents per share for shareholders of record on March 21, 2014 (which was paid out on April 7). The next 20 cent per share dividend is expected around mid-June, which means investors won't have to wait much longer before getting paid. This is another reason to buy this stock now.
Here are some key points for Apollo Investment Corporation:
Current share price: $8.12
The 52-week range is $7.28 to $9.21
Earnings estimates for 2014: 90 cents per share
Annual dividend: 80 cents per share, which yields about 10%
Data is sourced from Yahoo Finance. No guarantees or representations are made. Hawkinvest is not a registered investment advisor and does not provide specific investment advice. The information is for informational purposes only. You should always consult a financial advisor.
Disclosure: I am long AINV. I wrote this article myself, and it expresses my own opinions. I am not receiving compensation for it (other than from Seeking Alpha). I have no business relationship with any company whose stock is mentioned in this article.