Gilead 1Q14 Conference Call and Results:
Prior to Gilead's (NASDAQ:GILD) earnings release I published on Twitter and in the comments section on one of my previous reports that I expected Sovaldi sales in the range of $2.1-$2.3B in 1Q14, and was pleasantly unsurprised to see the number come in at $2.27B. This represents the most successful drug launch in history, and Gilead surpassed the sell-side consensus of $1.1B (Bloomberg) and the buy-side at $1.6-$1.8B (ISI Group). Estimates need to come much higher, especially from the sell-side, which has not influenced the stock price for quite some time, but the strong beat of the buy-side should be sufficient to give the bears cause for concern to reevaluate the bearish thesis being pitched by Morgan Stanley and Goldman Sachs.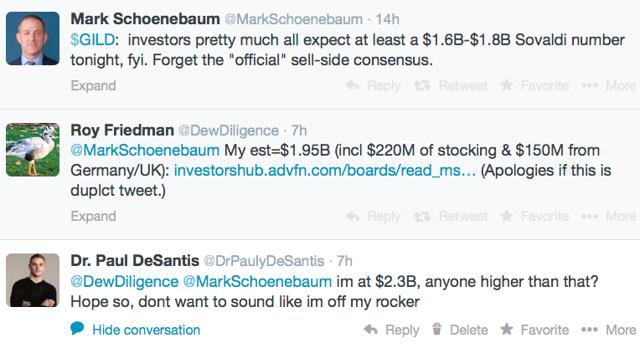 Sovaldi has only been prescribed by 50% of specialists, and mostly in GT1 patients (70%) according to Gilead. Net product sales were 4.9B, 104% growth (yoy), US sales were $3.6B, and for the first time the EU generated $1B in a single quarter. Non-GAAP EPS grew 207% (yoy) to $1.48/share, while gross margins expanded over 1,300 basis points from 74.5% to 87.4%, this implies that FY2014 results should confer an effective tax rate well below guidance of 28-29%. Non-GAAP effective tax rate was 23.2% for the quarter and operating margins improved 50% (yoy) to 66.6%. Gilead reported a cash position of $6.86B, a 166% increase.
Gilead reported geographical Sovaldi demand of $2.3B WW sales, $2.1B US sales, $164M Germany/France, with the remainder of sales from 13 countries worldwide. At EASL this year, similar to the AASLD guidelines including Sovaldi broadly across the HCV landscape as first line therapy, EASL guidelines entrenched Sovaldi into treatment algorithms across all HCV genotypes and all difficult to treat populations. We note that Goldman Sachs physician survey ranks "Treatment Guidelines" as the 4th most important factor when prescribing HCV medications and ranked it of equal importance to "Pricing."
Gilead stated that the warehousing effect is hard to quantify, and while the large HCV practices are clearly holding back ~30% of patient for SOF/LDP, they stated that a large group of smaller practices are only now beginning to prescribe Sovaldi and gaining comfort with it, and they do not expect warehousing in this group. We expect 4Q14 results with SOF/LDP to beat 1Q14 sales by at least 30% based on 4 separate physician surveys we have analyzed.
Gilead spoke about the treatment rates thus far in HCV, and as a whole were not accelerating relative to past HCV peak years in 2001 when 100K patients were treated. Consequently, this gives us confidence that 2Q/3Q will not see as large of an attrition in sales numbers as analysts elsewhere have believed, and furthermore, this gives us confidence in our new estimate for 4Q14 sales with SOF/LDP of >$3B-$3.5B, implying FY2014 sales >$10B. The fact that a) demand and treatment rates have not accelerated thus far in 2014 establishes that Sovaldi is simply the preferred backbone treatment, b) gives confidence that warehousing has been ongoing throughout the 1Q14 launch of Sovaldi, despite the large Sales beat today. Therefore, we see ~ 30% boost in demand from today's levels for SOF/LDP FDC in 4Q14.
Gilead anticipates filing for approval for SOF/LDP combo in 4Q14, where we note Japan has the highest proportion of diagnosed HCV population in the world that have not been treated. This is very bullish for 2015, as we can expect strong demand and rapid treatment of these patients.
Gilead's CFO stated that due to the substantially larger than expected cash flows and given "where our stock price is today, you should anticipate accelerated share repurchases." This bodes well for continued EPS beats throughout 2014. While this is bullish in our view, it may not act as a catalyst; the Street is still focused on sustainability (which our research presents compelling evidence that this is misguided), but will provide tailwinds on sentiment with consistent beats on headline EPS. Repurchase activity during 1Q14 amounted to $450M with an average price per share of $78.35. While no specific guidance was given on the quantity of increased share repurchase activity, we expect it to increase 50% consecutively each quarter to $675M/$1B/$1.5B.
Critically, in our view, there are strong parallels between Gilead's HIV strategy with HCV, and we believe it will be a useful surrogate to forecast how competition in the HCV market will develop. Over 90% of HIV patients the past 3 years are on a Gilead product. This is despite "fierce" competition entering the market over the last 8 years, Gilead has shown an impenetrable moat in HIV, being able to compete on efficacy, safety, convenience, and pricing. Thus, if one looks at the company's HCV pipeline with 4 candidates in clinical development (3 in Phase 2, 1 in Phase 1), its approach is superior to that in HIV, by way of attaining clinical cures in shorter periods of time of 6-8 weeks.
Research and Development is increased at a small rate of 10% (yoy). Gilead in response to an analyst's question stated that they will maintain strict discipline and will be judicious in their approach to capital deployment in both R&D and Business Development Activities reiterating their philosophy to continue to grow at a reasonable and sustainable pace, as programs develop. Singling out that Business Development activity will be focused at least over the near term toward licensing deals. We fully expect several licensing deals in oncology in 2014 post-ASCO in June. Clovis (NASDAQ:CLVS), Incyte (NASDAQ:INCY), Puma Biotechnology (NYSE:PBYI) are all very attractive and will be reporting data in 2H14; we believe Gilead is waiting for some pipeline assets to have data readouts before committing. With regards to the names mentioned, admittedly PBYI and CLVS are outside therapeutic categories Gilead has known to have an interest, but Gilead has made a commitment to developing a strong oncology franchise to diversify its sources of revenues, and achieving this strategic aim requires stepping outside its comfort zone. Incyte's JAK1/JAK2 inhibitor, already approved under the trade name Jakafi in inflammation and oncology, is closely aligned with Gilead's current interests in oncology and could complement its pipeline (momelotinib) in Myelofibrosis, Polycythemia Vera, and other liquid tumors. Important to this narrative is that Incyte has a very wide-ranging Phase I/II pipeline. We view Incyte as a potential takeover target by Gilead or another bidder, not for licensing deals.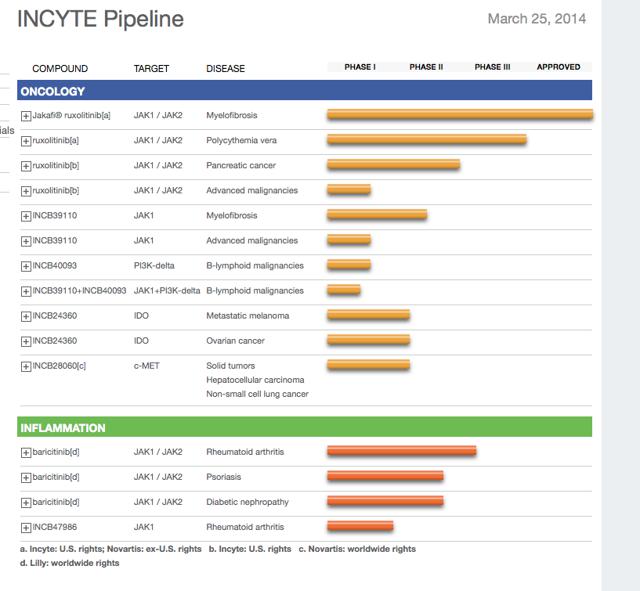 A notable increase in enthusiasm surrounding Simtuzumab was present relative to previous conference calls, saying that "the data has strongly supported its role in reversing fibrosis, and decided to go into solid tumors, selecting pancreatic cancer, Idiopathic Pulmonary Fibrosis (IPF) and Liver Diseases, all these studies were done, and if we see a spectacular result we could file for phase 2 data, both the liver studies (NASH/HVPG) are adequately powered and the IPF study that we could file with Phase 2 data."
Addressing analyst questions surrounding the negative headlines from Express Scripts and Waxman, management was very keen and objective in their responses, sticking to the strong clinical evidence supporting their value proposition reiterating that the value of a cure is understated, all cause mortality is significantly reduced, and the overall costs of HCV is very high, clarifying that "curing large portions of patients help reduce overall costs."
Mark Schoenebaum of ISI asked for color on the pricing concerns and potential threats by Express Scripts setting high barriers for their patients to get access to Sovaldi. Management commented that there are 4 points:
Regimen costs of 12 weeks is similar to standard of care with P.I.'s
Sovaldi provides higher cure rates, shorter durations so there is value
There are comorbidities associated with HCV outside the liver, extra-hepatic diseases
Curing HCV has benefits beyond the liver; it is a chronic inflammatory disease, increases CNS, diabetes, and heart disease, so there are collateral benefits beyond the liver, and this is somewhat under appreciated.
In Patient Reported Outcomes Study's (PROS) patients achieving SVR have much better outcomes than those that failed to achieve SVR.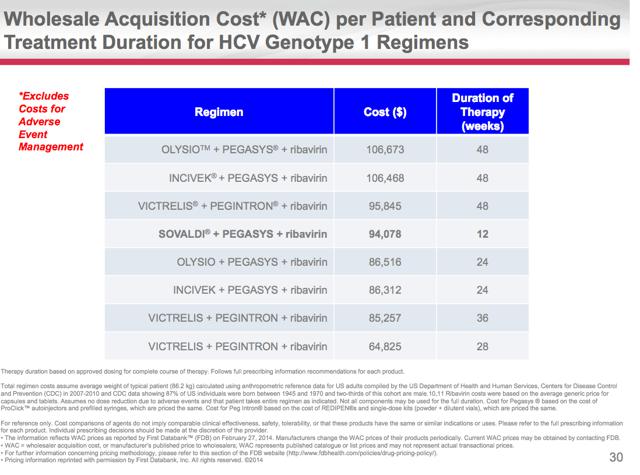 Management concluded that "it is not smart to restrict from a health view," but may be necessary economically, and said that only anecdotal comments suggest that Sovaldi was prescribed in F3-F4 fibrotic patients accounted for 30-40% of patients.
In conclusion, we will revise our sales model to reflect the increased confidence in sustainability and treatment trends based on the clarity from 1Q14 performance in our upcoming deep-dive rebuttal report to Morgan Stanley and Goldman Sachs. We expect our 4Q14 estimates will increase after Sovaldi/Ledipasvir fixed-dose combination gains approval in October to reach $3-$3.5B and FY2014 sales to reach in excess of $10B. Where do the shares trade from here? Gilead has rallied more than $12 above its lows just 2 weeks ago repairing some significant damage to the technicals. In conjunction, with data released at EASL and increasing investor awareness, we believe Gilead is very cheap for any value oriented portfolio manager. The preferred strategy thus far, however, is to buy the fear, hold a core long position, and take some profits after large rallies, and accumulate on any corrections more than 5-10%. With momentum and sentiment seemingly to have turned positive for now, Gilead should continue to trade towards the previous highs.
Disclosure: I am long GILD. I wrote this article myself, and it expresses my own opinions. I am not receiving compensation for it (other than from Seeking Alpha). I have no business relationship with any company whose stock is mentioned in this article.