General Motors Corp. (NYSE:GM) is forging ambitious plans to tackle the car market in China by battling Volkswagen and SAIC Motor Corp. with a $12 billion investment plan that includes new plants.
It is also aiming to boost its Cadillac sales in that country by 2015.
The aggressive plan will unfold from 2014 to 2017 as it competes in the biggest auto market in the world.
The American car manufacturer is hoping to expand its sales in China by about 10 percent in 2014, an estimation based on the overall growth of the car industry in China.
President of GM China Matt Tsien announced GM's strategy to invest in a shrewd way to accelerate vehicle manufacture and development at the Beijing Auto China Show. He said that GM aims to keep on top of promising market development in China. By 2020, GM expects to have improved its car making capacity by as much as 65 percent.
Volkswagen's Success in China
GM's main rival in the automotive business is the highly successful German carmaker, Volkswagen. Currently, VW is enjoying market dominance in China dues to its early entry. However, its impact has mainly been in the eastern provinces, and it is now planning to make a push into the central and western provinces.
VW has established numerous dealerships in Beijing and Shanghai and its new strategy is to promote Audi, its luxury brand, in other megacities. According to Chief Executive Rupert Stadler, the company's goal within the next 3 years is to have 500 urban dealerships in China's central and western provinces.
Meanwhile, the head of the company's operations in China, Jochem Heizmann believes that there is an enormous market opening up for passenger cars in rapid state-induced urbanization.
China's Auto Market
In 2013, China's auto market was 13.9 percent higher than in 2012. Last year, 21.98 million vehicles were sold. The market growth rate is expected to be slightly lower in 2014, expanding by about 10 percent. Despite this small dip in demand, car manufacturers are now eyeing the smaller cities in China for profitable growth prospects. By comparison, in the US, 15.6 million vehicles were sold in 2013, and this only represents a 7.9 percent gain over the previous year.
Volkswagen's Plans for Expansion
Currently, Volkswagen has become the top-selling foreign automotive manufacturer in Germany, eclipsing the dominance GM enjoyed in 2013. Their primary strategy has been aggressive spending and working in collaboration with Shanghai Volkswagen and First Automotive Works. They are dedicating to spending 18.2 billion Euros until 2018 to improve plants, technologies, car models, and sales.
GM's Comeback
However, with the Detroit automaker's new $12 billion investment in building vehicle assembly plants in Wuhan, Chongqing, and Jinqiao and a vehicle assembly plant in Shenyang, VW may lose its competitive edge. Moreover, Cadillac sedan sales will improve in China because of the manufacturing facilities in the Jinqiao plant.
GM wants to sell an overall total of 100,000 of its flagship product in China by 2015. This is double what it did last year. According to President of GM China Matt Tsien, Cadillac's growth will be based on introducing new products into the marketplace. The XTS took GM's sales to the 50,000 level, but with new product launches, GM aims to hit their goal of 100,000.
Back On The Road For GM Investors?
Of course, investors should not forget GM is currently still mired in litigation in the US, involving a $100 million vehicle recall, due to faulty ignition switches. Domestically, this has made GM a less desirable name, compared with, say, Tesla (NASDAQ:TSLA), or Nissan (OTCPK:NSANY), which are blazing forward with new designs and technologies. Abroad, however, GM vehicles appear to be in growing demand.
Overall, GM is estimating a total of 5 million in sales for their cars, with 100,000 in sales from their Cadillac line. Working with Chinese partners, the company is adding additional factories and plans to have 700,000 vehicles roll off their assembly lines this year.
As GM stock has proved relatively resilient to the storm at home and has been on a steady increase post-bankruptcy (see below), investors should consider positive development in China as an impending, favorable boost for the company.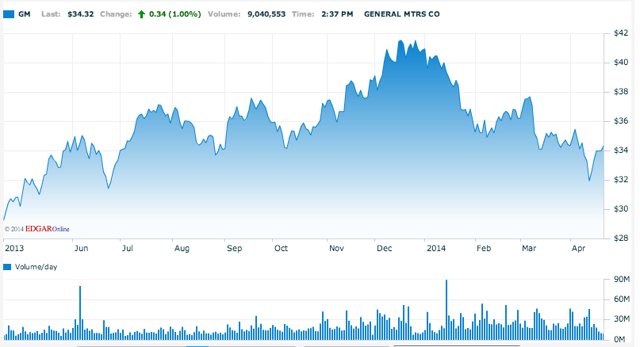 (Nasdaq.com)
We invite readers wishing to read and join the discussion about General Motors on a regular basis to click the +FOLLOW button above the title of this article.
Disclosure: I have no positions in any stocks mentioned, and no plans to initiate any positions within the next 72 hours. I wrote this article myself, and it expresses my own opinions. I am not receiving compensation for it (other than from Seeking Alpha). I have no business relationship with any company whose stock is mentioned in this article.