Luxury smartphones is a growing segment for those who want their phones to make a statement. The real luxury players are not the common place so-called luxury phones like the Apple (NASDAQ:AAPL) iPhone or the Samsung Galaxy. Luxury is not quite that plebeian.
For those readers who crave luxury and can afford it, here are some luxury smartphones for your interest. The photos are courtesy of Laptop, part of Tom's Guide. Once you have seen the real premium smartphones, those SA readers who like to compare the iPhone to a Mercedes, BMW or Porsche may wish to recalibrate their thinking. If the iPhone has any premium cachet, I would compare it to a Buick versus a Chevrolet.
Vertu Constellation
Priced at only $6,600 for those who need to ask, this elegant and jewel encrusted Android phone comes in colors that blend in with the upholstery in one's Bentley or Rolls Royce. Tasteful and refined the device is hand made by British craftsmen.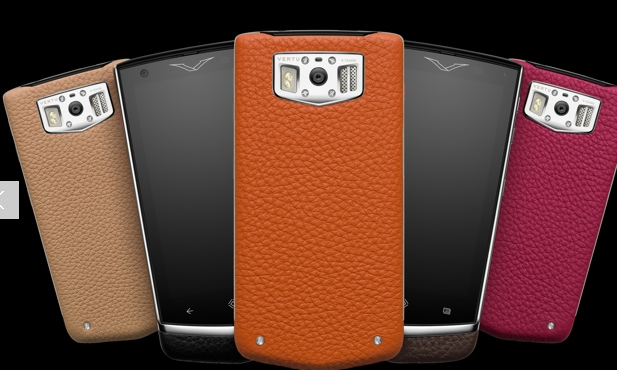 Photo: Tom's Guide
Tag Heuer Meridiist 2
Those who wear fine watches may find the impressively designed Meridiist 2 from Tag Heuer in gold and black a suitable accessory for their white dinner jacket as they dine out in Monte Carlo with a gorgeous silver and pink matching smartphone for milady. With Tag Heuer's 24 hour concierge service, the refined user has no real use for a large screen or game of Angry Birds. Leave those for the domestic staff.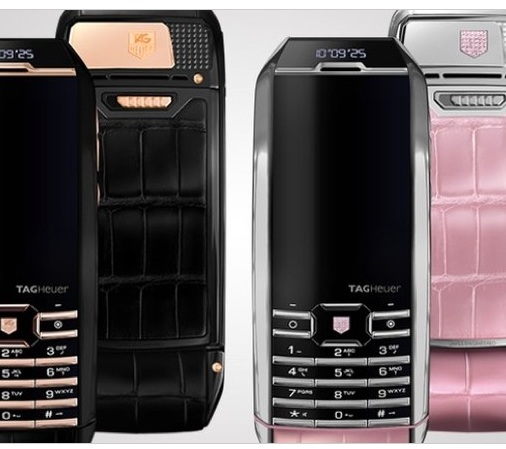 Photo: Tom's Guide
Gold HTC One
The discerning Asian prefers an authentic gold HTC One to a faux gold-colored device offered by some competitors. Gold is gold, after all.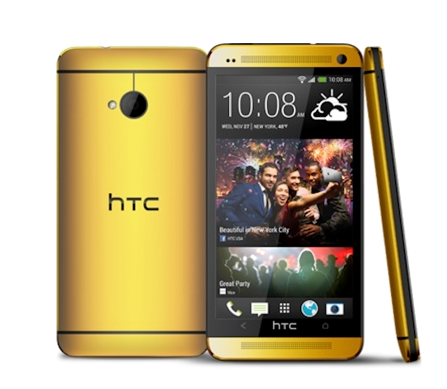 Photo: Tom's Guide
Tonino Lamborghini Antares
The bold lines and powerful sweeping design of the Tonino Lamborghini Antares looks wholly appropriate beside the rakish beauty of the higher end Italian sports cards on the Riviera. Anything less might be seen as a compromise.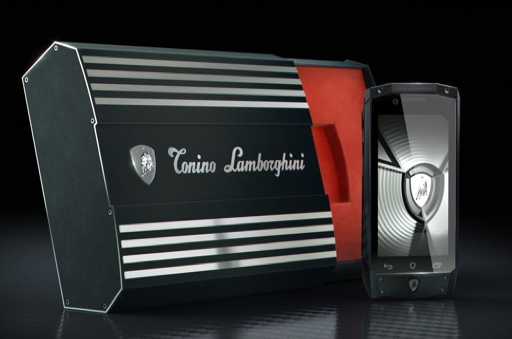 Photo: Tom's Guide
Mobiado Professional 3AF
Ahead of the curve with a sapphire display and strong masculine lines, the Mobiado Professional 3AF is completely at home at Le Mans or Reims, setting its owner apart from the crowds of race watchers flocking to the hill sides to try to glimpse the Ferraris and McLarens speeding past. If you need a carrier subsidy, you are not in the market for this phone.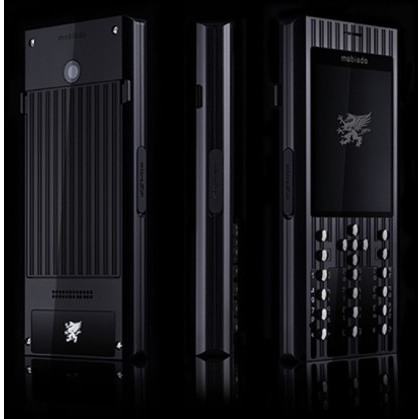 Photo: Tom's Guide
Gresso Radical
Truly a limited edition with only 999 of these gorgeous smartphones ever made, the Gresso Radical is sure to impress.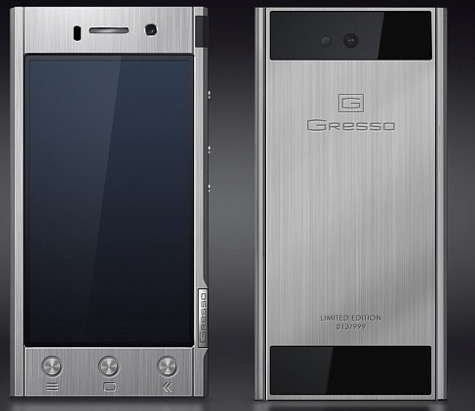 Photo: Tom's Guide
Savelli Jardin Secret
If you really care and it is too early for diamonds, a Savelli Jardin Secret might be enough to keep the flames alive. Suitable with Vera Wang, Versace and Dior and not out of place in a clutch, you won't embarrass her if you call to say you are running a few moments late.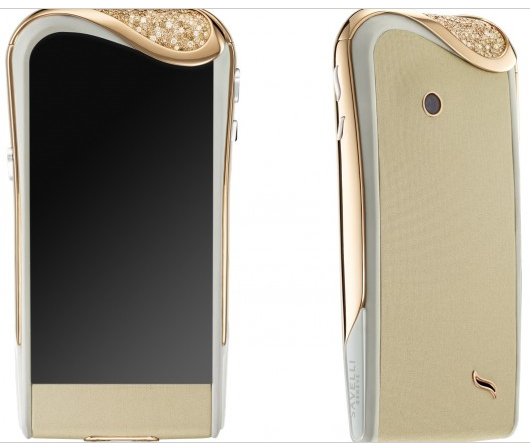 Photo: Tom's Guide
Summary
The major smartphone vendors need high volume to earn high profits and while some define their iOS and Android smartphones as premium, the fact is they are pretty ordinary. The real premium segment is a more rarefied atmosphere populated by those who spend their weekends at their country homes; frequent the Riviera; and, can be found on the ski slopes of St. Moritz or mooring their yacht at Ocean Club on Paradise Island.
One thing is certain - the high end of the market is well above the iPhone or Samsung Galaxy.
Apple's decline in the next few quarters is pretty well built in to the schedule of new releases. Almost half of smartphone buyers today are planning to buy a device with a larger screen.
Until this fall's expected launch of larger screened versions of the iPhone, Apple simply has none to offer. Apple should turn in a pretty weak June quarter as its loyal fans wait for the iPhone 6 and those who just want a high end phone with a larger screen buy someone else's device.
With respondents to the Changewave Research survey who plan to buy a larger screen phone than a current iPad growing from 27% in December 2012 to 47% in March 2014, you can expect to see demand for iPhones sag through the fall.
For the time being at least, interest in Samsung's devices is growing with 28% of the ChangeWave Research respondents planning to buy a Galaxy over the next 90 days. Those consumers won't be in the market for an iPhone 6 when it arrives.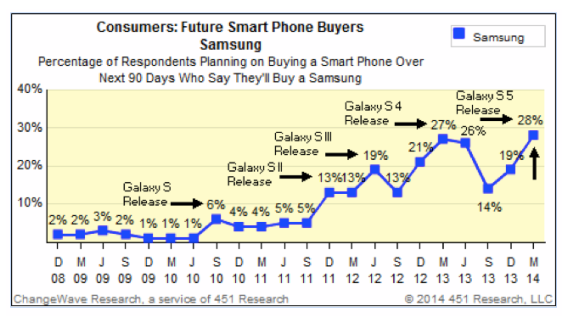 Apple's future financial performance is going to turn to a great extent on the success of the iPhone 6. Early indications suggest it will be well received but much of the enthusiasm is being expressed by current iPhone users and real success will need broader appeal.
Writing anything negative about Apple is akin to heresy in some circles.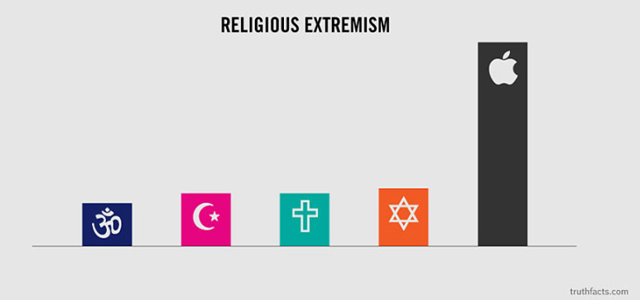 Source: fix-x.com
At the risk of offending nameless zealots who use the handles like Zipper0 and Lambretta Mike (but who have many useful contributions to the Apple discussion when not preaching), I am short the stock.
Disclosure: I am short AAPL. I wrote this article myself, and it expresses my own opinions. I am not receiving compensation for it (other than from Seeking Alpha). I have no business relationship with any company whose stock is mentioned in this article.