Gulf Keystone Petroleum is listed on the main board of LSE as GKP and also in the US OTCPK as GUKFY. For Seeking Alpha I shall refer to the stock price in USD but also provide the underlying GBP price.
In Short
I believe that following Gulf Keystone Petroleum's (OTCQX:GUKYF) recent decline from $2.70 to below $1.70 (160p to 100p) that the name is valued largely inline with regional competitors given its 2P reserves and current production. The free market mechanism has push the company's valuation down inline with peers using the Enterprise Value against proven and probable reserves (2P) and barrels of oil produced daily (bopd) as a comparative metric.
Introduction
Investors in LSE main market listed Gulf Keystone Petroleum have not had an easy ride. The enterprise value has been slashed from $2,791mln to $1,525mln from Dec 2013 to Mar 2014. GKP was an amazing story in early 2012 when takeover rumours (link) and massive oil finds saw the share price hit over $6.75 (400p) only to fall back to $3.40 (200p) when no takeover bid transpired. Then a protracted court case played out until mid-2013 (link) but instead of the blue skies many looked for the name fell back even further as operational targets were missed and the first Competent Person's Report (link) delivered 2P reserve numbers that were apprently under expectations.
Please see images below (author's own) for peer comparison:
Please note the GKP Q2 numbers are my own estimates - debt adjusted for $250mln bond raise, production at Q2 estimates and the cash hasn't been adjusted for capex/opex/sales revenue etc) - Q2 numbers expected end of April. Also not the numbers within were accurate at time of submission for publication on the 19th April 2014.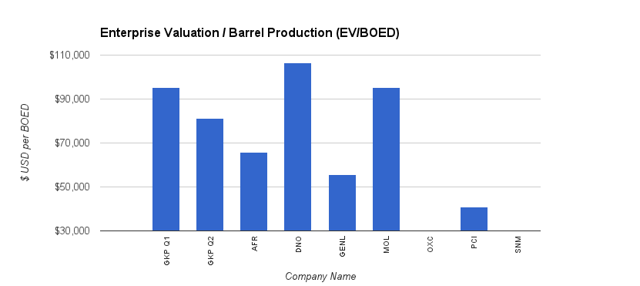 Some of the other names are more diverse (MOL and DNO) while others are small caps with their own idiosyncrasies. Looking at the Enterprise Value of a each company against its 2P booked reserves and its daily production of oil (bopd) our test group provide regional averages of $75k EV/bopd and $10 EV/2P. GKP sits to the upper end of the demonstrated range ($95k and $9.36). GKP could drop further and still be inline with a share price of 75p-80p. In fact the share price bounced off support of $1.35 (81.91p) April 1st 2014.
The valuation of Gulf has been savagely beaten down as market estimates of unknown reserves and production have been replaced by known figures recently published. The pre-CPR EV of GKP, using the group's average metrics, implied 2P reserves of 279mmboe and production of 37,000 bopd. Well overvalued given the reserve numbers published was 163mmboe and current production at 16,000 bopd.
It can be shown that current price levels are now largely inline with regional peers and even still slightly over-priced. Bearish? Not really - there is arguably good reason for some optimism.
Production Outlook
Currently at 16,000 bopd and targeting 40,000 bopd by the end of calendar 2014. The company had issued its targets (link) and have a clear path to and above 40,000 bopd whether they deliver or not is another concern. GKP have one operation production facility (PF-1) with 3 wells tied in and another pending. They have also built PF-2 and have 2 wells ready to be tied in and a 3rd having its lines laid. While PF-2 is built and now being commissioned and production is forecast to begin April/May. As each well is tied in and the earlier producers reworked to reduce back pressure management believe that 20,000 bopd will be reached shortly (Q2) from PF-1 and PF-2 to take that number up to the targeted 40,000 bopd by the end of 2014. 40,000 is just an interim target as the field development plan of the Shaikan asset alone sees phase one production at 66,000 and once full production is underway a plateu production of 250,000 to 400,000 bopd in the long term.
What is interesting is that the required wells for 40,000 bopd have been drill, completed and flow tested. The oil is there and now is the time for the management to demonstrate the operational abilityand deliver on its production goals over the next 9 months.
Reserve Outlook
The 2P number stands at 163mmboe with 434mmboe 2C. Looking ahead to the end of 2014 and beyond as the company puts the production development assets in place the 2C reserves will migrate to 2P. A total 2P+2C of 738mmboe currently stated in CPR report. That alone would be a considerable improvement on the current 2P reserve. However, that is not the full story - the reserves can be enhance further.
Any refinement of the understanding of the geology with regards to fracture porosity, recovery rate of oil held in the matrix and in the fractures, definition of the OWC levels etc at the Shaiken field could mean considerable upgrades to gross oil in place (STOIIP) and 2P/2C reserves. The Shaikan asset alone stands at 9.380bln (billion) mmboe STOIIP of which GKP holds 51% working interest - a internationally significant oil asset by any measure.
Exploration continues as well with the SH-7 drill targeting the unexplored lower horizons for yet more oil (results due Q2) which could further enhance the reserve numbers.
GKP also has varying amount of interest in 3 other fields comprising of 4 separate commercially declared discoveries. As the operators of those blocks publish further drill results those reserve numbers will also move north. Significantly, MOL is releasing its 2P reserves for the joint interest in the Akri-Bijeel assets at the end of April (link).
Conclusion
It is the opinion of this shareholder that the recent numbers came as a disappointment to the market and the company's share price has been hammered. However, the assets are being developed and the current share price is sitting 20% above a floor valuation based on the 2P number of 163mmboe and production of 16,000 bopd based on relative valuation of its peers. The 20% premium is what the market is current attributing to reserve upside and the ramp up of production probably heavily tempered by the various political risks of operating in Iraq (a separate article needed!) and doubt over Gulf's ability to actually deliver operationally.
The share price could not sustain such high levels overvaluation pre-CPR and the actual 2P/production numbers supported a much lower valued which the market push down towards. It is my working hypothesis that the pain has been taken, the share price is underpinned at these levels on the current reserves and production and the risk-reward in GKP is a very attractive.
Disclosure: I am long GUKYF. I wrote this article myself, and it expresses my own opinions. I am not receiving compensation for it. I have no business relationship with any company whose stock is mentioned in this article.
Additional disclosure: I am actually long the London listed security (GKP) equivilent to GUKYF.
Editor's Note: This article discusses one or more securities that do not trade on a major U.S. exchange. Please be aware of the risks associated with these stocks.