Linn Energy (LINE) has been a hard stock to own ever since it started facing criticism from Hedgeye/Barron's. While the company has had a few self-inflicted problems, mostly related to production issues, these short attacks caused extreme volatility in the unit price in 2013, an unexpected surprise for income investors accustomed to stability. However, Linn Energy may be facing another problem with its sister stock, LinnCo (LNCO).
How does LinnCo work, in a nutshell?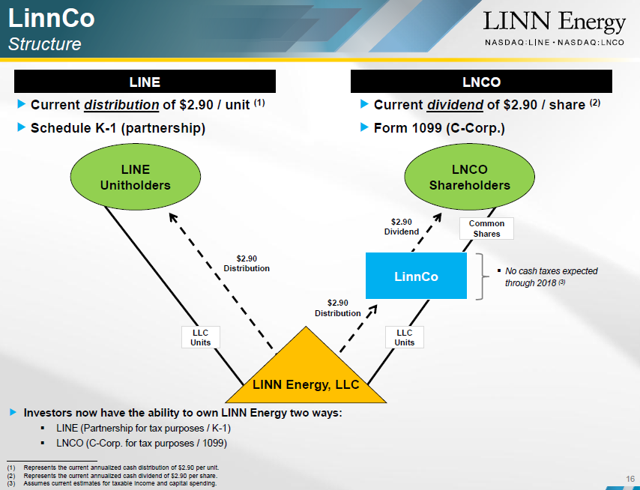 Source: Retail Brokerage Presentation
Without getting into too much detail, LinnCo is basically Linn Energy in a C-corp structure, rather than a LLC. The only assets held by LinnCo are Linn Energy units, which are equal in number to LinnCo shares outstanding. The result is that each share of LinnCo has an equal economic interest as one unit of Linn Energy.
Regarding taxes on the corporate level, LinnCo is able to avoid paying cash taxes on its received distributions via the "tax-shield" resulting from its ownership of Linn Energy units. However, eventually, this tax-shield will not be enough to cover 100% of the distributions, with estimated cash taxes starting in 2018.
Therefore, LinnCo can currently offer a dividend equal to Linn Energy's distribution, though with none of the related MLP hassles. Indeed, at tax time, LinnCo issues the much simpler Form 1099 versus the rather complicated Schedule K-1 over at Linn Energy.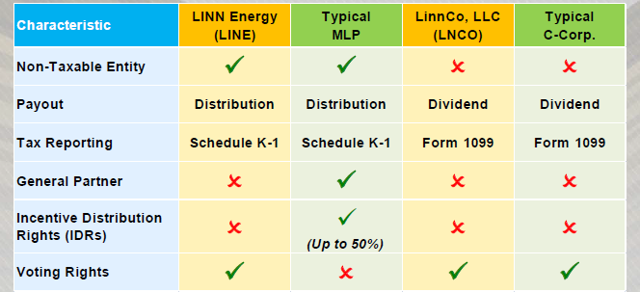 Source: Investor Fact Sheet
Are LinnCo's "dividends" really dividends?
However, LinnCo's dividends do have a problem, namely that they may not technically be "dividends". Below is a screengrab of LinnCo's announced final determination of the federal income tax characteristics of its 2013 cash distributions. Please pay special attention to the column labeled "Percentage Reported as Nondividend Distributions in Box 3 of Form 1099-DIV".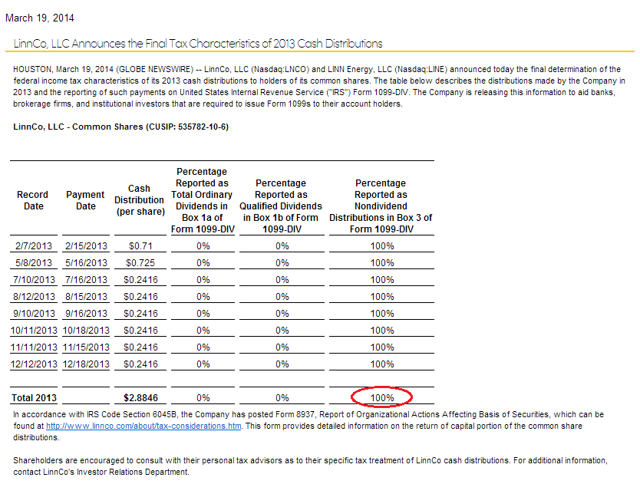 Below is the IRS definition of nondividend distributions:
Nondividend Distributions

A nondividend distribution is a distribution that is not paid out of the earnings and profits of a corporation or a mutual fund. You should receive a Form 1099-DIV or other statement showing the nondividend distribution. On Form 1099-DIV, a nondividend distribution will be shown in box 3. If you do not receive such a statement, you report the distribution as an ordinary dividend.

Basis adjustment. A nondividend distribution reduces the basis of your stock. It is not taxed until your basis in the stock is fully recovered. This nontaxable portion is also called a return of capital; it is a return of your investment in the stock of the company. If you buy stock in a corporation in different lots at different times, and you cannot definitely identify the shares subject to the nondividend distribution, reduce the basis of your earliest purchases first.

When the basis of your stock has been reduced to zero, report any additional nondividend distribution you receive as a capital gain. Whether you report it as a long-term or short-term capital gain depends on how long you have held the stock. See Holding Period in chapter 14.

Example.

You bought stock in 2000 for $100. In 2003, you received a nondividend distribution of $80. You did not include this amount in your income, but you reduced the basis of your stock to $20. You received a nondividend distribution of $30 in 2013. The first $20 of this amount reduced your basis to zero. You report the other $10 as a long-term capital gain for 2013. You must report as a long-term capital gain any nondividend distribution you receive on this stock in later years.
What does this mean?
For starters, it means that LinnCo's "dividends" are technically not dividends (ordinary or qualified) in the eyes Linn Energy and LinnCo. Instead, they are a nondividend distribution not paid out of either earnings or profits.
In addition, they result in the reduction of the cost basis for the stock. Once the basis is reduced to zero, the investor would need to report the distributions as either long- or short-term capital gains, depending on the holding period.
While this distinction may seem trivial, a reduction in the cost basis may come as a surprise for holders of LinnCo's stock. Furthermore, it may lead to some confusion with tax filings, as the distribution may be misclassified as a dividend(s).
Even so, the net result for the vast majority for LinnCo shareholders should be nil. IRAs already shelter both capital gains and dividends from taxes. Furthermore, institutions, the primary target for LinnCo shares, are savvy enough to avoid any potential headaches.
Disclaimer: As always, investors are advised to consult with their personal tax advisors as to their specific tax situation. Furthermore, the opinions in this article are for informational purposes only and should not be construed as a recommendation to buy or sell the stocks mentioned. Please do your own due diligence before making any investment decision.
Disclosure: I have no positions in any stocks mentioned, and no plans to initiate any positions within the next 72 hours. I wrote this article myself, and it expresses my own opinions. I am not receiving compensation for it (other than from Seeking Alpha). I have no business relationship with any company whose stock is mentioned in this article.