Sin stocks have markedly outperformed the broader market in recent years. As illustrated in the chart below stocks from the industry's biggest companies like Las Vegas Sands (NYSE:LVS), Wynn Resorts (NASDAQ:WYNN) and Melco Crown Entertainment (MPEL) have grown 17-, 8- and 7-fold in the last five years.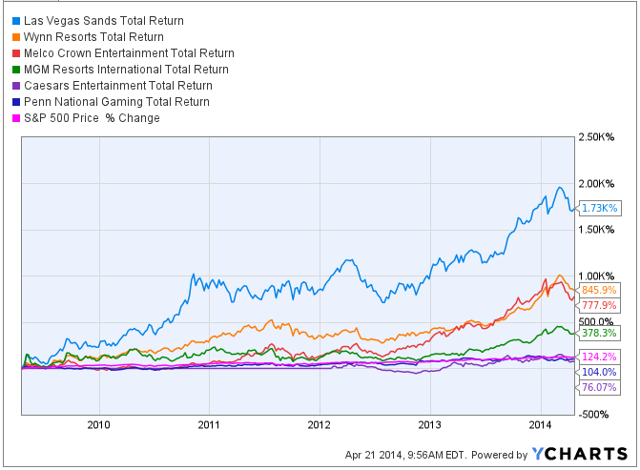 However, gaming industry stocks have dropped in value lately, making many of them attractive in terms of valuations. Will the industry continue to grow? Below, I discuss the reasons for further industry growth along with candidates for superior returns.
Why gaming stocks?
1. The house always wins
With the exception of a few cases, the premise holds true as casinos around the world do everything in their capacity to ensure maximum profitability. They influence player behavior and try to control every little experience that a customer has at their gambling floor. From the rules regulating the games to the music playing in the background to interior designs, everything is meticulously planned (or designed) with the sole objective of getting customers to gamble with as much money for as long as possible. For instance, gambling floors traditionally confuse the concept of time while enticing setups are put together to improve player stamina.
Apart from psychological influences and physical comfort, casinos also implement strategies to benefit from games. Therefore, table games or slot machines have a built-in "house edge," whereby profits are drawn from each bet. As unfair it may seem, casinos write the very rules that customers have no choice but to abide by. To top that all, even at the slightest indication of you having an edge over their system, you are likely to be removed and possibly barred for lifetime in most parts of the world. In fact, security plays an important role in earnings, and as a result, casinos spend a lot of money to safeguard their best interests.
2. Macau growth
Over the last few years, gaming stock investors have been primarily focused on growth in the Asian gaming Mecca of Macau. The region generates about seven times the revenue of Las Vegas and has not only delivered double-digit revenue growth for several periods in a row, but also repeatedly surprised investors with higher-than-expected figures. According to the Gaming Inspection and Coordination Bureau's recent data, Macau's gambling revenue was up 13.1% year-over-year to $4.4 billion in March. For the first quarter of 2014, the region's gross gaming revenue totaled $12.8 billion, up 19.8% over the first quarter of 2013.
A key growth driver of Macau casinos has been the ever-growing tourism to the region, especially from Mainland China. According to government statistics, visitor arrivals increased 8% year-over-year to 2.56 million in February. In the first two months, visitor arrivals totaled 5.06 million, an increase of 8% year-over-year. Nearly two-thirds of these visitors come from Mainland China.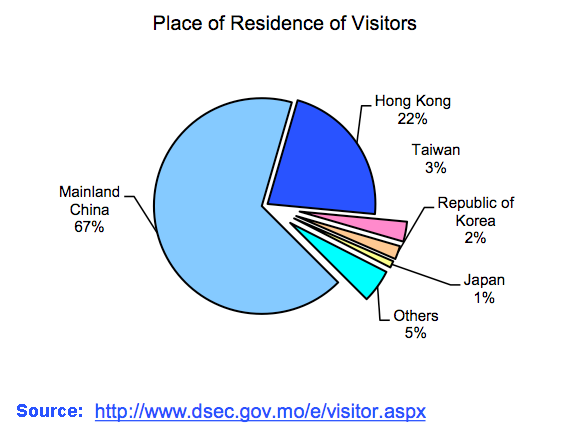 With China's upper middle class expected to triple in the next ten years, outbound tourism is set to double in the next five years and transportation connectivity to expand meaningfully in the near future, Chinese customers will continue to drive Macau's growth.
3. Opportunities in other Asian countries
In addition to the growth opportunity in Macau, big gaming companies are also exploring opportunities in other Asian nations such as Japan, South Korea, Philippines and Vietnam. In Japan, the Abe government is expected to enact new legislation to legalize casinos, thereby opening up the nation's lucrative gaming market. The initial bill was submitted to the Diet a few months ago and if all goes well, we can expect the passage of a second draft by 2016. The big casino developers, including Las Vegas Sands, Wynn, Melco Crown and MGM Resorts (NYSE:MGM), have expressed strong interest in Japan, projecting it to turn into one of the largest gaming destinations in the world.
Top gaming stock-plays
1. Value of big gaming stocks
That "the house always wins" is never more clear than after a loss. Considering the money people lose, casino ownership could almost never be a losing proposition, except when they are grossly overvalued.
Gaming companies invest billions of dollars in building resorts with cash-generating potential for the future. Therefore, the best way to analyze the value of a gaming company is to look at its entire value, including both equity and debt, and compare it with earnings (EBITDA). The chart below compares the EV/EBITDA metric for some of the most prominent names in the industry.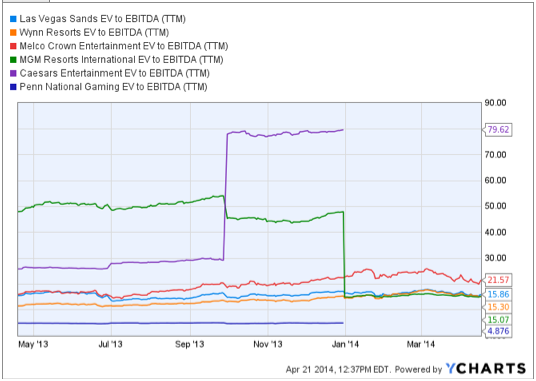 Caesars Entertainment (NASDAQ:CZR) and Penn National Gaming (NASDAQ:PENN) reported net losses of $1.41 billion and $520.5 million, respectively, during the last 12 months. With an EV/EBITDA of 21.57, Melco Crown is by far the most overvalued stock followed by a near-tie between Las Vegas Sands, Wynn and MGM around the 15-level.
2. Macau's impact on earnings
As illustrated in the chart below, Las Vegas Sands is the undisputed leader in Macau with as many as four resorts in the region already and another, the Parisian, coming up in late 2015. It currently has 9,277 rooms, controlling 56% of all gaming operator hotel rooms and 38% of the total market in Macau.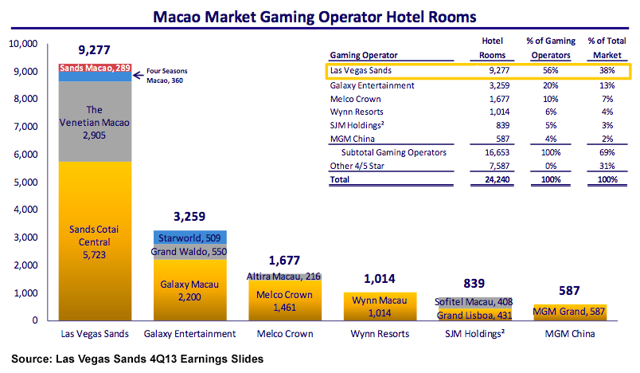 While Las Vegas Sands focuses on a more mass-growth approach, Wynn lays emphasis on the premium customer experience. Its VIP revenue has increased tremendously over the years and its existing property maintains the highest ratings on the island. The company is building its next resort, which is set to open in early 2016, and MGM is also expected to finish building its Cotai resort around the same time. Melco Crown's pending approval for table games at Studio City makes it a somewhat riskier option than the other three.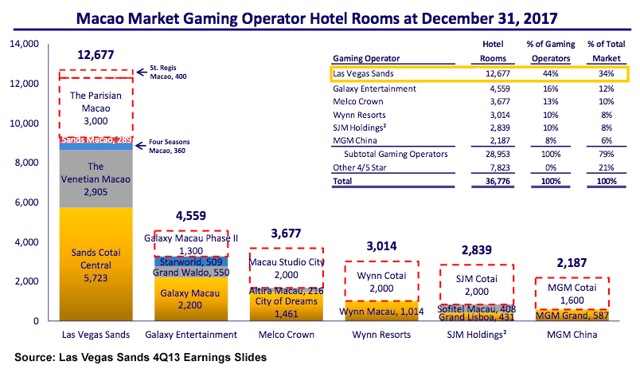 After the completion of the next phase of development, Las Vegas Sands is expected to retain its position as the region's gaming leader with 34% of the total market by the end of 2017. However, the impact on earnings from the Cotai property additions will be most pronounced with Wynn and MGM. As shown in the chart above, each company should more than double their capacities and market shares (from current 4% and 2% to 8% and 6%, respectively). Therefore, one could expect far greater EBITDA growth for these companies when the new resorts open.
3. Other significant impacts
If Japan legalizes casinos, Las Vegas Sands, Wynn and Melco Crown will be among the front-runners for casino licenses as they possess strong track records to support their cases. Las Vegas Sands is also exploring opportunities in South Korea and Vietnam and, given its financial resources and solid reputation in Asia, the company is best positioned to compete for casino development projects in both regions. Melco Crown is a part owner of City of Dreams Manila in Philippines, an unknown gaming market. It is heavily dependent on Macau expansion for now, thereby a slightly riskier option than Sands and Wynn.
The top stock-plays
Las Vegas Sands and Wynn Resorts clearly make the top-two stocks in the industry. Considering the valuations and growth prospects, Las Vegas Sands is undoubtedly the best gaming stock with strong current presence in key gaming markets around the world along with significant expansion plans. It pays a dividend that yields at 2.7%, compared with a 2.4% yield paid by Wynn. It has continuously grown sales for several years now, and is expected to grow sales and per-share earnings by 16.12% and 31.72%, respectively, this year. Nevertheless, with the addition of another resort to its lone property in Macau, Wynn may see a meaningful growth in earnings in the short term.
Final thoughts
Whether you approve or not, casinos are here to stay and tactfully cheat you out of your own money. They are the businesses you wished you owned, and these stocks provide you with that opportunity. However, not all stocks are the same, so you should carefully pick companies based on valuations and growth opportunities. With government narratives becoming more and more pro-casino of late, the market for casinos is expected to expand in the years ahead.
Disclosure: I have no positions in any stocks mentioned, and no plans to initiate any positions within the next 72 hours. I wrote this article myself, and it expresses my own opinions. I am not receiving compensation for it (other than from Seeking Alpha). I have no business relationship with any company whose stock is mentioned in this article.