A short while ago, I submitted an earnings preview for Skyworks Solutions (NASDAQ:SWKS) which maintained a bullish outlook on the company and states its promising outlook going into the future. With the recently released Q2 Earnings Release made available today, it is clear to see that the company has made a strong start to FY 2014. At $481 million, the company beat estimates and saw a revenue increase of 13% year over year and posted a $0.63 diluted EPS, 3 cents over the market estimates. At the time of writing, the stock is 8.8% up today from the close.
In this piece, I want to accomplish a comparison of the company's financial history and analyze the key metrics that make up Skyworks' operations. This will prove to be useful in projecting both the company's current and future valuations.
Earnings Recap
$481 million in Revenue for Q2 2014, up 13% year over year
$0.62 diluted EPS ($0.40 GAAP), beating estimates by $0.03 and up 29% year over year
$214 million in quarterly cash flow
First dividend will be issued at $0.11/share, payable on May 22, 2014
Skyworks exceeded guidance across all key metrics last quarter and is set to substantially outpace the broader semiconductor industry as we capitalize on increasing analog system complexity driven by the Internet of Things.

- CEO David Aldrich
Outlook on Q3 2014
Estimated revenue at $535 million, up 23% year over year
Estimated diluted EPS at $0.73, up 35% year over year
Analysis
Looking at its price over the course of its trading history, Skyworks has been somewhat of a volatile journey for its investors. It was involved in the technology bubble that ran rampant in the late 1990s and it crashed following the boom. Throughout most of the past decade, it had been trading at a lull at prices of around $9 and $10. With the growth of mobile devices in 2009 and 2010, however, Skyworks rebounded and is currently climbing its price back up to its previous highs. How long can this be sustained, though? My expectation is that it will continue to grow, even if at only a steady increase, well into the 2020s. Global smartphone penetration is increasing in first-world and developing countries, and a future boom in the Internet of Things industry will only help Skyworks' cause even further.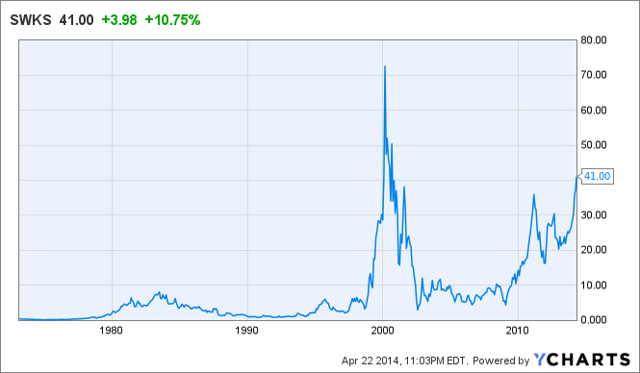 Skyworks' revenue history only has one word to describe it: impressive. It has more than doubled since 2005 and the percent change since 2010 has been staggering. The success of mobile devices has more than adequately put the company on its feet to succeed, and the company's partnerships with popular smartphone providers such as Apple (NASDAQ:AAPL) and Samsung (OTC:SSNLF) have leveraged it into a keystone company in the semiconductor industry. Going forward, this revenue growth may level off in the short-term with smartphone potential nearly topping off, but as mentioned before, the Internet of Things industry will help Skyworks grow even further in the future. The company's management has acknowledged the potential of new technology and the necessity of Skyworks products in automotive, smart energy, home automation, medical devices, and other things alike.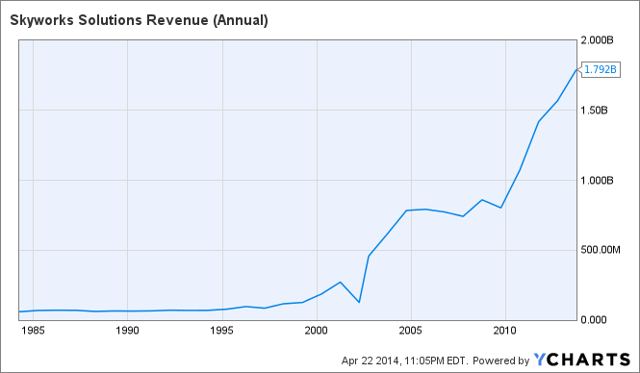 Year-over-year revenue growth paints a positive picture, as it has been very steady for the past 10 years. The reason why there is a huge spike in 2002 is because of the company's merger of Alpha Industries and Conexant Systems, which forms the Skyworks that we know and love today; the results for the 2002 FY in particular represent the application of reverse merger accounting principles under GAAP. Generally, however, the company's year-over-year revenue growth has been impressive with the smartphone boom, with its figure in double-digits.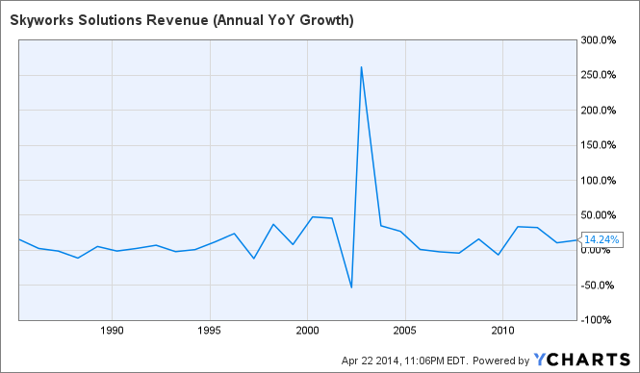 The company's gross profit reveals nothing new here. Skyworks' success has been due to the booming smartphone industry, which results in its gross profit trending upwards. Its gross profit margin is close to its historical high, and it is expected to continue to increase its revenues in order to accumulate future profits. I expect this trend to go on in both the short-term and the long-term future.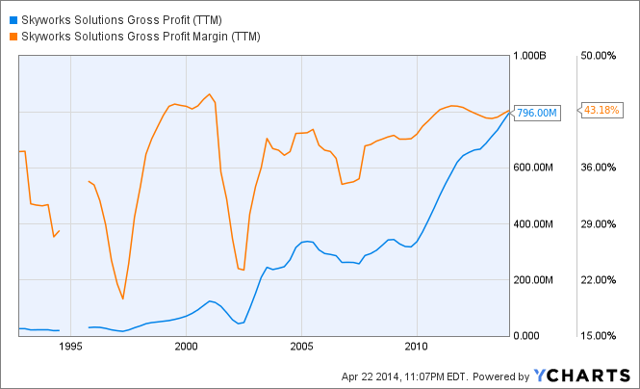 Operating margins and profit margins have both surpassed their historical highs, which indicates that the improvements in the company's gross margins are being accounted for in the future development of the business and are getting passed along to the bottom line. In addition to projected increases in revenue, this is great news for investors.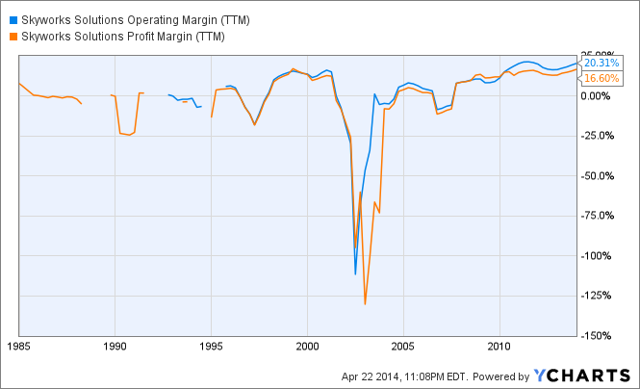 Skyworks' P/E ratio has historically been steady at around 25 for the past decade (ignoring outliers), which I believe is representative of the company's fundamentals and growth prospects. It is still a small company relative to its larger semiconductor peers, and the potential that the company has both within the smartphones sphere and the Internet of Things industry shows. When I was looking at the peer valuation spreadsheet that I used in my last article, the company's P/E was relatively in-line with its competitors.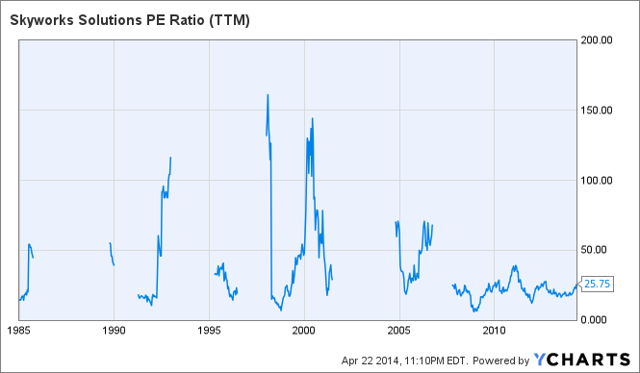 Here is a portion of the peer valuation spreadsheet that I used, which shows the profitability ratios and solvency ratios that the company has compared to its competitors. There is a lot of green. This bodes very well for the company, and Skyworks can use this to continue to outdo its peers going forward in the future.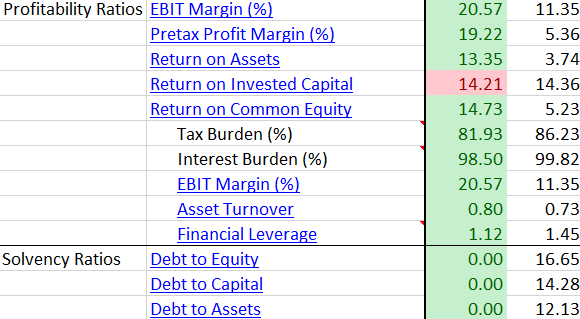 Conclusion
Skyworks Solutions is overall a company that has performed significantly well in recent history and is set up to continue its success. For investors who believe in the company's management and the company's ability to maneuver through the rest of the smartphone boom as well as the emerging Internet of Things industry, Skyworks is seen as a keen investment.
Disclosure: I am long SWKS. I wrote this article myself, and it expresses my own opinions. I am not receiving compensation for it (other than from Seeking Alpha). I have no business relationship with any company whose stock is mentioned in this article.