Taiwan Semiconductor Manufacturing Company (NYSE:TSM) was established in 1987 as the world's first dedicated semiconductor foundry. The term "dedicated" means its primary business activity is the building and selling of its own integrated circuit (IC) products. The dedicated or "pure play" foundry model offers several key advantages to customers:
Because it does not sell finished IC-products into the supply channel it does not compete directly with its fabless customers.
A dedicated foundry can scale production capacity to a customer's needs.
It offers "COT-flow" (customer-owned tooling) based on industry-standard EDA systems instead of proprietary (non-portable) development tools. The COT advantage gives the customer complete control over the design process, from concept to final design.
As its name suggests, Taiwan Semiconductor is based in Taiwan and trades on the Taiwan Stock Exchange, but it also trades on the New York Stock Exchange as an American Depository Share (ADS) under the ticker symbol "TSM."
Taiwan Semiconductor Manufacturing Company, abbreviated TSMC, operates three advanced 12-inch wafer semiconductor fabrication facilities or "fabs," four eight-inch wafer fabs and one six-inch wafer fab in Taiwan. It also manages two eight-inch fabs at wholly owned subsidiaries: WaferTech in the U.S. and TSMC China Company Limited. TSMC also obtains eight-inch wafer capacity from other companies in which the company has an equity interest.
TSMC has more than 600 customers manufacturing more than 11,000 products for various applications covering a wide variety of computer, communications and consumer electronics market segments. As a pure-play foundry it has captured approximately 50% of the market.
Fabless tech companies such as Applied Micro Circuits Corporation (NASDAQ:AMCC), Qualcomm (NASDAQ:QCOM), Advanced Micro Devices (NASDAQ:AMD), Altera (NASDAQ:ALTR), Broadcom (BRCM), Conexant, Marvell (MRVL) and Nvidia (NASDAQ:NVDA) are all customers of TSMC. Even some fab-owning companies like Intel (NASDAQ:INTC) outsource some production to TSMC. And one semiconductor company, LSI (NYSE:LSI), re-sells TSMC wafers through its ASIC design services and design IP-portfolio.
Growth Case
The investment case for TSMC is fairly straight forward: mobile computing and network/cloud infrastructure is driving the demand for complex semiconductor devices. TSMC is by far the dominant player in the industry and there are huge barriers to entry. The company allocated $10 billion to capex in 2013 and devoted an additional $1.65 billion in R&D. Even mega-techs like Samsung and Intel have difficulty competing at that level.
Despite the recent sell-off among many technology names, semiconductor companies have held up well in the current market environment, spurred by these favorable underlying industry fundamentals. The Philadelphia Semiconductor Index (SOX) is up almost 8% for the year, and TSMC shares have done even better, up 13.6% YTD.
According to DigiTimes, TSMC's production capacity has been booked through the end of Q3 due to orders from handset and PC chip vendors. To quantify things further, each smartphone sold contributes $10 (US) to TSMC's revenue.
Growth is being supported by strong seasonality, demand for low-end smartphones, China's push into 4G and orders from Apple (NASDAQ:AAPL). Bernstein Research is predicting that TSMC will support 100% of Apple's A8 business which will be another important growth contributor for the company this year.
Competition
TSMC is not without its competition however. Intel has provided increased access to its manufacturing plants to other chipmakers, taking advantage of its production capabilities in order to boost revenues. While Intel previously only made its own chips, it is expanding its foundry business by manufacturing chips to order for other companies.
Samsung Electronics (OTC:SSNLF) is another formidable competitor as it has the potential to convert some of its commodity memory plants over to the production of logic chips. The advantage afforded by Samsung's vertical integration could further expand in the coming years as technology for multi-chip bundles that combine both memory and logic devices becomes more economically viable in the future.
California-based GlobalFoundries is also a burgeoning competitor. The company was created by the divestiture of the manufacturing arm of Advanced Micro Devices and expanded through the acquisition of Chartered Semiconductor in 2010. It has emerged as the leading candidate to buy IBM's semiconductor operations, edging out Intel. TSMC dropped out of the running for undisclosed reasons.
Finally, TSMC faces competition from other Taiwanese foundries such as United Microelectronics (NYSE:UMC). According to Gartner, UMC has a 10% share of the market and is now behind GlobalFoundries' growing 12% share.
Financial Results
Although officially reporting full results on April 17th, TSMC positively pre-announced Q1 sales results on April 10th. March revenues increased 13.2% YOY, exceeding analyst estimates. These results confirm that demand for high-performance chips has picked up as smartphone and tablet makers have been more aggressive replenishing their inventories ahead of product launches. In the first quarter, TMSC now expects revenue to be $4.85 billion USD with YOY growth coming in at 11.7%. More importantly gross margins are now expected to be 47%, up from previous guidance of 44.5-46.5%.
2014 Monthly Revenue
(In Millions of New Taiwan Dollars)
Month

Consolidated

Net Revenue

YoY Change

Jan.

51,430

8.4%

Feb.

46,829

13.7%

Mar.

49,956

13.2%

Total

148,215

11.7%
* Year 2014 figures have not been audited.
** Starting 2013, TSMC prepares financial statements in accordance with TIFRS (International Financial Reporting Standards as endorsed in R.O.C.), TSMC will report only consolidated financial figures from January 2013.
Last quarter's results beat on the bottom line, but the company had guided Q1 below consensus due to fears about weak seasonal demand and continued inventory reductions by fabless companies. The fears about market saturation appear now to have been unfounded. The company's CFO cites upside to its first quarter guidance is coming from "increased demand for 28-nanometer wafers and from customers actively restocking their inventory."
Other Risks and Additional Items of Note
Besides competitive concerns and margin pressure, other risks to TSMC's growth story include a slowdown in the smartphone cycle. This appeared to occur late last year, but recent trends have been much more favorable. Constrained capacity is another concern as it forces customers to utilize other suppliers.
Recently there has been evidence of some stabilization of PC demand. There has been an increase in business orders for desktop machines ahead of Microsoft's (NASDAQ:MSFT) end to support for its Windows XP operating system. So according to Gartner, while PC demand remains weak, it is showing signs of improvement compared to last year. Any pick-up in PC demand is a positive to all semiconductor related companies.
Gunderson Capital Best Stocks Now Analysis
Taiwan Semiconductor is currently ranked #25 out of our 3,830 stock universe and receives an overall grade of A. This grade is based on value, performance and technical pattern.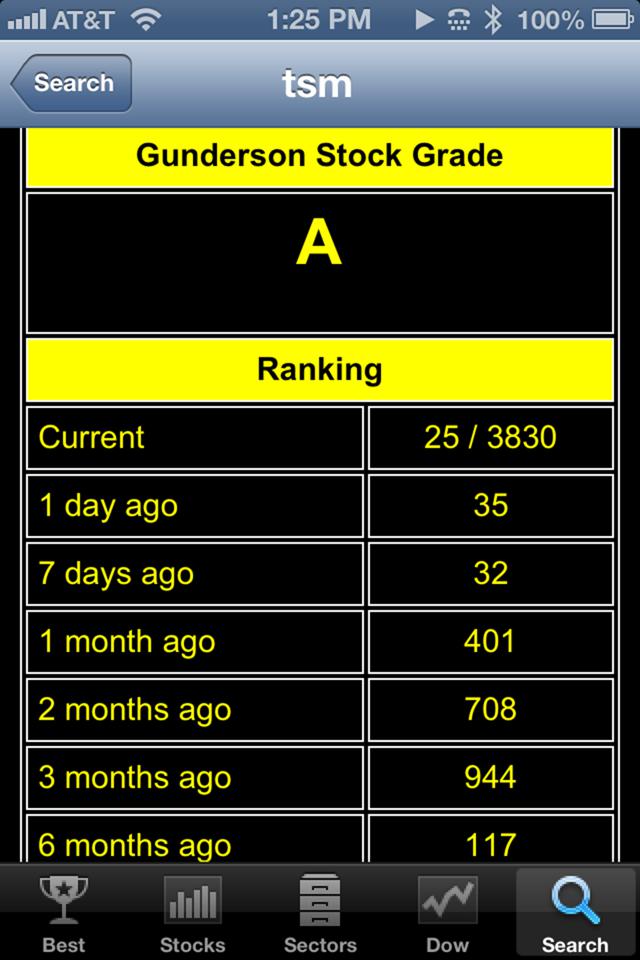 Let's look at a few basics first.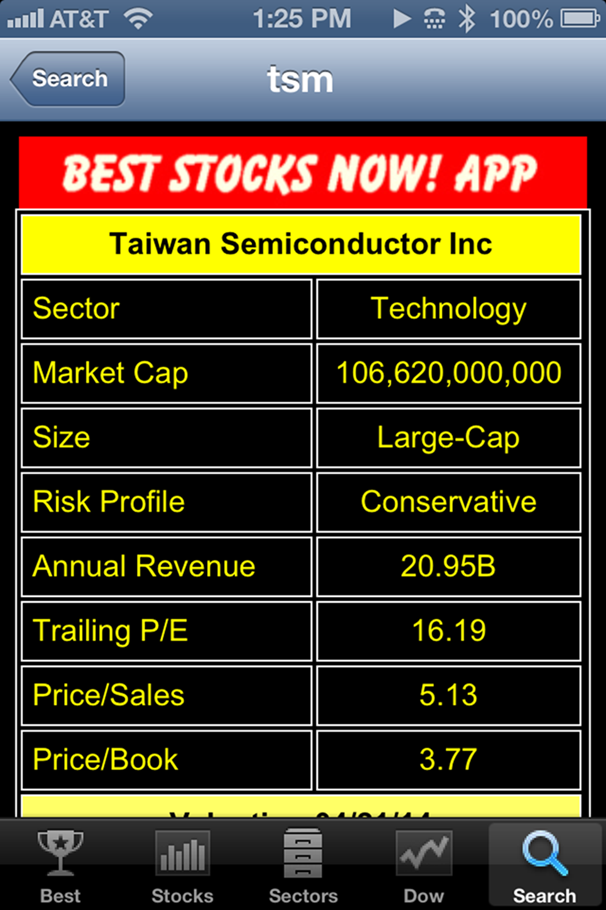 TSM is a large-cap technology name with a market cap of $106.6 billion. I have it in my conservative risk profile. The company's annual revenue last year was $20.9 billion.
We started buying shares in late March. We own it in our Conservative Growth and Income and Growth accounts as the shares also sport a current dividend yield of 2.0%.
Let's next look at a current valuation of the shares: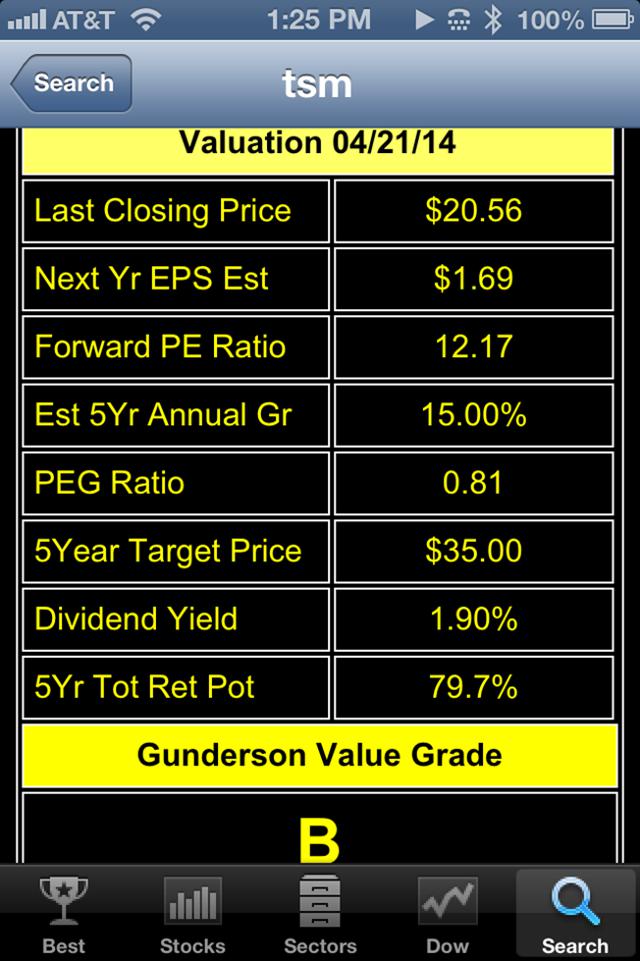 TSM is currently trading at just 12.2X forward earnings. With a five-year anticipated annual growth rate of 15%, this stock is relatively cheap. The PEG ratio comes in at 0.81.
Furthermore when I extrapolate out Taiwan Semi's potential earnings over the next five years and apply an appropriate multiple, I come up with a five-year price target of $35. It currently earns a value grade of "B."
We are now entering into the latter phases of a bull market that is now five years and two months old. The stimulus is drying up and both the economy and the market are going to have to stand on their own two feet going forward.
The market has been swiftly moving away from high PE momentum "go-go" names to lower PE value "slow-slow" names. The performance enhancing stimulants are slowly being withdrawn from the market.
In addition to this, Fed rate hikes which were once out of sight and of minds are now a speck out there somewhere on the horizon. Again, this is a fact that favors lower PE names that are currently found in abundance among energy, infrastructure, international and large cap value names like TSM.
Let's next look at the performance of the stock: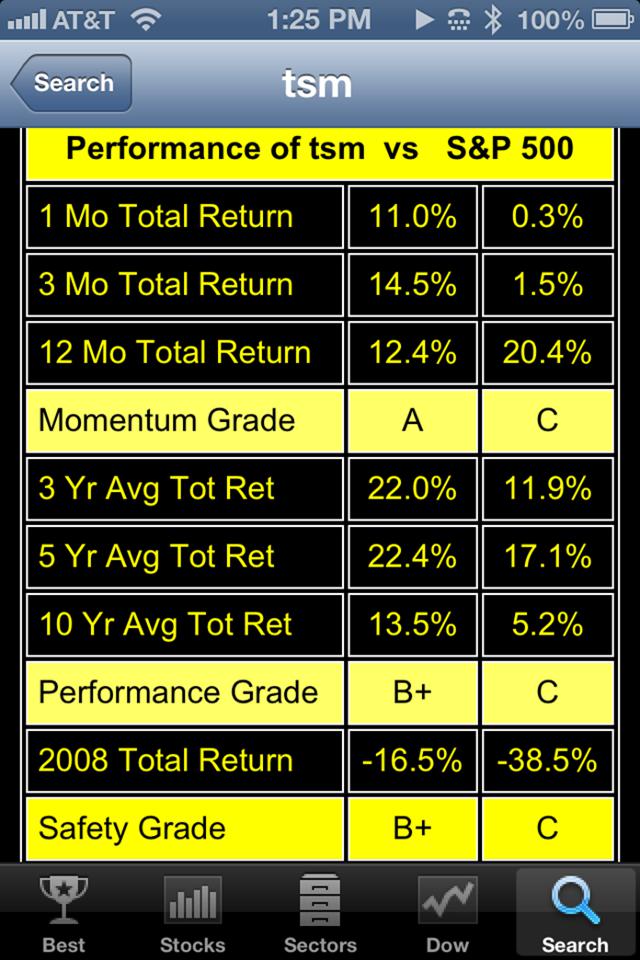 The stock has outperformed the market quite handily over the last 3, 5, and 10 years. It has underperformed the market over the last twelve months, however. While high PE momentum darlings were stealing the show, big cap value stocks were being left behind.
It would now seem that low PE stocks are the new momentum names. This stock now has a momentum grade of "A."
Coupled with improving demand trends in the sector, cheap semis like Taiwan Semiconductor have held up well compared to the overall market. While the stock only returned 4.5% in 2013 and trailed the S&P 500 Index last year, this year shares are already up 13.6% in 2014.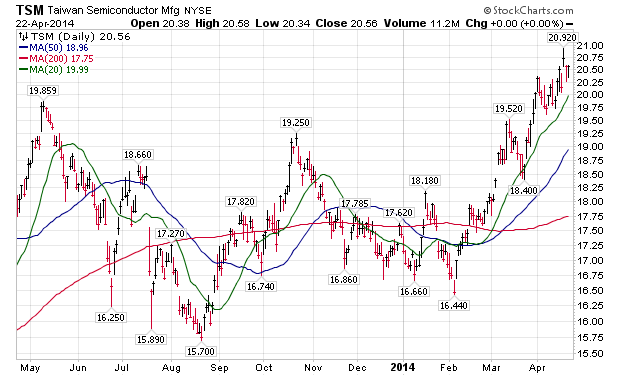 Taiwan Semiconductor is cheap, has strong growth prospects in the coming year, and is in a good sector for growth with strong demand and inventories being replenished. The company also has diversified international and emerging markets exposure. It is a perfect example of a "Best Stock" for right now.
Disclosure: I am long TSM. I wrote this article myself, and it expresses my own opinions. I am not receiving compensation for it (other than from Seeking Alpha). I have no business relationship with any company whose stock is mentioned in this article.