The situation in eastern Europe is getting ugly and Russia is beginning to apply pressure on the Ukrainian leaders with a healthy dose of saber rattling and financial threats. Now that Ukrainian military forces have begun to engage the pro-Russian militants the Russians are talking of cutting off gas supplies unless they are paid in advance due to the debt they are owed from the country.
With Vice President Biden reaffirming the United States' support for Ukraine as well as an effort to supply Europe with energy supplies to break the stranglehold that Russia has on the continent, we think investors might once again flock to the LNG exporters, or soon-to-be exporters, in the US. Names like Cheniere Energy (NYSEMKT:LNG) and Dominion Resources (NYSE:D) come to mind off the bat, but there are many ways to try to benefit from any flare up in the region.
Chart of the Day:
Platinum is once again in battle territory as the bulls continue to buy on dips to the $1,395/ounce area and bears continue to sell any time the price approaches $1,405/ounce.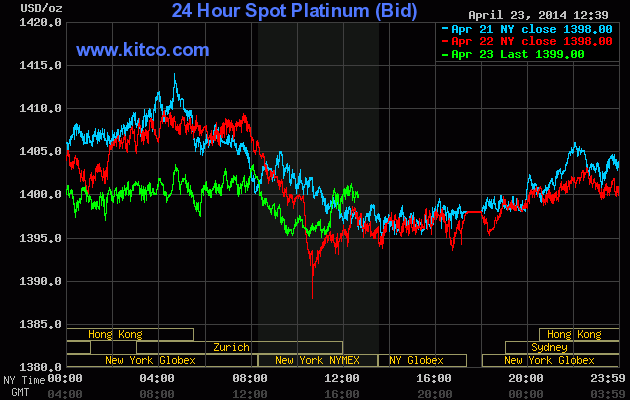 Source: Kitco
Commodity prices are as follows (at time of submission):
Gold: $1,283.50/ounce, up by $2.40/ounce
Silver: $19.415/ounce, up by $0.054/ounce
Oil: $101.71/barrel, down by $0.04/barrel
RBOB Gas: $3.0702/gallon, down by $0.025/gallon
Natural Gas: $4.754/MMbtu, up by $0.015/MMbtu
Copper: $3.0565/pound, up by $0.003/pound
Platinum: $1,404.40/ounce, up by $4.10/ounce
Utility Stocks Strong
Many of the talking heads were discussing how dividend investing and yield seekers were going to get crushed this year as markets shifted from relying on dividends for returns to seeking out capital gains. There was a period when this forecast appeared to be accurate, but with the 10-year rate having settled down and refrained from rising through the 3% yield level we have seen many of the big dividend payers once again draw attention.
Due to the overall size of the company and the liquidity its stock enjoys, Duke Energy's stock does for the most part move in response to moves in the 10-year.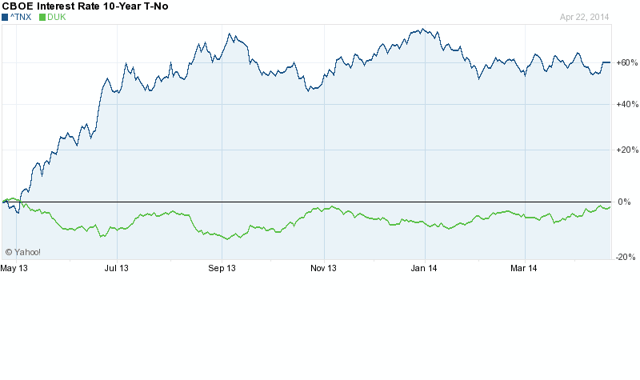 Source: Yahoo Finance
The names that have caught our eye recently are utility companies, namely Southern Company (NYSE:SO) and SCANA (NYSE:SCG). Duke Energy (NYSE:DUK) is another name near its 52-week highs, but its stock has stalled recently due to regulatory issues arising from environmental/pollution events at the company. Outside of that the industry has done quite well, with the big names pacing the way and the small to midsized utilities sporting the bigger gains.
The dividend yields are smaller at those companies which the market views as a potential takeover candidate for the rumored buyers that are out there, but we have been purchasers of certain growth names that have shifted their production away from heavy polluting resources to those which are cleaner.
Southern is large but SCANA is not, however both companies traded in a holding pattern until the 10-year began trading sideways and provided the stable rate environment that investors wanted.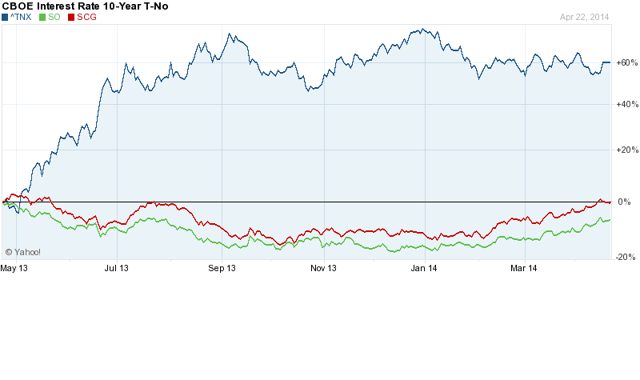 Source: Yahoo Finance
At current levels we would be cherry picking only the best names in the sector, especially with some in the industry trading at where they are and the 10-year interest rate poised to rise again. We do not view these as trading opportunities, but rather building blocks to create a solid foundation for one's portfolio. Low betas and decent dividend yields allow one to then invest more safely in some of the more volatile areas of the commodity arena.
Disclosure: I have no positions in any stocks mentioned, and no plans to initiate any positions within the next 72 hours. I wrote this article myself, and it expresses my own opinions. I am not receiving compensation for it (other than from Seeking Alpha). I have no business relationship with any company whose stock is mentioned in this article. Duke Energy, SCANA and Southern Company have all previously been recommended.