Google (NASDAQ:GOOG) (NASDAQ:GOOGL) reported decent first-quarter results recently. The search giant's revenue increased across-the-board on a year-over-year basis: Google properties revenue advanced 21%, network revenues increased 4%, while other revenues jumped nearly 50%. This is impressive year-over-year performance for any firm regardless of its size, but the market had expected even more from the Internet behemoth. What spooked investors a bit was that Google's revenue declined across-the-board on a sequential basis (from the December quarter to the March quarter), representing somewhat of a divergence from recent historical patterns. Nonetheless, we put greater weight on the year-over-year numbers because they correct for seasonality. While we liked what we saw in the first quarter, the market is not necessarily incorrect in its analysis.
But when looking at the historical revenue trends more closely, the fourth quarter of 2013 ($15.707 billion) - the quarter directly before the most recently-reported one - revealed a large step function higher in Google's sales on both a year-over-year and on a sequential basis. The increase was so prevalent that a modest, off-pattern sequential revenue decline in the first quarter of 2014 should have been expected. The company's shares faced some selling pressure following the release of the report, but we're not worried about Google's top-line performance at all. In our view, the modest sequential decline is 'business as usual' for Google and can probably be better described as a function of the company being too successful in the fourth quarter of last year.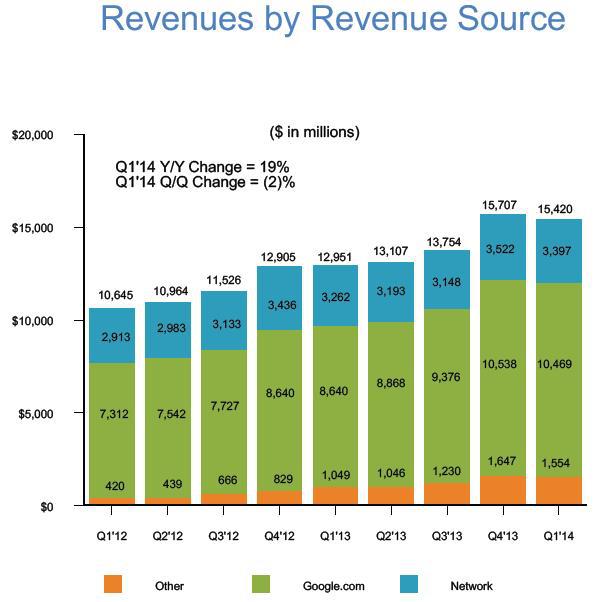 Image Source: Google
Still, there were a couple areas in which we think Google can improve. The firm's non-GAPP operating income margin declined two percentage points on a year-over-year basis, to 32% of revenue, even as traffic acquisition costs fell to 23% of sales (from 25% in the year-ago period). We think Google has to do a better job improving profits in the face of a difficult ad pricing environment, as cutthroat competition from Facebook (NASDAQ:FB) and a struggling Yahoo (YHOO) will not go away anytime soon.
Even though paid clicks advanced an impressive 26% versus last year's mark, cost per click (or ad pricing) fell roughly 9% on a year-over-year basis during the period. The ad pricing pressure in part contributed to the non-GAAP margin decline, resulting in Google spending a few more percentage points of revenue on R&D and G&A relative to the year-ago period. We are viewing this higher investment, however, as a modest positive, particularly given Google's robust pipeline of new ideas.
Management's long-term focus also showed up in its capital outlays during the period. Net cash from operating activities surged, but so did capital investment, resulting in a free cash flow decline on both a year-over-year and a sequential basis. We're not too worried about the free cash flow decline either, as most of Google's incremental capital outlays are discretionary. Cash from operations growth was solid.
Image Source: Google
Overall, non-GAAP earnings per share in the quarter advanced to $6.27, up from $6 in the year-ago period, and Google could have driven a larger year-over-year improvement if it had opted to scale back some discretionary items. At the end of the calendar first quarter, cash and cash equivalents stood at $59.4 billion, while short and long-term debt stood at a combined $6.2 billion. Needless to say, we're not worried about its balance sheet health, and instead, view its financial health as a significant positive investment consideration.
Valuentum likes Google's decision to continue to invest in its product pipeline, which showed up both on its profit-and-loss statement and its cash flow statement during the first quarter. The search giant has a large growth opportunity across many of its platforms (from search to Google Glass and beyond), and we think its cash-flow generation remains top notch, even after experiencing modest pressure this quarter. Still, we're cognizant that Google could make mistakes with its capital allocation, and Motorola Mobility, which it just unloaded, could be considered the company's largest one. We're holding the line with our fair value estimate, and the company remains a position in Valuentum's Best Ideas portfolio. We think Google's shares are worth $647 each (which reflects its recent stock split).
Disclosure: I have no positions in any stocks mentioned, and no plans to initiate any positions within the next 72 hours. I wrote this article myself, and it expresses my own opinions. I am not receiving compensation for it (other than from Seeking Alpha). I have no business relationship with any company whose stock is mentioned in this article. GOOG is a holding in Valuentum's Best Ideas portfolio.