Pool Corporation (NASDAQ:POOL) is a cyclical play on the North American housing market. Pool is the largest wholesale distributor of swimming pool products in North America. The company also sells irrigation systems and landscape equipment and supplies.
While Pool is the market leader in a niche industry, shares have gotten ahead of themselves. Shares are now overvalued from an intrinsic value standpoint as well as requiring near-perfect conditions going forward. The most concerning aspect is that any hiccup in the economy or downturn, can have a serious impact on the company's top- and bottom-lines. This is a pattern that has been repeated in the past and will happen again in the near future. The question is not if, but when.
As you can see, shares have had a nice run since the depths of the financial crisis back in 2008-09.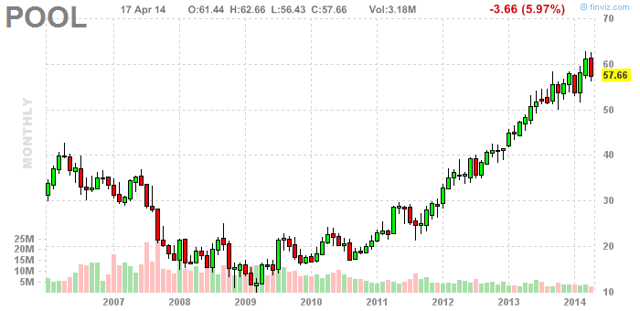 Pool is highly cyclical
Starting in 2003, after the post 9/11 recession, Pool posted adjusted EPS of $0.87. Adjusted EPS grew rapidly to $1.74 in 2006. After that, adjusted EPS steadily decreased year-after-year until 2009, where adjusted EPS bottomed at $0.96. This is just slightly above the $0.87 per share Pool posted back in 2003. Adjusted EPS has steadily climbed since then and reached $2.05 last year.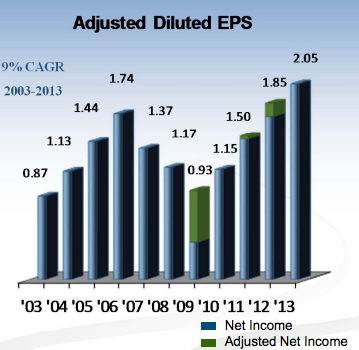 While adjusted EPS is up 18% since the prior peak of $1.74 in 2006, shares are 50% higher than they were back then. The bottom line is that there are only so many pools and irrigation systems that can be installed on a yearly basis considering labor requirements.
Q1 results
EPS for Q1 came in at $0.09. Pool missed expectations by $0.01. The company has missed estimates in three of the last four quarters. A big impact on earnings has been increasing SG&A expenses. In Q1, operating expenses increased 8% to $105.5 million compared to last year. In the earnings release, the company cited the increase due to "incremental costs to support our first quarter net sales growth, inflationary cost increases, higher outside professional fees and increased costs due to the expansion in 2014 of our annual retail marketing event."
Overly optimistic expectations
A concern that I have is that I see earnings expectations being overly optimistic considering how many factors are outside the company's control, namely the weather and the economy. Pool expects earnings this year to be between $2.35 and $2.45 per share. Analyst expectations are within this guidance range and expect the company to earn $2.43 this year.
The reality is that we won't have an idea of how the company is faring until June, when the summer pool season is underway and there's a better idea of summer housing starts. Last June, Pool was forced to cut its estimates due to "cooler and unusually wet weather in its seasonal markets in North America and Europe led to later-than-usual pool openings and lower-than- expected sales. The company cut its 2013 per-share earnings view by a dime, now expecting to earn between $2.03 to $2.13." Shares fell over 6% when the news was released. EPS ended up coming in at $2.05, on the low end of expectations.
Where expectations are really out of whack in my opinion are for 2015. Analyst estimates range from $2.65 to $2.99, with $2.83 being the average estimate. In order for the company to hit those numbers, everything and I mean everything, has to go perfect for the company. This is tough to predict and tougher to deliver, especially when 42% of its business is discretionary spending.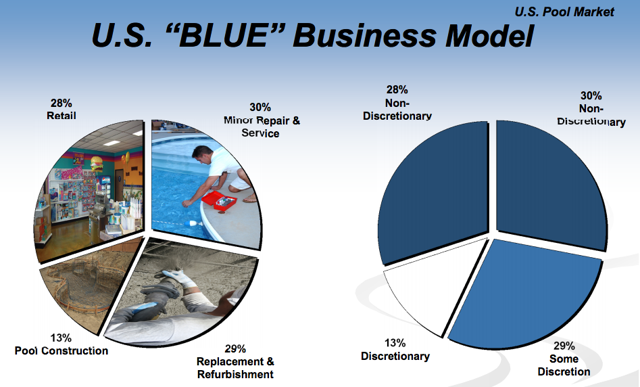 Analysts are missing the fact that housing construction market will eventually slow. This comes as housing prices have been rising and interest rates are being pressured upwards. And when they rise, housing demand will further slow. Already, over the past few quarters, net orders at Pool have been weaker than the prior year.
I think analysts are also missing how fragmented the pool supply business is and the competition from Mom-and-Pop operators. While Pool maybe the largest player in the space, the slowdown in net orders signals to me that the market is more competitive than analysts are estimating.
Even if there is no contraction in demand, consensus estimates call for revenues to grow 8.4% annually over the next two years. With no margin expansion in sight, that puts EPS at $2.25 for this year and $2.44 for 2015 if EPS grows at the same rate as revenues.
No further margin expansion
The other concern that I have is that Pool's margins are fairly low and there will likely be no margin expansion this year. Here's an excerpt from the earnings call related to margins.
"Ryan Merkel - William Blair: Got you. And last one from me. Do you still expect gross margins this year to be flattish?
Manuel Perez De La Mesa: Yes, I think the fact that if you back out early buys or the change in early buys year-on-year, the actual margins in the first quarter were flat. I think that provides me certainly a lot more confidence and frankly some of these proceeding in April, the fact that we'll be flat for the year is I think a very fair statement."
The move into building products sales sets the company up for showdown with the big home improvement centers
To further diversify revenues, management has been adding more building products sales to offset the company's reliance on the pool business. I do think this is a good move for Pool as it'll help capture some business when a contractor comes in for pool-related supplies and they can pick things up from Pool without having to run to Home Depot (NYSE:HD) or Lowe's (NYSE:LOW).
On the company's earnings call, CEO Manuel Perez De La Mesa said the goal is "increasing our bandwidth in terms of product offering to further be a complete supplier of anything and everything for the outside." The problem that I see with this strategy is that the company will now have to greatly expand its inventory and be able to compete with the likes of Home Depot and Lowe's. Home Depot and Lowe's are known for having driven its competition out of business. Let alone, a new competitor come along and try and capture their business.
While Pool has been able to build this business to account for about 10% of all sales, I'm skeptical on the sales growth going forward due to the macroeconomic environment and competing with the likes of Home Depot and Lowe's.
Shares are expensive
In comparing Pool to Home Depot and Lowe's, shares are quite expensive.
| | | | | |
| --- | --- | --- | --- | --- |
|   | P/E | Forward P/E | Price/Book | EV/EBITDA |
| Pool | 28.13 | 20.37 | 9.24 | 15.59 |
| Home Depot | 20.50 | 15.03 | 8.44 | 10.74 |
| Lowe's | 21.87 | 14.72 | 4.06 | 9.97 |
Source: Yahoo! Finance
In looking at Pool's margins, it has a gross margin of 28% and an operating margin of 8%. Home Depot and Lowe's have better margins. Home Depot has a gross margin of 35% and an operating margin of 12%. Lowe's has a gross margin of 25% and the same operating margin as Pool at 8%.
In looking at fair value, assuming Pool can grow free cash flow at 3% over the next five years and 3% long-term, coupled with a 10% discount rate, and fair value is $33.99, almost 41% lower than current prices. Pool's free cash flow has been erratic the past three years. Pool posted FCF of $56 million in 2011, $103 million in 2012 and $86 million in 2013.
Furthermore, shares are trading at 9.24x book, 1.3x sales and 28x earnings. Its 5-year average is 5.8x book. At 5.8x book, that puts shares at $36.59, which is just above fair value and where shares should be trading.
Risks to consider
Its 28 P/E is well above where Pool has traded in the past. This valuation is being held up by the steady rise in consumer discretionary spending since 2010. If consumer discretionary spending continues to increase and housing remains strong, Pool could continue to maintain its current valuation.
Although I don't feel the valuation is valid, the company continues trading at this valuation given its dominant market share. The industry is highly fragmented, where there are a lot of dealers and few vendors, and Pool is the market leader. Pool also has a steady income stream. It gets over half its gross profits from recurring income related to maintenance and repair products.
Bottom line
The last time Pool traded at these levels was during the years leading up to the bursting of the real estate bubble. But this time it's different. Pool is trading at outsized multiples, but the company isn't as strong as it was back in 2004 and 2005. Its operating margin is well below pre-financial crisis levels, the company is carrying a lot more debt, and its asset turnover is way down. What's more is that growth has slowed. For the five-years ended 2013, operating income grew at an annualized 7.5%. Meanwhile, for the five-years ended 2006, operating income grew at an annualized 21%.
Considering that there is no expectation for margin expansion and SG&A expenses have been rising, I find current earnings expectations for Pool to be beyond my expectations. I also find it hard to pay 28x earnings for a company with an operating margin of only 8% and the most optimistic expectations have revenues growing at only 8%.
For holders of Pool, it's been a nice ride, but I don't see the bullish case to continue pushing shares higher. All in all, I see the tide as having taken shares of Pool as high as they can go. I expect the next leg to be down based on shares being overvalued relative to fair value, its projected growth rate, and potential macroeconomic headwinds.
Disclosure: I have no positions in any stocks mentioned, and no plans to initiate any positions within the next 72 hours. I wrote this article myself, and it expresses my own opinions. I am not receiving compensation for it (other than from Seeking Alpha). I have no business relationship with any company whose stock is mentioned in this article.