"We have indeed had a disappointingly slow recovery and our consistent expectations for a pickup in growth have been dashed over a number of years." (Janet Yellen, first year Federal Reserve chair at the Economic club of New York, the week of April 14, 2014).
The first year of the 20 year reign of Alan Greenspan as chair of The Federal Reserve is unforgettable. He and his team tinkered with monetary policies and by October we experienced the worst one day stock market plunge in history...a 20% shocker!
His successor, Ben Bernanke, took the reins of The Fed in 2007, and by August of that year the first signs of the great financial meltdown began. During an inauspicious week that August leveraging requirements were tightened and the markets began to free fall.
Bernanke and his associates back-pedaled on monetary policies and the investment markets began to teeter. As confidence eroded and rumors flew stocks began a descent that didn't end until March 2009.
So here we are in the first year of Janet Yellen's term as Fed chair. Her recent comment quoted should be encouraging to investors, but we can't forget the distinct possibility of another round of what I call "first year fallout syndrome" (FYFS).
This article is to remind us that now isn't the time to take on risk in the form of overvalued stocks with sky-high PE ratios and/or nonexistent earnings. It could be a year that the big market movers "sell in May and go away" as part of FYFS.
If you want to keep investing during this historically uncertain period, go for companies that are hated, overlooked, misunderstood and more reasonably priced.
Here are 5 Examples for Your Careful Consideration
Vodafone (NASDAQ:VOD), after its big cash payday from the $130 billion sale of its 45% position in Verizon Wireless, has made some smart acquisitions.
About a month ago it agreed to spend about $10 billion to buy Spanish cable company Ono. This was less than 9 months after it acquired Germany's largest cable operator Kabel Deutschland Holding for nearly $11 billion.
My sources say that VOD plans to invest over $30 billion during the next two years to improve its network and services. It will have the best capacity to handle more data traffic in Europe than its rivals.
Before commenting further let's look at a 1 year chart of VOD.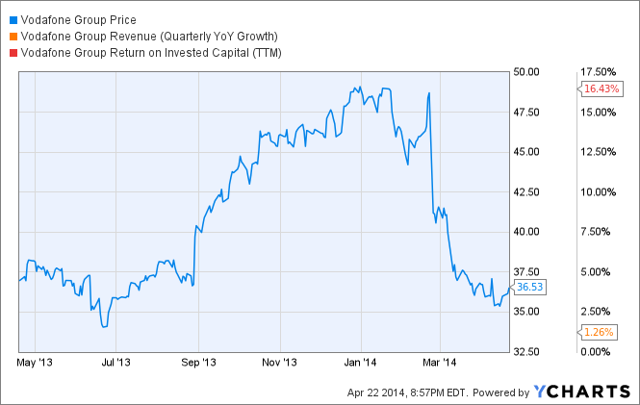 VOD data by YCharts
The company's quarterly revenue growth needs to catch up with its stellar trailing twelve month (TTM) Return on Invested Capital. Since the beginning of January the stock price has dropped more than 10%.
The strategic acquisitions VOD has made so far will help boost revenue. It will soon have a controlling stake in the Spanish cable market. In Germany it now has around 32 million cellphone clients, another 5 million with broadband and 7.6 million TV subscribers.
It's a major player in the U.K. too, especially after it bought Cable & Wireless Worldwide last year for only $1.7 billion. In other parts of the world VOD is taking important stakes, including the nation with the world's largest population, India.
The British telecom operator recently paid about $1.5 billion to take total control of its Indian subsidiary. India accounted for over $6 billion in revenue in its most recent fiscal full year.
According to the April 21 edition of Barron's Magazine, 70% of VOD's customers come from rapidly growing telecom markets including India, Turkey and South Africa.
Citigroup analyst Simon Weeden gives VOD a "Buy" rating and expects the stock to move over 30% higher from its current level of around $36. On top of that the dividend yield is more than 5%, and according to Yahoo! Finance is closer to 5.7%.
My next example of a Fed-fueled kind of stock is ConAgra Foods (NYSE:CAG). It is one of North America's largest packaged food companies with branded and private branded food found in 99 percent of America's households, as well as a strong commercial foods business serving restaurants and food-service operations globally.
At a stock price of around $31.22 CAG trades with a forward (1 year) PE ratio of just 13. The company beat analysts' estimates when it reported earnings last month, although the estimates were already very low.
After adjusting for items impacting comparability, current-quarter diluted EPS of $0.62 was 13% above the comparable $0.55 earned in the year-ago period. Gary Rodkin, ConAgra Foods' chief executive officer, said, "We are on track with our EPS projections for the second half of this fiscal year. As we have previously discussed, there are operating challenges that have impacted segment performance and overall EPS growth, but we are encouraged by some pockets of strength."
The CEO went on to explain, "The synergies expected from the former Ralcorp businesses are coming in slightly ahead of plans, and we continue to make good progress on SG&A efficiency initiatives. We reaffirm our full year fiscal 2014 EPS guidance, and remain confident in our long-term strategy and outlook."
The company continues to expect fiscal 2014 diluted EPS to be in the range of $2.22-$2.25. ConAgra continues to expect operating cash flow of approximately $1.4 billion in fiscal 2014, and to repay approximately $550 million of debt before the end of the fiscal year.
At that point it will total almost $1 billion of cumulative net debt repayment since the acquisition of Ralcorp.
CAG continues to pay a $1.00 annual dividend. In fact, it's not too late to get a full quarterly dividend payment of $0.25 per common share to be paid on May 30, 2014, to stockholders of record at the close of business on April 30, 2014.
At a share price of $31.22, the $1 dividend offers a yield of 3.2%. Over the next 12 months my research suggests a possible target price of $36. The following chart is a picture that paints a thousand words about this powerhouse food company.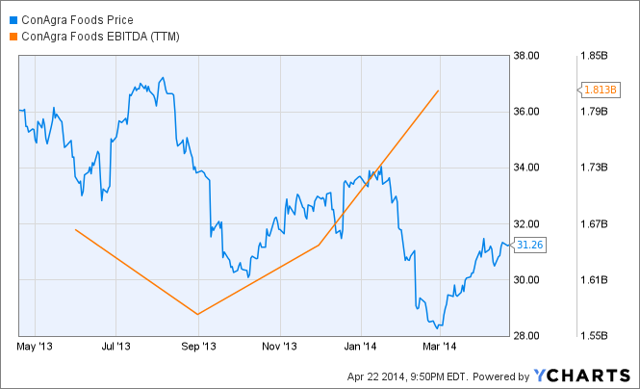 CAG data by YCharts
The TTM EBIDTA earnings is headed in the same direction I expect the stock's share price to travel.
To keep this article from being too long let me make brief comments about the other 3 stocks. Citigroup (NYSE:C) is the cheapest, lowest risk big bank stock on sale today.
Despite expecting heads to roll after the bank failed the Fed's "stress test" CLSA bank analyst Mike Mayo said that Tuesday's (April 22) annual shareholder meeting reassured him that the stock has the potential to hit $96.You can catch the details of his report here.
"I'd say I'm very happy seeing the chairman, Mike O'Neill, and the CEO, Mike Corbat, interact for two hours. This is a great working relationship, and I still think 'The Mike and Mike Show' can play on Broadway and in 100 countries. They're impressive thinkers," Mayo said.
"They just have to execute a little bit better. That [annual shareholder meeting] was encouraging", he concluded.
Although Citigroup stock only pays a 4 cent dividend for now, it's selling for less than 9 times forward earnings. Company leaders are focused on the bank's "stress test" remedy, and I'm one of the analysts that's encouraged by its restructuring plans.
Citigroup stock trades at a low price to book ratio of .7, 30% below book value. It is obvious to me that the banks management has a sense of urgency and The Fed has a big, vested interest in helping Citigroup become healthier and stronger.
Citigroup has a lot to prove and it's the most hated of the big banks among investors. Even so I'd rather be early to this party.
By the time the company gets more upgrades from analysts the stock is likely to take off quickly. Investors should consider it a longer-term turnaround story with rich upside potential.
The Last but not Least of the Fired-up Five
The last two stocks are as different as night is to day. Home Depot (NYSE:HD) needs no introduction. The stock rose almost 3% on April 22 after BMO Capital Markets upgraded it to outperform from market perform.
The upgrade came just two days after Barron's said shares of the home-improvement retailer could rally as much as 25% in the coming months if the housing market continues to show signs of improvement.
Don't chase shares of Home Depot. It's likely to be range bound for awhile and with patience you'll be able to buy shares below $78.
For those who seek exceptionally generous income consider adding shares of PennantPark Investment Corp.(NASDAQ:PNNT) below $11 a share. The company is a publicly listed business development firm specializing in direct and mezzanine investments in middle market companies.
A business development company (BDC) helps smaller companies grow in the initial stages of their development. The gross profit margin for PennantPark Investment is an impressive 65.38%.
Along with this, the net profit margin of 114.56% significantly outperformed against the industry average. No wonder they're able to pay a $1.12 annual dividend, a 10.3% yield.
While the Fed keeps interest rates low and pushes for a stronger economic recovery the BDC industry will grow. Shares of PNNT have a total return (dividend plus upside share growth) potential of 25%.
I recommend buy-limit orders with all 5 stocks mentioned. Be patient and wait for a price that gives you a good start for plenty of upside.
Ms. Yellen and the Fed say they want to achieve an economic "pickup in growth", and these 5 stocks are good examples of the kind that will benefit. Your comments and feedback are appreciated.
Disclosure: I am long CAG, PNNT, VOD. I wrote this article myself, and it expresses my own opinions. I am not receiving compensation for it (other than from Seeking Alpha). I have no business relationship with any company whose stock is mentioned in this article.