Netflix (NASDAQ:NFLX) reported positive first-quarter earnings, showing significant gains from 2013.
The video streaming giant reported earnings of $0.86 a share, with total earnings for the first quarter adding up to $53 million. This represented a 24% jump in overall revenue, which brings the company's total earnings up to $1.27 billion.
This spike in earnings exceeded company expectations, who forecast a profit of $0.78 a share. Netflix shares, which are known for volatility, rose by over 6% after hours of trading.
Rapid Increase in New Subscribers
US domestic subscriber growth was in line with the company's own forecast. Overall, 2.25 million new customers subscribed to Netflix during the quarter. International subscribers accounted for 1.75 million. In total, domestic and international subscriber growth added 4 million new subscribers, numbers which make the video streaming company a market leader when it comes to home entertainment.
What is Netflix Doing Right?
Reviewing the reason for its remarkable success, the company cited its choice of popular programming, as well as its championing of original programming to be the main source of its high consumer appeal. Popular programming included the second season of its political thriller series "House of Cards." Netflix also attributes its positive growth in subscribers to promoting more of its original programming. Coming up this quarter was the release of a new season of "Derek," starring Ricky Gervais, and the prison comedy show, "Orange is the New Black."
Price Hike to Improve Programming
Another topic of note is that Netflix said that it is going to institute a price hike for new subscribers beginning this quarter. This will be about $1 or $2 for domestic subscribers. For subscribers outside the US, this will be the monetary equivalent depending on what country the service is in.
In the meanwhile, the company said, for the foreseeable future, current subscribers will continue to pay a minimum of $7.99 a month. This represents a generous grace period for the 34 million paid subscribers in the domestic market.
The price increase is the first instituted since 2011. The purpose of the price hike is to help pay for its continued investment in original programs.
Netflix More Popular Than Other Home Entertainment Services
In contrast to other US stand-alone subscription programming, Netflix is the biggest video streaming service in the US. Much of this dominance in the marketplace for home entertainment is a result of the company's ongoing commitment to spend billions on giving customers the programs they enjoy the most. In the past few years, Netflix has developed an enviable reputation for quality programming. One major source of appeal to the consumer market has been its low price for membership.
In contrast to other sources of home entertainment, it has surpassed HBO, a traditional TV outlet, when it comes to number or subscribers. The cheap online video service has encouraged millions of consumers to walk away from pay TV.
While new competitors in the video streaming business are on the horizon, for instance, big name companies like Yahoo (YHOO) and Amazon (NASDAQ:AMZN), these companies may only make a dent in Netflix's winning streak. In the long run, it is unlikely that they will gain enough momentum to overtake Netflix. New competitors are unlikely to prove to be a serious threat to the company's continued growth and success.
Second Quarter 2014 Projections Positive For Investors
While Wall Street is forecasting $1 a share, Netflix believes that $1.12 a share is possible. This projection is based on the company's aim to add 520,000 domestic streaming subscribers and 940,000 international streaming subscribers.
In either scenario, investors should be optimistic on NFLX shares - not just in Q2, but throughout 2014.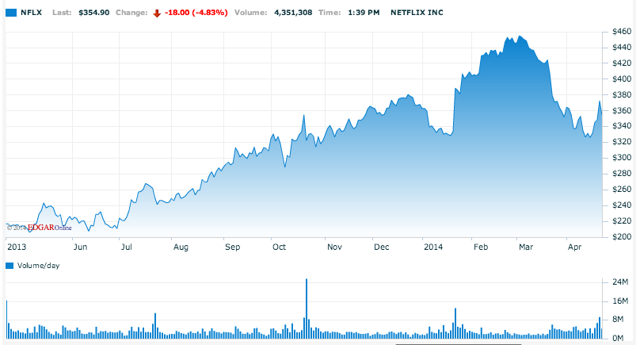 (Nasdaq.com)
We invite readers wishing to read and join the discussion about Netflix on a regular basis to click the +FOLLOW button above the title of this article.
Disclosure: I have no positions in any stocks mentioned, and no plans to initiate any positions within the next 72 hours. I wrote this article myself, and it expresses my own opinions. I am not receiving compensation for it (other than from Seeking Alpha). I have no business relationship with any company whose stock is mentioned in this article.