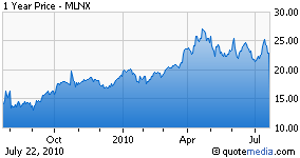 This week, Mellanox (NASDAQ:MLNX) joined the list of data center hardware suppliers reporting double digit year-over-year revenue growth. Its top line grew 58% annually to $40 million this past quarter. However, unlike F5 Networks (NASDAQ:FFIV) and EMC (EMC), which both guided up for their next reporting periods, Mellanox announced that it expected revenue to decline about 7% sequentially in the third quarter. While it claimed things should turn around in the 4th quarter, the stock was down 25% soon after the announcement.
The company claims that the reason for the temporary decline is a product shift to silicon and away from boards and host channel adapters. This represents a sharp reversal of the trend it saw for much of 2009, when adapter revenue grew while silicon revenue dropped. Given the timing of its 40/100 Gigabit and LAN-on-Motherboard product cycles, this trend could keep going back and forth in the future, which has a big impact on revenue because individual adapters sell for roughly ten times the price of individual semiconductors.
While investors reacted swiftly to the revenue announcement, a bigger concern is not the shifting revenue among product components, but the company's apparent lack of faith in the InfiniBand market is dominates. InfiniBand is a growing, high-end, niche technology. Among the world's 500 largest supercomputers, 42% use InfiniBand as their interconnect between server nodes. Two years ago, only 24% did, according to Top500.org. But InfiniBand's success in supercomputing has yet to translate into major wins in traditional data centers, where it runs into the mass of existing Ethernet switches.
The company's response, developed in conjunction with the InfiniBand Trade Association it is heavily involved with, has been to develop RDMA over Converged Ethernet, or RoCE (pronounced liked the character Sylvester Stallone played in the '70s and '80s). In many respects, RoCE is InfiniBand-over-Ethernet, it takes InfiniBand networking technologies and slides them into Ethernet frames. Traditionally, pricing for one link technology over another has not been competitive, because low volume multi-protocol boards require more silicon and design work than single protocol equivalents. This has been seen in the more widely promoted Fibre Channel-over-Ethernet, where Converged Network Adapters based on that technology are still selling for about three times the price of standard 10 Gigabit Ethernet server NICs.
By investing in RoCE, Mellanox is basically saying InfiniBand will not be able to stimulate demand on its own in the data center, even though it offers remarkable price/performance in supercomputing clusters. Moreover, there is still plenty of opportunity for InfiniBand to have an impact as IT mangers begin to look at 40 Gigabit alternatives. But just as the company cannot seem to figure out if growth will come from adapter cards or silicon, it's now going against its push for RoCE by touting a Google (NASDAQ:GOOG) engineering presentation that highlighted the benefits of running pure InfiniBand in a data center network.
Mellanox has long been a high margin company with a dominant position in a niche technology, and its strong balance sheet reflects this heritage. And the stock's recent pummeling has sent the company's valuation down to just 2.5 times cash. But by sending out so many conflicting messages about chips versus cards and InfiniBand versus Ethernet, the question is not whether investors have confidence in the company's growth plans, but whether management does.
Disclosure: No positions