Earnings are one of the most important evaluation tools investors can use in assessing a company's health and future potential for share price appreciation.
Knowing that, it is no wonder history is littered with examples of companies using aggressive if not dubious accounting tools to beat Wall Street estimates and gain investor favor. For better or worse, history has a tendency to repeat itself in financial markets, meaning an emphasis on earnings quality is important to investors' returns. That is the concept behind the Forensic Accounting ETF (NYSEARCA:FLAG).
FLAG tracks the Del Vecchio Earnings Quality Index, which assigns 500 large-cap stocks a grade of A through F based on Del Vecchio's "earnings quality" methodology. The index looks for aggressive revenue recognition, inventory issues, reserve concerns, large changes in operation expenses, large changes in operation income and tax issues. The index would then exclude F ranked stocks, instead of shorting them.
John Del Vecchio, CFA, an Index principal and forensic accountant, and his team proceed to weigh FLAG's holdings by earnings quality. Companies ranked the highest in earnings quality make up 40% of the index, whereas rank B, C, D earnings quality firms receive a 20% weighting. The result is an ETF that excludes companies that use aggressive accounting techniques while holding firms with high-quality earnings. Reports Will Deener for the Dallas Morning News:
Companies with the highest quality of earnings receive an A and make up 40 percent of the index. Those with B, C and D each make up 20 percent of the index, while those with F grades are excluded. The index tracks 400 companies, and it is recalculated every month.
Examples of companies that pass muster for entry into the Del Vecchio Earnings Quality Index include Western Digital (NYSE:WDC), Marathon Petroleum (NYSE:MPC), WellPoint (WLP) and Dow component Travelers (NYSE:TRV); all of which were top-10 holdings in FLAG as for Feb. 12, according to issuer data. Del Vecchio told the Morning News:
The difference between FLAG and our competitors is that we view every company as guilty until proven innocent. Companies will overstate their financial statement for short-term gain. It has always been that way and always will.
FLAG charges 0.85% per year.
Forensic Accounting ETF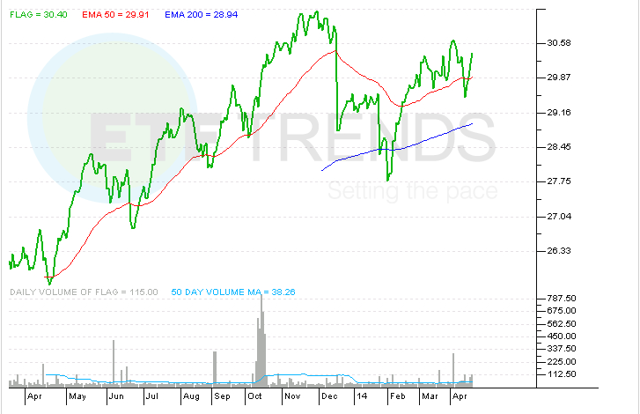 ETF Trends editorial team contributed to this article.
Disclosure: I have no positions in any stocks mentioned, and no plans to initiate any positions within the next 72 hours. I wrote this article myself, and it expresses my own opinions. I am not receiving compensation for it. I have no business relationship with any company whose stock is mentioned in this article.