After the bell on Wednesday afternoon, technology giant Apple (NASDAQ:AAPL) reported its fiscal second quarter results. The company absolutely destroyed estimates, on the heels of a blowout iPhone number. In addition, the company boosted the buyback, raised the dividend, and announced a stock split. Today, I'll break down the latest quarterly results from Apple.
Apple's guidance and estimates going in:
Apple provided the following guidance for fiscal Q2:
revenue between $42 billion and $44 billion.

gross margin between 37 percent and 38 percent.

operating expenses between $4.3 billion and $4.4 billion.

other income/(expense) of $200 million.

tax rate of 26.2 percent.
This guidance was a bit weaker than most expected, sending both revenue and EPS estimates down throughout the past few months. As of Wednesday afternoon, Yahoo! Finance estimates called for revenues of $43.53 billion and $10.18 in EPS. The following table shows a collection of analyst estimates from Philip Elmer-Dewitt over at Fortune, who routinely collects detailed analyst projections.

Basically, analysts were looking for flat revenues and a small increase in earnings per share. In terms of product lines, analysts expected growth from the iPhone and Mac, a slight decline in the iPad, and large decline in the iPod. For those that did not see my official Apple earnings preview, here were my projections.
Revenues of $43.630 billion.
Gross margins of 37.70%.
EPS of $10.28 on diluted share count of 882 million.
iPhone sales of 38.85 million, ASP of $605.
iPad sales of 19.20 million, ASP of $435.
Mac sales of 3.85 million, ASP of $1,340.
iPod sales of 3.00 million, ASP of $155.
"Other revenues" of $6.15 billion.
Now that you know what everyone was looking for going in, let's get into the results Apple reported for fiscal Q2.
Results overview:
The following table shows Apple's overall results, compared to its last two fiscal Q2 periods.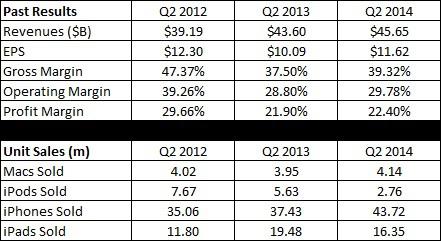 This was a tremendous quarter for Apple, beating analyst estimates by more than $2 billion in revenues and nearly $1.50 in EPS. I'll break down the results further in the next section.
Breaking down the product lines:
Let me start with the iPhone, which is obviously Apple's featured product. Sales of the device crushed estimates, jumping more than 6 million units over last year's period. The average selling price came in a little above $596. This might be disappointing to some, but considering how many phones were sold, the ASP miss is not that important. Apple's total iPhone revenues came in about $2.5 billion above what I was projecting. Apple produced a big overall beat, thanks to the iPhone. The China Mobile (NYSE:CHL) deal certainly helped.
Perhaps the one big negative in the report was the iPad. Sales of the tablet came in about three million units below expectations. On the flip side, the average selling price was above $465, which is way above what most were expecting.
In terms of the Mac, Apple came in a little above expectations with more than 4.13 million units sold. That's solid growth considering the overall decline in PC sales. Average selling prices were a little light, but with the unit sales number, this was okay. The iPod disappointed a bit in terms of sales, but nobody really cares about the iPod anymore. Apple's other revenues came in around $6 billion, mostly in-line with expectations.
Margins and income statement items:
In terms of gross margins, Apple came in at 39.32%, crushing many estimates for less than 38%. Obviously, this is a result of the iPhone blowout, as iPhone margins are well above corporate averages. As a percentage of Apple's total revenues, the iPhone contributed 57.10%, well above the 52.65% figure in last year's period.
Total operating expenses were about $4.35 billion, basically the midpoint of Apple's guidance. Other income of $225 million was a little ahead of estimates. Apple's tax rate came in just above 26%, a bit better than the company's guidance. The diluted share count was under 880 million, compared to 946 million in the prior year period. This is all due to Apple's strong buyback.
Balance sheet and capital returns:
Apple's cash pile decreased by about $8 billion in the quarter to just over $150 billion. This was due to Apple's huge buyback in the quarter. Through the dividend and the buyback, Apple returned almost $21 billion to investors in the quarter.
As most expected, Apple raised its dividend and buyback. The buyback was raised by $30 billion to $90 billion. This brings the company's total capital return plan to over $130 billion, which Apple expects to finish by the end of calendar 2015. To accomplish the buyback, Apple will be taking out more debt. This is something I detailed in recent articles, as Apple's domestic cash position has dropped in recent quarters. Apple took out debt in 2013 as well.
Apple raised its dividend to $3.29 a share per quarter, for the next dividend in May. This might have been a little light for some, but Apple right now seems to believe that buybacks are the better use of capital. Additionally, Apple announced a 7 for 1 stock split to take place in early June. This is going to fuel speculation that Apple could be added to the Dow Jones Industrial Average (NYSEARCA:DIA) at some point.
Fiscal Q3 guidance:
One thing I referenced in my preview was that Q3 estimates had been falling a bit. In fact, I've been saying for a couple of months now that Q3 estimates seemed a bit high. The following table shows how Q3 estimates have fared since late January.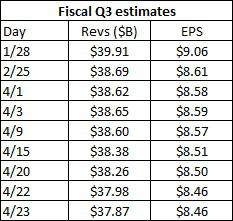 Just in the last week or so, revenue estimates have come down by half a billion dollars, with the EPS average down by a nickel. This helped Apple's guidance to appear a little better. Here's what Apple said for fiscal Q3:
Revenues between $36 billion and $38 billion.
Gross margin between 37% and 38%.
Operating expenses between $4.4 billion and $4.5 billion.
Other income of $200 million.
Tax rate of 26.1%.
The revenue guidance number is exactly what I thought it would be. Analysts just have been too high, including one analyst that had a $44 billion estimate for Q3 until the last day or two before earnings. If I run Apple's guidance, using the Q2 share count, I get an EPS range of about $7.58 to $8.60, with a midpoint of $8.09. Remember, Apple usually gives conservative guidance. I don't see anything to worry about here. Apple did what it needed to.
Important conference call quotes:
There are a couple important conference call quotes that I'd like to focus on in this section:
We gained smartphone share in many developed and emerging markets including the U.S., the UK, Japan, Canada, Germany, France, Vietnam and Greater China, just to mention a few. In fact, we established a new all-time record for total iPhone sales in the BRIC countries.
For those that were worried about smartphone growth and the iPhone after the latest quarter, this is something to be happy about. Thanks to strong loyalty from its consumers and great products, Apple now has almost 800 million iTunes accounts. The next two quotes details what happened with the iPad:
iPad sales came in at the high end of our expectations, but we realized they were below analyst estimates, and I would like to proactively address, why we think there was a difference. We believe almost all of the difference can be explained by two factors. First, in the March quarter last year, we significantly increased iPad channel inventory, while this year we significantly reduced it.

Second, we ended the December quarter last year with a substantial backlog with iPad mini that was subsequently shipped in the March quarter, whereas we ended the December quarter this year near supply demand balance.
Okay, so Apple should get a pass for this. Additionally, the iPad was only 1/6th of Apple's revenues in the quarter. Had the iPad been a little stronger, Apple would have had an even larger beat. Apple added that over two-thirds of the people that registered an iPad in the last six months were new to the iPad. Additionally, over half of the people registering iPhones were new to the iPhone. The next set of quotes will detail some information on innovation.
We'll continue to innovate by investing in research and development and capitalizing on our strengths in hardware, software and services. We'll keep investing in our supply chains promote scale and efficiencies, expanding our global presence by building retail stores, investing in marketing and distribution and extending our reach into new markets.

We are expanding Apple's products and services into new categories and we are not going to under invest in this business. We are also investing through acquisitions and we've acquired 24 companies in the past 18 months.
Apple's R&D spending in fiscal Q2 was more than 27% higher than in the prior year period. Apple is certainly ramping up on R&D spend, and if you go back a few years, the percentage increases are even larger. I could go into more and more conference call quotes, but I think the point has been made. Just remember, fiscal Q2 set a non-holiday quarter record for revenues. Apple is doing the right things, and new products will be coming later this year.
Final thoughts:
This was a great report for Apple and its shareholders. Last quarter's iPhone miss has been put in the rear view mirror with a huge blowout. While the iPad was weak, Apple was still able to announce a massive beat on both the top and bottom lines. Additionally, the company boosted the dividend and buyback. The company also announced a stock split. Apple stock soared in the after-hours, and rightly so. Investors that want to be in Apple might decide buying now is the right thing to do. I personally would wait for the next pullback, so if you want to split the difference, buy half now and half later. This news was great for Apple in the long-term, and maybe now the stock will find its way into the Dow.
One last quick update here on the bear camp. The following image was taken from CNBC.com's homepage at 6PM On Wednesday.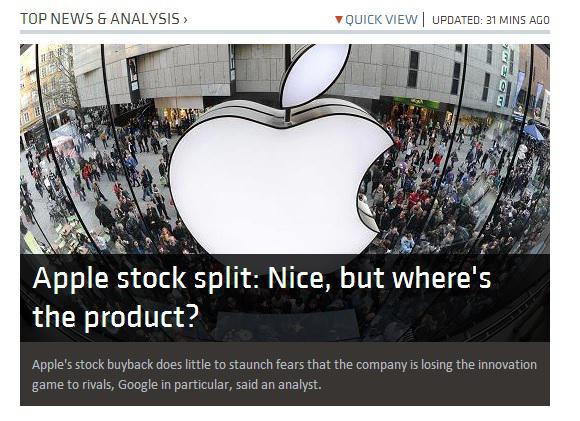 (Source: CNBC.com)
Apple just blew out every analyst estimate on the planet, and yet some people just are not happy. This is why I feel that Apple's stock will pullback a little from its after-hour highs, because those negative nellies just won't quit. The analyst noted in the image above might think Apple is losing the game. Let's just remember that Apple blew out estimates and Google (GOOG, GOOGL) missed estimates, which just happened to be Google's 9th miss of revenues and or earnings in its last 10 quarters. The treatment Apple gets from the other side of the aisle continues to amaze. If a report like Wednesday's can't silence the critics, I'm not sure what will.
Disclosure: I have no positions in any stocks mentioned, and no plans to initiate any positions within the next 72 hours. I wrote this article myself, and it expresses my own opinions. I am not receiving compensation for it (other than from Seeking Alpha). I have no business relationship with any company whose stock is mentioned in this article.
Additional disclosure: Investors are always reminded that before making any investment, you should do your own proper due diligence on any name directly or indirectly mentioned in this article. Investors should also consider seeking advice from a broker or financial adviser before making any investment decisions. Any material in this article should be considered general information, and not relied on as a formal investment recommendation.