Tesla (NASDAQ:TSLA) has been constantly in the news and every minor announcement or detail is so heavily covered that information important to investors is generally lost in the noise. Looking at Yahoo! Finance recent news about Tesla looks like reading a bunch of identical articles covering the same topic. For example, Wednesday morning: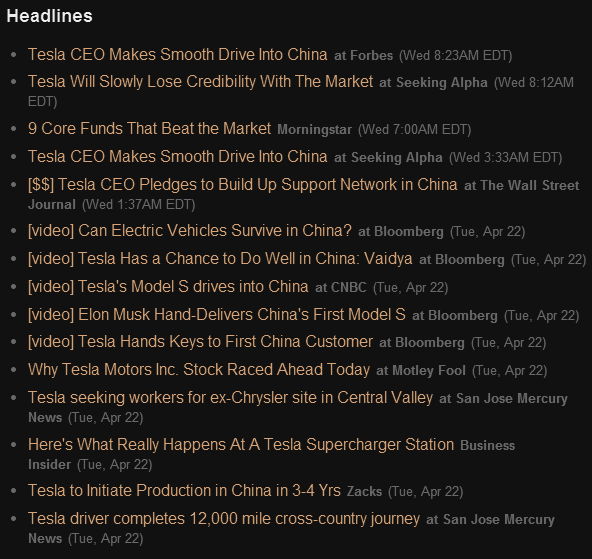 9 out of 15 articles are about deliveries in China, only one is about their new Lathrop, CA facility. Clicking through to that one provides no useful information. Many of the remaining articles are meaningless to Tesla investors specifically.
With this article, that is based on a lot of news that gets missed, I will attempt to paint a big picture for Tesla with a future expected approximate timeline for their major milestones.
From Tesla's Gigafactory announcement, we know that Tesla plans to manufacture 500,000 vehicles a year by 2020 from their Fremont Factory. These will be supplied by batteries from the Gigafactory. We do know that Tesla manufactures many of their parts in-house. However, if Tesla wants to make 500,000 cars in the factory, they need to move parts manufacturing out. We know the battery manufacturing will move to the Gigafactory, but the rest of the parts need to move somewhere too. Based on the Tesla job postings for the Lathrop facility, it seems that this will be the place that those parts will get manufactured. Here is a screenshot of some in case those jobs get filled: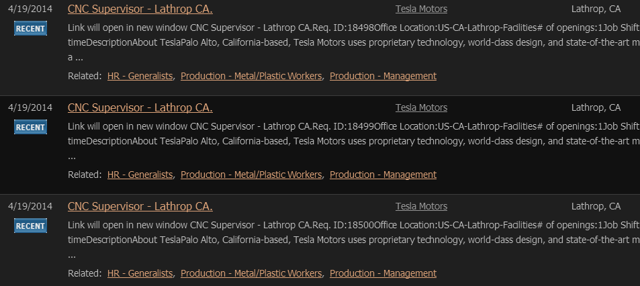 Elon Musk has also stated that they expect to produce cars in China in about 4 years. My personal assumption is that means some kind of assembly plant like they have in the Netherlands, at least to start. If Tesla needs to go beyond producing 500,000 vehicles, they do need more production facilities than just Fremont. China makes sense for that because production in China is required to qualify for Chinese EV incentives. So, beyond 2020, the Chinese facility can start doing more than just assembly. It is also possible that Tesla will start more than just assembling cars in Europe by then. However, their Netherlands facility is much smaller than Fremont.
Elon Musk also seems to have recently stated that they will start work at two separate locations for the Gigafactory simultaneously to avoid delays. The same article also says that Tesla has stated that Panasonic will likely be a partner in the Gigafactory.
Tesla is a very fast growing company and as soon as the first Gigafactory maxes out production in 2020, a second one needs to come online by 2021. The second location could be used for that in the future and it would keep battery production in North America. If we assume that a second Gigafactory will take the same time as the first one to build and start producing, construction for the second one must start in 2018.
Tesla also has big Chinese plans for Supercharging, whose profitability I have covered before, and what puts Tesla in a market leading position. Recently Tesla was in talks with Sinopec (NYSE:SNP) to install a nationwide network of Superchargers at Sinopec gas stations in China.
Based on all the information above, here is my personal estimated future timeline for Tesla: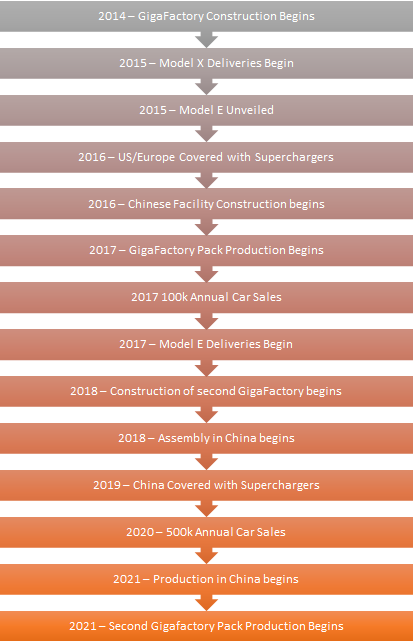 As for car sales growth to 500k, I've charted that before. This timeline provides a clearer picture of the path to 500,000 vehicles.
This Quarter's Sales
There has been rampant speculation that the demand for Tesla cars has been slowing in North America. However, the reality is that only deliveries have been slowing, not demand, as Tesla expands globally. Most of this speculation is based on the assumption that Tesla delivery times have stayed constant but deliveries have dropped. Tesla delivery times vary wildly from 30 days to over two months. The only way to get your Tesla reliably delivered fast is to order a loaded top end model. So it is impossible to actually speculate how fast average delivery times are. The only concrete information we have is customer deposits and those have been growing consistently every quarter. In fact, last quarter, when Tesla delivered a lot more cars than expected, the normal expectation would have been for customer deposits to drop. However, they increased beyond the normal trend indicating increased demand in both US and Europe because China deposits hadn't started then.
Investor sleuths at the Tesla Motor Club forum have now already figured out Europe deliveries for Q1 - 3056. Tesla guided for 6400 deliveries for the quarter, which would imply North American deliveries of about 3350. However, Tesla is known to beat guidance and I expect about 4000 deliveries in North America, similar to the level of the BMW X6. My estimate is that Tesla will report 7000 cars delivered +/- 100 - about 10% over guidance.
A very important number to watch this quarter will be Customer Deposits. They will possibly be the only indicator we have to Chinese demand. I expect a big spike.
In conclusion, big things are in the pipeline in Tesla's future and my expectation is that it will reach new all time highs in the coming months.
Disclosure: I am long TSLA. I wrote this article myself, and it expresses my own opinions. I am not receiving compensation for it (other than from Seeking Alpha). I have no business relationship with any company whose stock is mentioned in this article.