There is no free lunch. At least, that's what economists say. Another academic chestnut says stock prices reflect the real value of a company through the mediating magic of the market. If a company were truly undervalued, the market would find out and instantaneously drive up the price.
But savvy investors know that isn't the whole story. Sometimes too-good-to-be-true investment opportunities arise as different investor preferences create undervalued opportunities. For instance, some investors are willing to sacrifice cash returns for an increase in share price. Apple (NASDAQ:AAPL) didn't pay a dividend from October 1995 to July 2012, and there was no way of knowing during the rise of the iDevice, the bursting of the Dot Com bubble, and the onset of the Great Recession if share price growth would offset the opportunity cost of lost dividend income.
On the other hand, companies with high dividend yields are not a panacea for investors wary of stock market volatility. Though younger investors are right to distrust trading as a way to build their fortunes, forsaking growth for lucre will leave an investor behind in the long run. Unless you're ready for retirement, giving up steady equity appreciation for immediate cash flow is probably not a good strategy.
In a worst-case scenario, high dividends can be a smoke screen thrown up by management to lure investors and draw attention away from other fundamental problems.
Three companies under review are both affordable and offer a handsome cash payment for your investment. All three of them come from sectors that are conventional go-tos for dividend-seeking investors. Two of them, BlackRock Kelso Capital (NASDAQ:BKCC) and TICC Capital Corp (NASDAQ:TICC) invest in businesses, and the last, Windstream Holdings Inc (NASDAQ:WIN) offers communications and technology products, managed services and cloud computing to business and broadband, voice, and video services to consumers.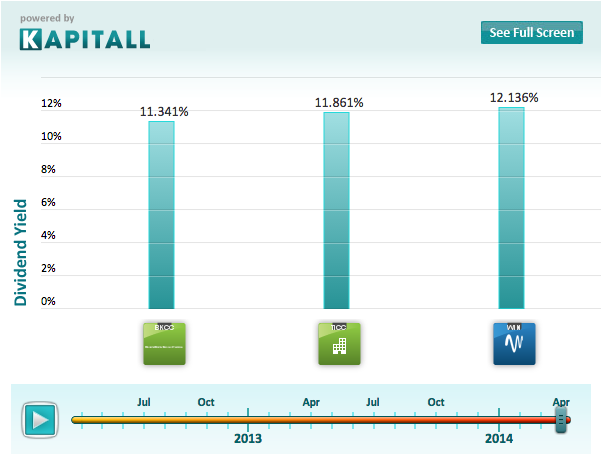 Click here to see the full, interactive chart.
All three companies have high debt-to-equity (D/E) ratios. BlackRock Kelso Capital and TICC are at 67.35 and 85.64 respectively, which is high compared to, say, Qualcomm (NASDAQ:QCOM), which has a D/E ratio of .04. (The Investopedia entry on debt-to-equity ratios says 2.0 is "high.") Windstream Holdings' D/E ratio is an eye-popping 1,054.30, but a solid company like General Electric (NYSE:GE) sports an impressive D/E of 275.80. (GE also has a nice dividend yield of 3.30%.)
BlackRock Kelso Capital uses leverage -- debt -- as a key mechanism to operate its business, so its high D/E ratio is not a surprise. Moreover, on its recent earnings call it said it is paying down debt and seeing an improvement of earnings that will grow through 2014. The improvement of EPS prompted The Street to list it as a buy, and its Graham number -- invented by legendary value investor Benjamin Graham -- is 16, signaling the stock is undervalued.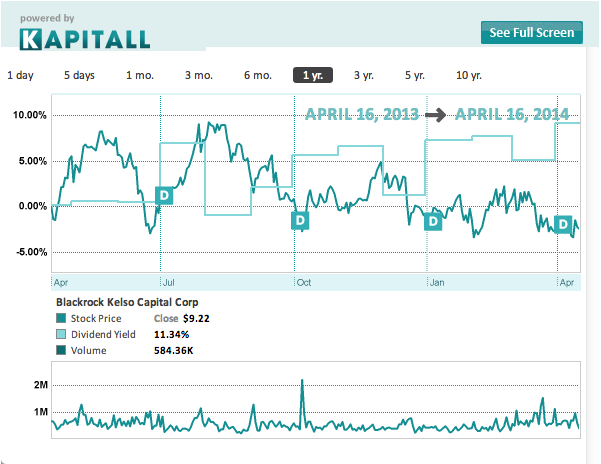 Click here to see the full, interactive chart.
TICC Capital's story is similar. It finances its business with debt, but its investments have paid off: its profit margin is above 50%, and its revenues have also risen by a similar number since last year. Disappointing earnings per share for the last twelve months has depressed the stock price, but a turnaround in earnings will surely mean an uptick in share price.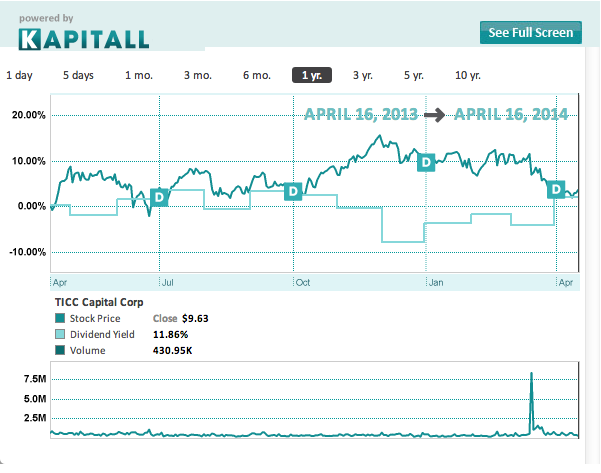 Click here to see the full, interactive chart.
Windstream is more problematic, and analysts are divided as to whether this company is a dog to be avoided at all costs or a diamond in the rough. Its dividend yield is an impressive 11.30% and its most recent closing price is just under $9. The stock won't pay a dividend for another couple of months, but if last quarter's performance is any indication of the future, the stock could appreciate six to ten percent running up the ex-dividend date.
And then, for your $1,000 investment you get $28 in cash. If you hold the stock for a year you get $112, and so on. But how long can you hold Windstream and get that kind of return?
Zacks Equity Research reports that Windstream expects revenue to come between 1% and -2.5% for 2014. If the latter is the case, will their dividend be sustainable? On the other hand, Stone Fox Capital thinks Windstream's free cash flow (FCF) is strong enough to support the dividend at its current level, and the Motley Fool argues that several factors give reason to believe the dividend will continue, including restructured debt and interest expenses and strong management commitment.
Finally, investors should understand how dividend payments affect their tax liability. The inevitability of death and taxes (according to Ben Franklin) will most definitely eat into your bargain dividend lunch.
Disclosure: I have no positions in any stocks mentioned, and no plans to initiate any positions within the next 72 hours.
Business relationship disclosure: Kapitall is a team of analysts. This article was written by Will Kenton, one of our writers. We did not receive compensation for this article (other than from Seeking Alpha), and we have no business relationship with any company whose stock is mentioned in this article.