Apache (NYSE:APA) announced the sale of its Western Canadian properties for a consideration of $374 million. These assets include dry gas producing acreage in the Deep Basin area of Alberta and British Columbia. During 2013, these assets produced 101 million cubic feet of natural gas and 1500 barrels of liquid hydrocarbons.
The deal is considered to be an incremental positive for Apache as the proceeds will be used to expand the company's 30 million share repurchasing program. The sale will also allow Apache to sharpen its focus on the liquid-rich properties that include the Permian and Anadarko basins and drilling program in Montney.
Apache has been focusing on liquid-rich opportunities in North America by divesting riskier foreign assets as part of its long-term strategy. It recently sold off some of its non-core Argentinean assets for approximately $800 million. In addition, it has also sold its assets in the Gulf of Mexico for $3.75 billion and Egyptian oil and gas assets for $3.1 billion. In total, the company has sold assets worth $8 billion over the last year. By selling these assets, the company was to strengthen its financial health and reduce its debt by $2.6 billion in 2013. In addition, the remaining proceeds were used in share repurchases of approximately $1.2 billion and increased the dividends by 25% to $0.25 per share.
Liquid-Based Production Growth
Apache has a strong portfolio of North American assets comprising almost 60 percent of the total assets owned by the company. The company has been able to grow the liquids-based production from just 50% in 2009 to 58% in 2013.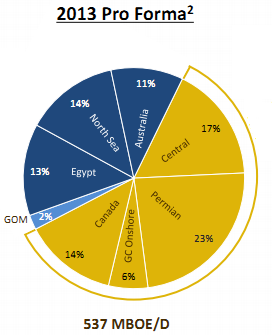 Source: Investor Presentation
During 2013, the company delivered 34 percent production growth from the North American assets. However, going forward, the production is expected to grow by 15%-18% in 2014, primarily driven by the Permian and Anadarko basins.
During 2013, the company successfully added 19 MBOE per day and achieved the production of 127 MBOE/D. The company justifies improving returns as it continues to operate on lower costs due to multiwall pad drilling. Moreover, Apache has identified some 60000 drilling locations across its acreage in the Permian and Anadarko basins.
Apache's Case for LNG
Apache recently revealed its intention to cut its stake in the Kitimat LNG project. It also reduced its capital spending by $1 billion for the project. The project is becoming more expensive than what was initially planned and is proving to be a hindrance in achieving cost-cutting goals. As it has been observed by the CEO:
We can't afford that, and we've had a serious discussion with a number of buyers in Asian markets.
Although the company intends to reduce its stake in the Kitimat Project, there are other LNG projects that can deliver desired results from the growth opportunities in LNG. Apache has a nearly 13% stake in the Australian-based Wheatstone LNG project. The project is expected to be online by 2016 and will have a total capacity of 8.9 million tons per annum. The Wheatstone project is among the high value LNG projects that are positioned to capitalize on the rising demand of LNG in Asia and other emerging markets. The company expects that the Wheatstone project will help it to generate more than $1 billion in annual cash flow starting from 2018.
Concluding Remarks
The selling of Apache's Canadian assets is another step towards boosting the liquid production growth. The proceeds from the sale are to be utilized for the 30 million share repurchase program. In the recent past, Apache has also sold various assets that have greatly improved its financial position. Moreover, with a much more streamlined liquid-based portfolio after asset sales, the company can now focus on its onshore U.S. assets that ensure stronger and more predictable rates of return and tend to drive more profitable growth in the years ahead.
With the improved financial health to lessen the burden of interest expenses coupled with huge growth opportunities in the Permian and Anadarko basins, Apache's long-term outlook is getting stronger. The company has been inexpensively priced and is trading at a forward P/E ratio of 12.07. Given the strong long-term outlook, I believe that the stock has been trading at a discount to its peers. Therefore, I recommend buying the stock.
Disclosure: I have no positions in any stocks mentioned, and no plans to initiate any positions within the next 72 hours. I wrote this article myself, and it expresses my own opinions. I am not receiving compensation for it (other than from Seeking Alpha). I have no business relationship with any company whose stock is mentioned in this article.