Introduction
This article focuses on the progress and future plans for a portfolio I created last year, the 30 and Under Portfolio. (You can find the first portfolio update here.) The portfolio consists of purely Dividend and Growth (NYSE:DG) stocks and employs the Dividend and Growth Investing (DGI) strategy.
The goal of the portfolio remains the same as outlined in the initial article: I will invest in dividend growth stocks by employing the DGI strategy of letting the dividend reinvest itself and focus purchasing decisions on long-term growth opportunities. Stocks in this portfolio should ideally be held for at least twenty years.
As the market continues to set new record highs, the portfolio will take a more defensive posture. In a previous article, I provided several reasons why investors should be more defensive and how I would fortify my portfolio.
Portfolio Stages
I was amazed and shocked by the amount of comments and feedback generated from the first portfolio article. There were many constructive comments pointing out the overweight allocations and suggesting riskier growth stocks for higher total return since I have time for my investment to grow.
It has always been in the back of my mind to invest in small/mid cap or growth stocks. I sometimes wonder what would happen if Google (NASDAQ:GOOG)'s stock price reached $10,000 or if I should invest in one of my favorite brands, Under Armour Inc. (NYSE:UA). However, I want to focus on DGI and build a great foundation with DG stocks. I decided I would allocate contributions differently according to the stage of portfolio. I believe each portfolio goes through several stages that are defined and outlined by specific goals and objectives.
Stage 1 - Foundation: (DGI) < $200,000
In the Foundation stage, I view myself as a builder laying out the foundation for long-term financial success and will mainly purchase stocks off David Fish's CCC list. The Foundation stage can be seen as less exciting than other stages, but I believe the results will be rewarding in the long run. The Fostage will be completed when the portfolio reaches market value of $200,000 and generate an average of $650 monthly dividend.
How did I come up with these numbers? First, when I enter the 2nd stage of the portfolio, the foundation will be left alone as to allow the dividends reinvest themselves. Every investor should know of the power of compound interest. For example, at $200,000 with a conservative approach of 8% return in the long run of 20 years plus, the portfolio will accumulate to the value of roughly $1,000,000. With 3% inflation, $1 million in 20 years is equivalent to $450,000 in 2014's value. I believe this is a good benchmark to set before the portfolio enters the 2nd stage, because as a fugal person, even if every other investment completely fails after the 1st stage, the amount of dividends from the foundation can support the minimum of my basic needs.
Secondly, I just love the idea of dividend growth investing and holding shares of companies that pay me dividends. The steadily rising income streams excites me. I will still purchase mainly dividend growth stocks after the Foundation stage, but will expose the portfolio to the growth sectors.
The foundation stage will last for a minimum of 21 addition months. I utilized an aggressive calculation of the TVM Calculator:
| | |
| --- | --- |
| Present Value | -$120,000 |
| Payment | -$2,500 |
| Future Value | $200,000 |
| Annual Rate | 10% |
|   |   |
| Periods | =21 |
While this is not a prediction of the portfolio's future value, it gives a general idea on the minimum time period the portfolio will be in the Foundation stage.
Stage 2: Frame (DGI/Growth) > $200,000: Next Stage
After the Foundation (DGI) stage, I plan to begin exposing the portfolio to more growth stocks. I will not touch the principal and dividend of the foundation and will only build the "frame" with new contributions. A few examples of stocks I might configure into the portfolio include large companies that do not pay dividends such as GOOG, Amazon.com (NASDAQ:AMZN) or Berkshire Hathaway (NYSE:BRK.A)(NYSE:BRK.B). The portfolio will continue to mainly acquire DG stocks, but the $200,000 milestone allows me to slightly reduce the stock screening restriction.
Typically investors invest in growth stocks in the beginning stage and modify to dividend stocks in the later stage. However, every investor has different risk tolerance, returns for need, and reasons for investing. The approach and steps in this article only fits the author's personal and financial profile.
This article is not intended for portfolio allocation or configuration recommendations.
Portfolio Activity Update: Five new purchases and PBA rebalanced

[Source: E*TRADE]
(Purchases of China Mobile Inc., Target Corp, and The Clorox Company)
(Replaced portion of Pembina Pipeline Corp with Exxon and Chevron)
Averaging Down the Double-edged sword
In this quarter, I have employed the "Averaging down" purchasing strategy and made stock purchases at a reduced amount compared to the usual amount of $5,000. The two purchases I made in February perfectly demonstrate the reasons on why investors should or should not use the dollar cost average to purchase stocks.
CHL was added to the portfolio at $48 per share and shares have dropped to less than $42 a share within a month. I added TGT to the portfolio at $56 and during the same period, the price raised to $62.
As a long-term DGI investor, the short-term volatility of stocks does not have an impact to the portfolio. Experience from this past quarter has taught me several lessons such as: the benefits and harms of the Averaging Down strategy, the probability of missing an opportunity of an outright purchase a full position of TGT, and the ability to lower the cost basis by investing back into the same stock that had price decrease. (CHL was initially purchased at $48. I could have decrease the average cost if I purchaesdCHL again at below $48.)
I prefer the Average down method because investors can decrease investment cost by trading off potential gains. Defensive investors should research this purchasing strategy. I purchased the 3rd investment of CLX this quarter with the Average down method at the amount of $2,000. From now on, I plan to make three purchases of each position at $2,000 and for a full position at $6,000.
1. China Mobile Inc. (CHL)
I published an article "China Mobile For Chinese Economic Exposure And Organic Growth" on why investors should invest in CHL. I purchased CHL because of the long-term economic growth of the Chinese economy (diversification), organic growth of mobile data users, CHL's position as the market leader in the Chinese telecommunications industry, and the increasing of mobile data demand in China.
I believe CHL will be volatile in the short term, but the company will be a great investment in the long run.
CHL was purchased at $48 on 2/14
2. Target Corp (TGT)
I published an article "4 Reasons Why I Added Target To My Portfolio" and listed details on why I purchased TGT. TGT is an investment that can add resilience to the portfolio during market pullbacks and it was at a fair valuation.
TGT was purchased at $56.41 on 2/14
3. The Clorox Company (CLX)
CLX has been a core dividend holding that I have been trying to add for a long time. It is one of the dividend champions on the Dividend CCC list with 36 years of consistent increase of dividend.
It is a good idea to invest in consumer "Needs", especially in the current market with many investors expect market corrections ahead. For building the foundation for this portfolio, I am willing to invest in stocks that are fair value that will provide resilience during market down turns. At 20.5 P/E the ratio is above the historic average, but being closer to the 52wk low, I believe adding CLX to the portfolio is an justifiable move.
CLX was purchased at $87.86 on 03/25
Pembina Pipeline Corp (PBA) Rebalanced
In the last portfolio update, I dedicated a section on the issue of overweight position of PBA. On March 25, $10,000 worth of PBA was sold and the funding was split into Exxon Mobile (NYSE:XOM) and Chevron Corporation (NYSE:CVX) at $5,000 each. XOM and CVX are both mega cap dividend champions in the oil industry and can serve as great cornerstones for any DGI portfolios.
The plan is to sell $10,000 worth of PBA every quarter until PBA is at a reasonable weight. It was not easy to sell part of the PBA even though I was rebalancing the portfolio.
Current Portfolio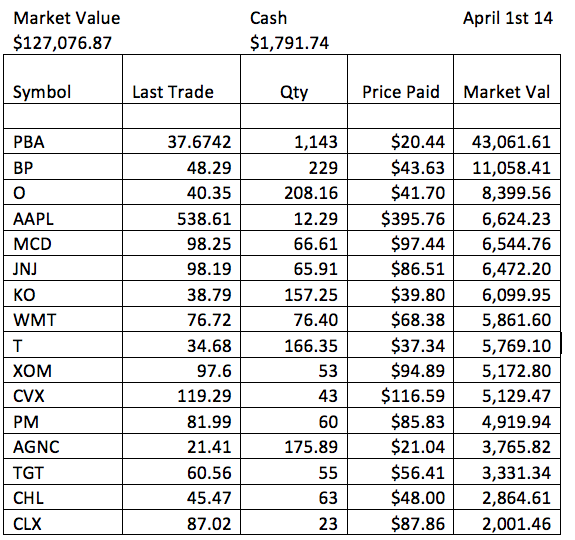 The portfolio value increased to $127,076 from $115,542, with a total increase of $11,534. $6,000 is from contributions for the month of February and March, and $5,534 is from capital and dividend gains.
There are currently 16 stocks in the portfolio with plans to hold 25-30 stocks when the Foundation stage is complete. I will start contributing to current stocks in the portfolio that appear to be at a good value.
Additionally, I will set aside $500 cash each month to start building up a reserve pile to purchase a bargain stock if the market experiences a pull back. Right now there is roughly 1% in cash allocation with a goal is to increase the allocation to 8-10%.
Annual Dividend Count

The total 12 months dividend income increased from $5,115 to $5,262. The increase is not much since $10,000 worth of PBA yielding at 3.9% was replaced by $5,000 of CVX yielding at 3.4% and $5,000 of XOM yielding at 2.6%.
Since the portfolio is being fortified as I lay out the groundwork for a good foundation, the importance of yield will not be the main focus. Every stock in the portfolio is participating in a dividend reinvestment plan with the exception of PBA.
Stock allocation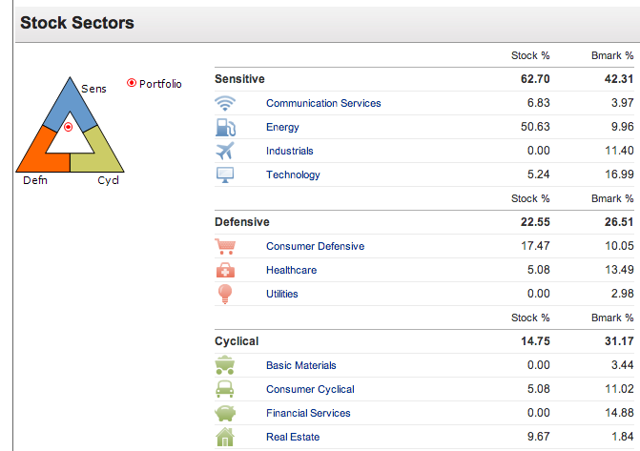 [Source: E*TRADE]
When the portfolio was first constructed, there was no a set rule on stock balancing over the industries. I only had a general idea of purchasing stocks from every sector for diversifications.
The overall balancing seems to be acceptable since the portfolio is placed close to the center of the triangle on the screen above. I do plan to add stocks from industries the portfolio is currently not exposed to, mainly from the Financial, Healthcare and Industrial sectors.
Watch list
I think this is a great time for me to establish some ground rules on future stock purchases. Here are few of the rules that I set for this stage so far.
Rule 1: If I invest in a company, my future son will certainly know about it, while my grandson will most likely know about it.
Example: My future son will certainly know what Coca Cola (NYSE:KO) is, while his son will only likely know.
Rule 2: It does not matter if the company's balance sheet is not great. If I do not like the product, I will not invest in the company.
Example: While I have a Facebook (NASDAQ:FB) account which I use mainly to keep in touch with friends and colleagues, I absolutely dislike a lot of the features related to privacy (such as sync images from mobile phone without permission). Even if FB becomes a DG stock with a great balance sheet, it will not be added to the portfolio. (This is just an example, discussion of FB rather be a good investment or not can be conduct on FB focused articles.)
With the rules outlined, there are more than 40 stocks on the actual watchlist. Below are some examples to show the types of investment this portfolio targets that fall within the rules.
Industrial sector - The Boeing Company (NYSE:BA): I believe the aerospace industry will be around for many years to come (Rule 1). As the demand for oil continues to grow, the demand of new efficient aircrafts will increase. BA will most likely be added to the portfolio in the future.
Financial sector - Wells Fargo & Company (NYSE:WFC): WFC is a solid banking company and showed a lot of resilience during the financial crisis in 2007-2009. WFC is one of Warren Buffet's largest holding with an excellent track record of dividend payments. I also use WFC as my personal bank. The portfolio is currently not exposed to the financial sector.
Healthcare sector - Pfizer Inc. (NYSE:PFE): As the life expectancy increase across the globe, the demand with healthcare will continues to increase. Companies in healthcare sector are more volatile, but a market leader such as PFE is a good investment because of the overall demand of the healthcare products and services.
Closing
As I mentioned in past articles, I am hesitant to purchase stocks in the current market. However as a dividend growth investor, regardless of the market conditions, shares of good dividend and growth stocks must be continue added and held. I am confident of the portfolio's prosperity if I follow the fundamental of DGI strategy with the new Average down purchasing strategy, and focus on defensive dividend stocks.
I am not claiming to be a knowledgeable investor. I write to learn by sharing my thoughts and actions and expect knowledgeable feedback from the SeekingAlpha community. I hope this article attracts new investors to explore and research the world of dividend and growth investing and encourage other SeekingAlpha users to become a contributor.
It is truly an amazing experience being a contributor. Publishing the first portfolio update has had an excellent positive impact for me as an investor. In addition to the knowledgeable and informative comments, being a contributor has helped me become more disciplined and focused on the fundamental of dividend and growth investing.
Disclosure: I am long AAPL, AGNC, BP, CVX, JNJ, CHL, XOM, PBA, KO, T, PM, O, MCD, CLX, TGT, WMT. I wrote this article myself, and it expresses my own opinions. I am not receiving compensation for it (other than from Seeking Alpha). I have no business relationship with any company whose stock is mentioned in this article.