Michael Kors Holdings (NYSE:KORS) has been in the limelight for quite a while. Others may have shared the space too, but most of them have encountered the publicity that investors would choose to stay away from. The company's share price has risen more than 60% in one year, while competitors like Coach (COH) have failed to deliver any increase at all. The demand is healthy for this high-end brand, and the company is growing at a full pace while gaining market share from competitors.
In this article, I will analyze the company's latest quarterly performance. I will then examine the abundant upside Michael Kors offers for your investment.
All segments gave 50% plus increase in revenue

Source: 10Q
The last quarter was the first quarter ever in which Michael Kors exceeded the $1 billion revenue mark, as the total revenue rose by 59% on a year-over-year basis. Retail jumped by more than 50%, driven by the company's popular accessories line that led to a comparable sales increase of 28%, as the company opened 98 new stores since the third quarter of 2013.
Wholesale sales improved by a wide margin (68%) due to strong growth in accessories and footwear and the conversion of existing department doors to shop-in-shops along with the expansion of European operations. Licensing rose due to popular demand of watches from the company. Michael Kors positioned itself on the right side of the fashion trend, while rival Coach continues to face serious headwinds.
Gross margin increased to 61.2%, expanding by 100bps from the previous year, reflecting margin growth in both retail and wholesale segments of the company. The increase was driven by a favorable product mixed shift towards greater margin products in addition to the geographic mix and lower product cost incurred in specific items.
Operating expenses grew 54.7% to $276 million, but fell as a percentage of total revenue. SGA expenses increased 54.5% to $254.6 million compared to $164.8 million in fiscal year 2013.
The increase in SGA was explained by higher retail occupancy and salary costs related to new store openings, an increase in advertising and marketing expenses, higher distribution costs in personnel workforce related to the disruption in the U.S. distribution facility and increases in corporate employee-related costs. However, as a percentage of total revenue, SGA decreased by 70 bps to 25.2% compared to last year.
A reduced loss on foreign currency and lower interest expense caused diluted EPS to grow 74% to $1.11. The company performed well in virtually every element. There is abundant growth potential in expanding abroad in the future.
After establishing itself as a fierce competitor of Coach in the U.S. Michael Kors is expanding abroad and is more successful than the territory's local rivals. The company is targeting customers with its "jet-set" brand and relatively lower prices. Success can be seen from the fact that the company's European sales more than doubled, nearing $140 million during the last quarter, making up 14% of the period's total sales. Compare this to the 2% growth observed in the European luxury goods industry that was a reduction from 5% incurred in 2012.
The company is well-positioned to continue capturing market share in Europe as it further expands the brand presence in the region by growing both the store base and its wholesale distribution. It ended its last quarter with 76 total stores in Europe and will open 36 more during this year. Projecting for the next few years, Michael Kors expects that the European market will achieve revenue in excess of $1 billion for the company. The figure is almost a full quarter of total revenue the company achieved from all of its recent operations.
Japan remains an abundant long-term prospect and a key market for the company. While Michael Kors is in its early stages and it will take time to fully integrate into the country, the company is seeing positive momentum there that justifies the expansion it is planning to carry out. Last quarter, revenues increased 54% to $9 million in Japan with comparable store sales increasing 18%. With 35 stores in Japan Michael Kors will open one more this year towards its long-term goal of 100 stores in the region.
Similar results have followed in the Far East where licensing has brought double digit growth in comparable retail store sales. The point should be clear: Michael Kors' designs and price attractiveness are proving successful. The expansion will lead to more revenues, as the company develops brand awareness in growing markets.
Bottom Line
Michael Kors will be launching its new North American e-commerce site during fall of this year. The site will enhance the level of engagement between the company's online customers and the brand. It will also aid as a good marketing tool that will give the company the opportunity to develop new customer relationships. The company is seeing high double-digit increases in worldwide search volume and in visitors to its existing website. These trends support the fact that a better website will draw more potential customers and translate into greater online revenue for the future.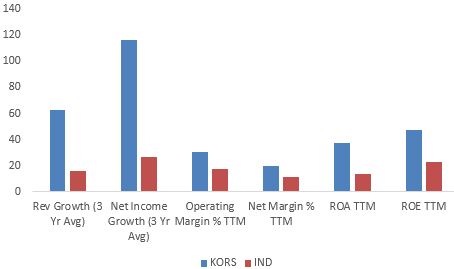 Source: Morningstar
The company has already given past results way above the industry (see graph above). Its return on equity stood at 47% more than double the industry. With international prospects and attractive designs, Michael Kors promises to deliver good returns for the future. It therefore gets a Buy rating.
Disclosure: I have no positions in any stocks mentioned, and no plans to initiate any positions within the next 72 hours. I wrote this article myself, and it expresses my own opinions. I am not receiving compensation for it (other than from Seeking Alpha). I have no business relationship with any company whose stock is mentioned in this article.