Eagle Rock (NASDAQ:EROC) announced after the market close on April 23rd that it will be suspending its distribution until after the close of its planned divestiture of its midstream business to Regency Energy Partners (NYSE:RGP). The sale had been delayed by an FTC inquiry into the transaction.
Eagle Rock units had already traded down from a high of $10.52 a year ago to $4.85 at the market close on the 23rd. It is possible some probability of a cut in distribution may have been priced in. The unit price is down afterhours, and could trade down substantially more on April 24th, as yield-oriented investors sell.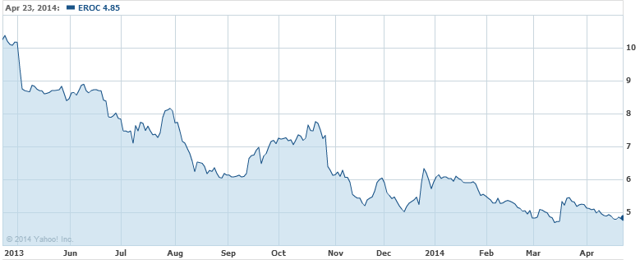 One example of an MLP that had performed poorly and then crashed after announcing cutting distributions is Boardwalk (NYSE:BWP), the other MLP that "blew up" in 2014. Here is a chart of BWP's one year past performance: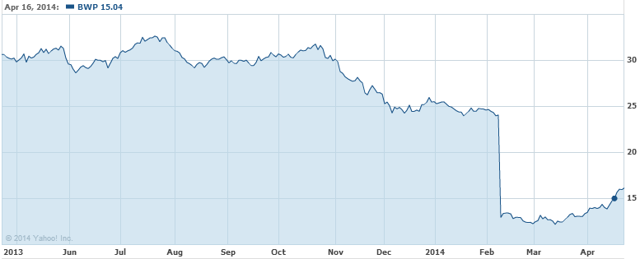 Similar to EROC, BWP had traded from a high in the mid 30s to $24 immediately prior to cutting its distribution. It opened the next morning after the announcement at around $13 per unit, and is currently at just over $16 per unit.
The situation is not identical because Eagle Rock has announced that it will reinstate the distribution when its anticipated sale of its midstream business closes. However, the FTC inquiry has apparently delayed that process and Eagle Rock is obviously preparing itself for a potential further delay. The prospect of a long delay in distribution payouts could further impact the unit price.
The timing of this announcement is interesting in the context of the MLP universe. Investors in the space are aware, as mentioned in the previous article I wrote, of HedgEye, which successfully prominently targeted Linn Energy (LINE) and Kinder Morgan GP (NYSE:KMI) and LP (NYSE:KMP), driving down the prices of those units and drawing considerable attention in the process. Those unit prices have gradually recovered over time, but are still below the levels prior to the reports by HedgEye (and Barrons, which has provided unusual coverage of such a small research firm).
Here is a 2 year chart of KMI and KMP, HedgEye targeted both near their respective peak unit prices:

And here is a chart of LINE. HedgEye targeted LINE near its peak unit price, and had enough of an impact that LINE was forced to up the number of shares of Linn Co (LNCO) it paid to acquire Berry Petroleum: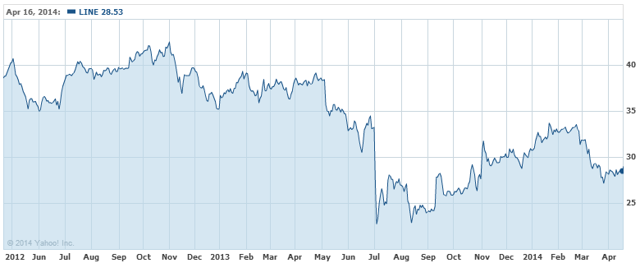 The timing of Eagle Rock's distribution cessation is interesting because HedgEye just released the names of its next targets on Monday April 21st: (LP) Atlas Pipeline Partners (NYSE:APL) and (GP) Atlas Energy (NYSE:ATLS). HedgEye announced it would release research on these MLPs on Thursday April 24th, which will coincide with the market opening for Eagle Rock post distribution cessation.
It will be interesting to see the interplay between Eagle Rock units, HedgEye research release on Atlas GP and LP, Boardwalk which had been the only MLP in 2014 so far to cease distributions, and LINE and KMI / KMP, which had been previous targets of HedgEye but seem to have taken a back seat as HedgEye moves on to Atlas.
Disclosure: I have no positions in any stocks mentioned, and no plans to initiate any positions within the next 72 hours. I wrote this article myself, and it expresses my own opinions. I am not receiving compensation for it (other than from Seeking Alpha). I have no business relationship with any company whose stock is mentioned in this article.