Cass Information Systems (NASDAQ:CASS)
is a largely undiscovered small cap (just north of $300 MM) provider of payment and information processing services. The company's clients include many much larger companies in the manufacturing, transportation and utility industries. CASS has been a holding in accounts managed by my firm Freedom Mountain Investments for a number of years as well as a holding in my individual accounts. It is the type of undiscovered small cap that I search for having a strong history of real and rising financials. CASS has performed well over the last 5 years, increasing earnings by an average of 17.5%. The company has done well in increasing transaction volume with existing customers as well as in adding new customers. The stock has roughly doubled in value over that time period far surpassing the S&P 500.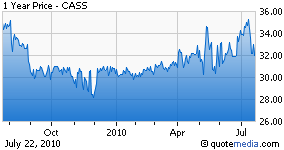 The balance sheet is solid with no long term debt. The company has a long history, starting business in 1906 as a commercial bank. The company still includes a bank division today which it counts as a strategic advantage in providing a range of services to customers. CASS pays a dividend of roughly 1.7%.
CASS reported earnings on 7/22/10 with very strong results across its business groups. Revenues increased by 9% vs. the same quarter in 2009 and earnings increased by 33%. CASS is a great way to play an economic recovery. Its revenues increase with the number of economic transactions. It also has the unusual feature of profiting from higher interest rates. Low rates have hurt CASS over the last couple of years, but as rates rise this will be another significant factor driving performance.
CASS is a thinly traded stock. I would strongly advise using limit and all or none orders for purchases.
Disclosure: I own CASS in my individual accounts as well as in accounts managed for my firm, Freedom Mountain Investments. Long CASS in individual and accounts managed for Freedom Mountain Investments