The emergence of combinational therapies, relative to conventional therapy, as an effective treatment for combating the dynamic nature of the cancer disease has given rise to innovative companies such as Puma Biotech (NYSE:PBYI), Endocyte (NASDAQ:ECYT), Innate Pharma (OTCPK:IPHYF), and others. Among companies suited to benefit from this transition is Oncothyreon (ONTY), whose repertoire of combinational treatments presents a compelling investment opportunity.
From Conventional to Combinational - Changing the Way We Fight Cancer
As the name suggests, combinational therapies (CTs) are the use of targeted therapies in conjunction with standard chemotherapeutic agents to combat the resistance caused by the dynamic genetic makeup of large tumors. The conventional approach to dealing with cancer is to employ one type of therapy such as chemotherapy, immunotherapy, radiation or the common CT, chemoradiation. However, more and more data is supporting CTs as a possible future benchmark for cancer therapies.
In a 2013 study led by Harvard Medical's Ivana Bozic, combinational therapy was proposed as the major strategy in overcoming resistance to a single drug and its short-term effectiveness. The results suggested simultaneous therapy with two drugs is much more effective than sequential therapy and provided realistic expectations for the efficacy of new drug combinations. Targeted therapies, such as inhibitors and vaccines, are now being developed at a fast pace as a part of CT. Further confirmation of this potential is revealed via biotech powerhouse Roche's response when asked if there will be more combination treatments in the future:
Yes, if treatments only intervene at one node of a signaling cascade, other signaling pathways can still be activated, bypass the first blockade enabling uncontrolled cell growth, and making the treatment ineffective.
In short, CT allows for the attacking of the cancer cell on several fronts and increase the overall probability of the death of the cancer cell and correspondingly an increase in the overall survival of patients. Further evidence of this trend is revealed through Novartis' acquisition of CoStim in hopes to expand its cancer immunotherapy research program. The acquired drugs could prevent the cancer's ability to develop resistance against current single drugs. According to Dr. Mark Fishman, president of the Novartis Institutes for Biomedical Research:
Therapy for many types of cancers are expected to increasingly rely upon rational combinations of agents ... Immunotherapy agents provide additional arrows in our quiver for such combinations.
This enthusiasm is shared by the American Association for Cancer Research (AACR). In their 2013 progress report, they said we are likely to see many more clinical trials evaluating targeted therapies in rational combinations with other therapies, resulting from our enhanced understanding of cancer. For example, the combination dabrafenib and trametinib has shown promise in the treatment of patients with metastatic melanoma. According to Dr. Drew Pardol, Professor of Oncology at Johns Hopkins and Director of Cancer Immunology:
I believe that over the next three years, therapeutic cancer vaccines will become a core component of cancer immunotherapy combinations.
Interestingly, five of the 19 most recent cancer-related FDA approvals are combinational therapies.
Beneficiaries of CT Trend: Puma, Innate, Endocyte, and Oncothyreon
CT has been the driving force for companies such as Puma Biotech whose stock has risen a staggering 400% to sport a market cap of $2.3B since their IPO a little less than two years ago. Their lead drug candidate neratinib (PB272) is a tyrosine kinase inhibitor that targets the HER 2+ receptors, which has produced positive data from the I-SPY 2 Trial comparing its efficacy while being administered in combination with chemotherapy and by itself. In particular, the phase II trial combining neratinib with Paclitaxel outperformed as compared to patients being treated with Herceptin and Paclitaxel. Despite strong data, PBYI's stock crashed 18.3 % on news of 40% of patients being treated with neratinib experiencing moderate to severe diarrhea. To accommodate for this, an anti-diarrhea medicine has been introduced into the treatment.
PB272 is currently involved in nine clinical studies of which six are combinational studies. The reason behind Puma's large market cap is that the earliest stage of development among these studies is in their Phase II trial coupled with sufficient financing from their February 2014 common stock offering ($129.3M raised) to see them through till at least 2015 and beyond. The other major factor behind the seeming large market cap is that the company believes there are roughly 36,000 patients in the United States and 34,000 patients in the European Union with newly diagnosed HER2 positive breast cancer, representing a total market opportunity of approximately $1B-$2B.
Innate Pharma is another biotech that has significantly benefited from CT development. Their leading drug candidate Lirilumab has been licensed to Bristol-Myers Squibb (NYSE:BMS) and is currently in Phase I trials to be administered in combination with Bristol Myer Squibb's 's nivolumab and ipillimaub. Lirilumab is also being studied in a Phase II trial in patients with Acute Myeloid Leukemia. Innate also has four other drugs in their pipeline: IPH2201 (cancer), IPH4102 (cutaneous T-cell lymphomas), IPH33 (inflammation, autoimmunity), IPH43 (cancer); the furthest in development being in its Phase I stage. Innate's share price has increased 300% in the past year to a market cap of $450M.
More recently, Endocyte jumped 92% following the announcement that their lead drug vintafolide in combination with docetaxal for the treatment of NSCLC reached its primary endpoint of improved progression-free survival in their Phase IIB trial. The company is also currently partnering with Merck Sharp & Dohme Corp. in a Phase III trial evaluating EC145 in combination with Doxil in women with platinum-resistant ovarian cancer. Endocyte also has other products in their pipeline; however, they are not treatments. The nearly doubling of price is suggestive of the potential that effective CTs present.
Why Oncothyreon Is Most Compelling Among Its Peers
Among biotechs utilizing this CT approach, Oncothyreon shows considerable promise. The company was written off after a failed Phase III "START" trial for its leading NSCLC cancer vaccine Tecemotide. Although "START" did not reach its primary endpoint of increasing overall survival in the overall patient population; it did, however, prove very effective in a large (806) subgroup of patients. Patients who received tecemotide after concurrent chemoradiotherapy achieved a median overall survival of 30.8 months vs. 20.6 months in patients treated with placebo. As any optimism arising from a failed trial should be taken with a grain a salt, the subgroup was predefined and constituted more than 50% of the overall patient population which does gives validity to the post hoc analysis.
One might think that in light of the failed trial, MerckKGaA, tecemotide's licensee and corporate partner, would have dropped the drug entirely. On the contrary; MerckKGaA initiated "START2" a Phase III trial aimed at confirming the efficacy of tecemotide as a combinational therapy with CPA (cyclophosamide) for which it has a Special Assessment Protocol (SPA) with the FDA. The primary endpoint of the study is overall survival in the patients with unresectable, locally advanced non-small cell lung cancer. Based on the approval of Tarceva (erlotinib) in 2004 as a single agent treatment for patients with locally advanced or metastatic NSCLC, which showed a median overall survival of 6.7 months in the Tarceva group vs. the placebo group; tecemotide is well-positioned for approval provided it can duplicate the results in the concurrent group from the START trial. The approval of tecemotide would allow ONTY to tap into an estimated $5.0B NSCLC market for which there are no currently approved therapeutic vaccines, according to a 2013 DataMonitor report as mentioned in ONTY's 10-K.
START2 is just one of seven clinical trials involving combinational therapy in three of the four drugs in the Oncothyreon pipeline. ONTY acquired ONT-380, a potent and specific inhibitor of the HER2 receptor, from Array BioPharma. ONT-380 is currently being studied in two clinical trials both of which are CT for the treatment of breast cancer. The success of ONT-380 in conjunction with any one of the four drugs being tested (capecitabine, trastuzumab, capecitabine + trastuzumab and T-DM1) would earn them a place in the lucrative breast cancer market. In particular, proving efficacy with T-DM1 would place ONT-380 at the forefront of the battle against breast cancer as it is likely that T-DM1 will move to first line therapy over the next year or so according to CEO and President Bob Kirkman.
Optimism for ONT-380 is not unwarranted; it demonstrated superior activity based on overall survival, compared to lapatinib and PBYI's neratinib, in an intracranial HER2 positive xenograft model. Furthermore from multiple preclinical tumor models, ONT-380 demonstrated synergistic or additive tumor growth inhibition when dosed in combination with the standard of care Herceptin and Docetaxel. From the Phase I trial, ONT-380 demonstrated an acceptable safety profile with treatment related adverse events being primarily grade 1. Additionally the drug's selectivity for the HER2 inhibitor prevents it from inhibiting EGFR resulting in a low incidence and severity of treatment related diarrhea, rash and fatigue; unlike its counterpart neratinib, which is a HER1/HER2/HER4 inhibitor.
One of the other two drugs is PX-866, a PI-3K inhibitor, which is involved in Phase I/II and Phase II trials for the treatment of squamous head and neck cancer and melanoma as a combinational therapy and by itself. The other is ONT-10, a cancer vaccine in its Phase I trial, evaluating its safety as a monotherapy for solid tumors. Although these two drugs are in early stage development, they still represent future value that investors are likely to being accounting for once they are further advanced.
Burden of Proof Remains Largest Risk With ONTY, Other CT Players
ONTY's pipeline is not without the baggage of previous targeted therapies. In the 2013 study referenced earlier, targeted therapies were scrutinized due induced short-lived results in patients and as such present the limitation from being standalone treatments. This further emphasizes the necessary success of their combinational clinical trials in order to set a new precedent for the use of targeted therapies and avoid the failures of other biotechs. This is not to say that getting FDA approval of CTs will be a walk in the park. According to the AACR 2013 Progress Report:
Even armed with this deeper understanding of cancer biology, much work needs to be done to determine the order, duration, and dosing of the combination of anticancer agents being used.
In addition to this, there is the issue of controlling the toxicity, which is generally higher in combinational therapies.
Broad Pipeline, Attractive Valuation Will Drive ONTY's Performance
In the next few months, Oncothyreon will likely have several positive catalysts arising from their concluding trials involving ONT-10 and PX-866. The relevant clinical trials concluding in the near future can be found in the timeline, below. As mentioned in a conference call discussing Q4 2013 results by CFO Julie Eastland, ONTY's cash, cash equivalents and investments will be sufficient to fund the projected operating cost of $30-$33M over 2014, suggesting that the company will not be dependent on a round of financing, further deferring risk of dilution. However, ONTY's appeal to investors lies in the likelihood of acquisition by big pharma due to their broad drug portfolio. With a market cap of $184M, ONTY could rise as investors focus on promising and attractively valued combination therapy developers.
Click to enlarge image.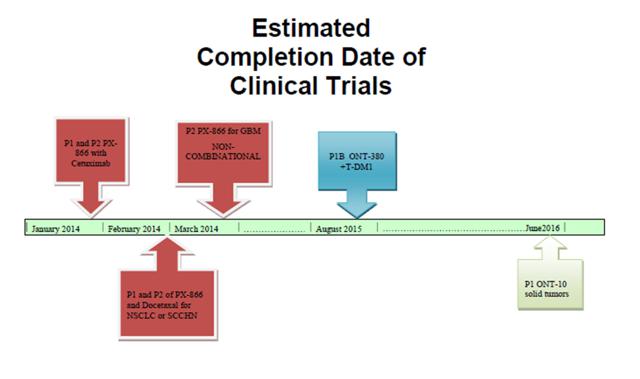 All relevant data from the timeline was taken from here.
Disclosure: I have no positions in any stocks mentioned, and no plans to initiate any positions within the next 72 hours. I wrote this article myself, and it expresses my own opinions. I am not receiving compensation for it (other than from Seeking Alpha). I have no business relationship with any company whose stock is mentioned in this article.