Orbitz (NYSE:OWW) will be reporting earnings around May 7-9 before the opening bell. What should investors be expecting? Last earnings report, the company projected that the first-quarter earnings would be under the consensus estimates. They projected net revenue between $202 and $207 million, and adjusted EBITDA between $22 and $25 million.

Source: Marketwatch.
In mid-March, I did a report (mainly technical analysis) on OWW indicating that if there is no new information in the market they should create a new support level around $9.00. However, Goldman came out with a downgrade and ultimately made them fall by -9.2% and dropped them down below the 61.8% Fibonacci level ($8.66), which not only caused them to go under the 50-day MA but also the 200-day MA. Since then, it has quickly fallen down to the 50% Fibonacci level ($7.40) and broke its trendline from November 2012. Currently sells above this level.

Modified chart using data from Skift.com.
Fundamental Basis
The most appropriate valuation measures for a company in the Internet and Retail industry which has positive earnings, would be the PEG, P/E, and price-to-book ratios. The price-to-sales ratio is less instructive than the PEG or P/E since the company has positive earnings. With that being the case, Orbitz seems to currently be trading at a discount considering it has a PEG of 0.8529, which is one of the lowest in its industry. The PEG is supported by a P/E of 5.1176 that is also among the lowest in the industry. Based on its gross margin, operating margin, and net margin, Orbitz converts a larger percentage of its revenues to profits than that of PriceLine (PCLN), Expedia (NASDAQ:EXPE), and TripAdvisor (NASDAQ:TRIP).
Furthermore, the company is profitable with an operating margin of 7.32%. Most of these valuations would place them on or near the same level of its major competitors. The largest issue that they currently have is their high level-of-debt-to-capital ratio. At a ratio of 91.4%, it is one of the most highly leveraged companies in its industry.
Click to enlarge images.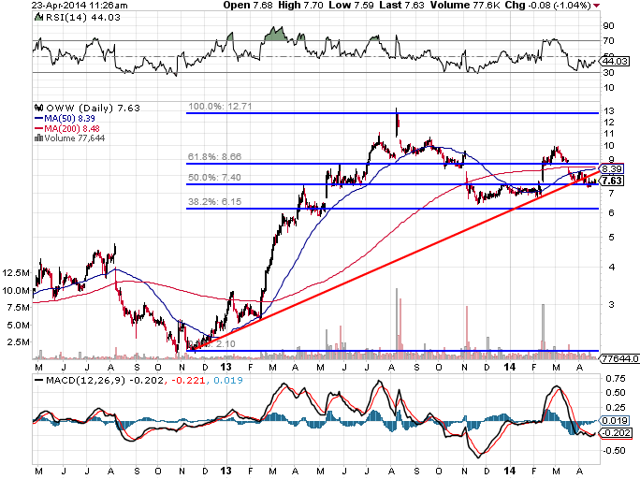 Source: StockCharts.
Hotel and Airline Bookings Remain a Key Focus
Orbitz Worldwide had fourth-quarter 2013 revenues of $197.4M, which was better than the $191.2M consensus of the 11 analysts covering the company. This was 4.1% above the prior year's fourth-quarter results. One of the main metrics that Orbitz has improved on was hotel bookings, rising 30% from 2012 to 2013. The company definitely needs to increase International bookings to become a major player in the e-commerce industry. Last year they reported a 2% gain in international bookings. The increase in international gross bookings was due primarily to higher air pricing and higher volume and average booking values for hotel, partially offset by lower air volume, vacation package volume and vacation package booking values.
The lower domestic transaction volume for the year-ended Dec. 31, 2013, was driven primarily by lower U.S. OTC channel volume. International air net revenue decreased by $6.7 million for the year-ended Dec. 31, 2013, as compared with the year-ended Dec. 31, 2012. The decrease in international air net revenue was due primarily to lower transaction volume. As long as they can maintain and improve on its figures that are not currently affected by the contractual agreement with Travelport, they should not have difficulty in becoming a major player in the e-commerce world. If bookings become affected because of the current political and economic issues that have surfaced, we will see an overall drop in the first quarter revenues and negatively impact the stock.
Issues
Some of the major components that affect the travel e-commerce industry:
Global security issues, political instability, acts or threats of terrorism, regional hostilities or war, and other political issues that could adversely affect travel volume in our key regions.
Severe weather conditions, or unusual or unpredictable weather patterns.
Increased airport security that could reduce the convenience of air travel.
The above have come into play in the past six months. These may not only be a reason for the e-commerce industry to miss on earnings, but they could potentially push back revenues of bookings to the second quarter.
New Loan Agreement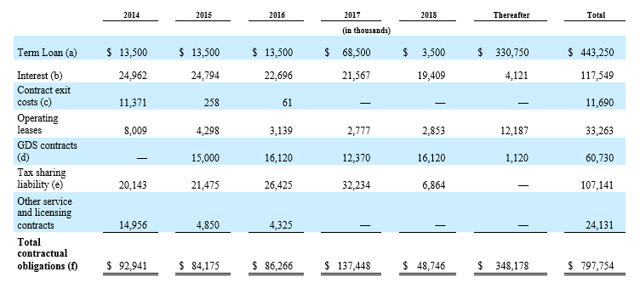 Source: Orbitz.
Strategy
The issues that have come about on a macro scale could be the most detrimental to the earnings report. For this reason, the strategy that I plan to implement going into earnings will be to first watch EXPE's earnings report, which will be issued on May 1. With the consensus estimate being $0.15, I would look to EXPE to determine what type of play to make on Orbitz. One of the reasons why I would suggest looking at Expedia is because it can be a good determinant on how the weather and the international issues have affected the travel industry. If Expedia does produce better than anticipated numbers, looking into what aided those numbers would be the next approach.
Determining whether or not revenues increased because of increased bookings or because of higher costs is a major factor. If it was caused by increased bookings, it may be safe to assume that the sentiment in the economy is still positive and that people are continually booking trips and not afraid to travel. If, however, they miss earnings I would take a skeptical approach towards investing into and assume that most revenues from bookings may be pushed back to the second quarter once the wary sentiment lifts. My current valuation for the company is around $9.15, this is based on a three-stage discount model with a projected EPS of $0.02.
The plan will be to go long the stock while hedging with a put option. If OWW does not beat estimates, I am projecting that the stock will be down around 12% on the trading day. Within a month after earnings they could fall to around the 38.2% Fibonacci level which is $6.15. In the case that Orbitz does not beat, I will use the profits from the put option to average down. If this level does not hold, Orbitz does not have support until around $4.50.
With estimations pointing in the direction of the company eventually paying off its debt around 2018 and continuing to grow, the current levels that Orbitz trades at could be very attractive to a long-term investor.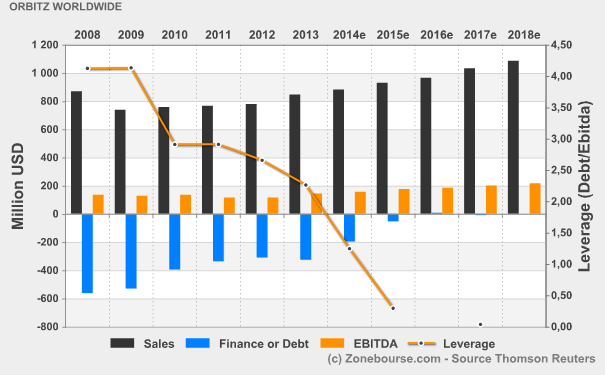 Source: 4-traders.
Side Note
Orbitz.com has announced that it ranked the highest in customer satisfaction among all online travel websites in the 2014 American Customer Satisfaction Index (BATS:ACSI) Travel Report. The ACSI is a national economic indicator of customer evaluations of the quality of products and services available to consumers in the United States. In the 2014 report, Orbitz.com scored a 77 on a scale of 100 -- up one point from 2013. Orbitz outpaced competitors Expedia, Priceline, and Travelocity and is the only online travel company whose score increased in the category this year.
Disclosure: I have no positions in any stocks mentioned, and no plans to initiate any positions within the next 72 hours. I wrote this article myself, and it expresses my own opinions. I am not receiving compensation for it (other than from Seeking Alpha). I have no business relationship with any company whose stock is mentioned in this article.