On April 23rd, Facebook (NASDAQ:FB) announced an outstanding earnings report. Investors should be enamored by their results as there was no real weak spot. The only point of apprehension for investors is that the CFO, David Ebersman, will be leaving in the fall. This news should not temper the effect of the report as the quarter was exceptional.
Earnings Highlights
Wall Street consensus for the quarter was $2.36 billion in revenue resulting in $0.24 in earnings per share. Facebook blew these estimates away with $2.50 billion in revenue and $0.34 earnings per share. Revenue increased 72% YoY while improving GAAP operating margins from 26% a year ago to 43% today. When a company is able to prodigiously grow revenues and improve margins, that suggests an incredibly positive outlook.

Source: Investor Presentation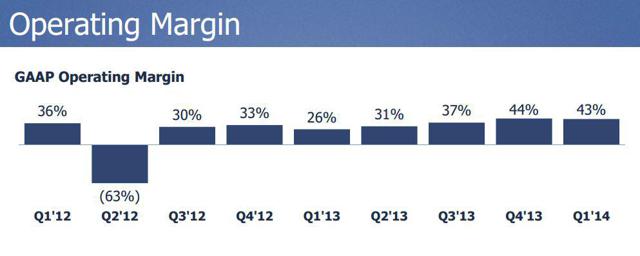 Source: Investor Presentation
Further, Facebook has been seamlessly shifting to mobile. Many companies that rely on advertising will run into problems trying to incorporate them into a mobile platform, but Facebook has already successfully accomplished this. In 2012 when Facebook initially began trading, mobile advertising revenue was zero. Since then, Facebook has pivoted its business and mobile now represents an astounding 59% of advertising revenue. This is up from 30% from Q1 of 2013. In dollar terms, mobile ad revenue was $1.34 billion which is up 258% compared to $374 million a year ago.
GAAP net income during the quarter was $642 million which is up an astonishing 193% compared to $219 million one year ago. Free cash flow was also strong for the quarter at $922 million. Cash and marketable securities on the balance sheet stands currently at $12.63 billion which will allow for acquisitions without diluting shareholder interests moving forward.
User base Growth & Engagement
The central reason for any negative sentiment in Facebook has been due to concerns over a slowing of user growth and decreasing engagement. After reviewing the data, this notion is simply unfounded. Monthly active users (MAU) which is often referenced as the size of the total user base was 1.28 billion which represents a 15% YoY increase. Moreover, Mobile MAUs expanded 34% and today stands at just over 1 billion.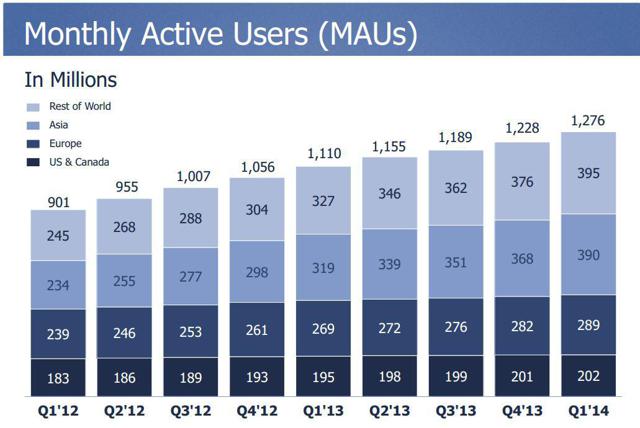 Source: Investor Presentation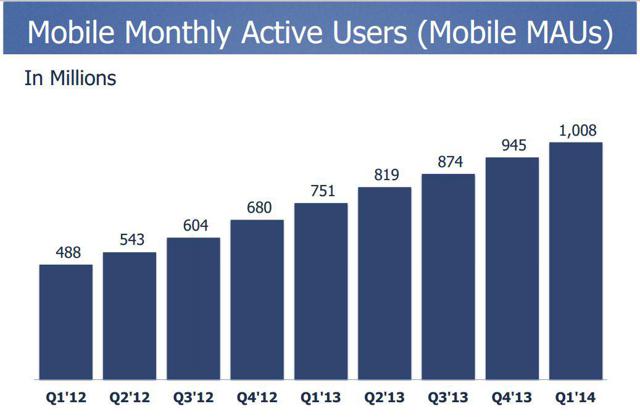 Source: Investor Presentation
Mobile active users does not provide the greatest proxy for level of engagement. For that information, we will turn to daily active users (DAUs). Total daily active users during March 2014 was on average 802 million which is a 21% YoY increase. Mobile DAUs painted an even brighter picture for the future of Facebook. Mobile DAUs were 609 million on average for March 2014, an increase of 43% YoY.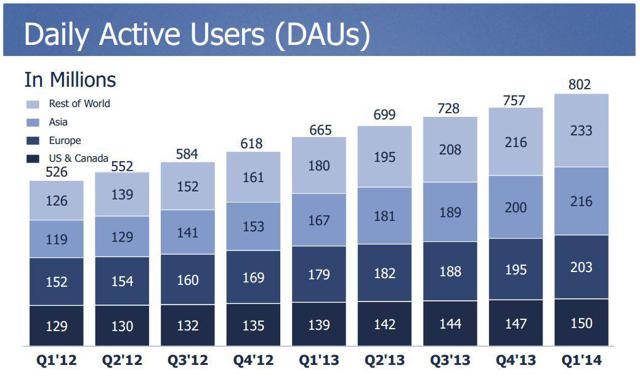 Source: Investor Presentation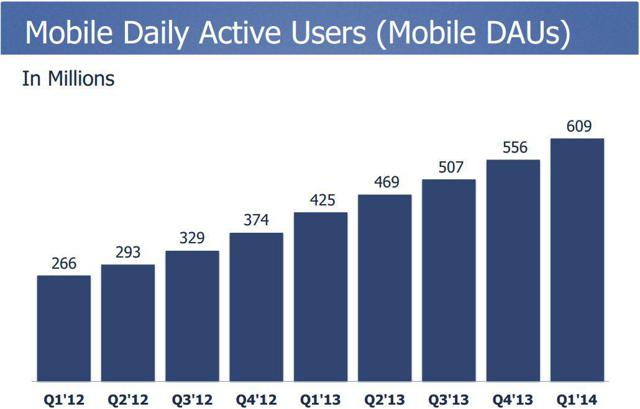 Source: Investor Presentation
Although specific numbers were not given, Facebook hinted at fantastic growth from its smaller social networks. Within the past week, its newly acquired company Whatsapp surpassed the 500 million user milestone. The standalone Facebook messaging app has experienced excellent growth as well with over 200 million users now. Instagram has also exceeded the 200 million milestone. It is interesting to note that Instagram is nearing Twitter's (NYSE:TWTR) user base size and is expected to overtake it within the year
It is clear that the reports of lower engagement and a flight of users does not hold water. During the conference call, Mark alluded to their strategy of first growing the user base and then monetizing it. With the great growth in each specific social network, Facebook is stepping even closer to further monetizing and growing revenue further. Investors that consider only the monetizing efforts of Facebook alone are significantly discounting the potential of this company.
Future Plans
Facebook seems to have adopted a strategy that has been fabulously successful for Google. It looks as though they will rely on advertising revenue for a bulk of their revenue while diversifying their revenue streams through separate ventures. The purchases of Oculus, Whatsapp, and drone maker Ascenta all align with that theory. Through these acquisitions, Facebook has the ability to disrupt the Goliath wireless carriers. According to IBISWorld, the size of the wireless carriers industry is a shocking $234 billion. If Facebook can employ a successful strategy to gain some of this market, the growth potential would be huge.
Facebook Creative Labs also could provide opportunities for growth. Facebook has been hiring some of the best developers in the world. So far in this venture, they have released "Paper" which is intended to be a personalized newspaper. During the call, the team hinted at initial success with this venture, but did not give specific color as to the size of the user base. Facebook will be releasing other applications through this venture which could provide a nice way to hedge against the risk that Facebook falls out of favor with users in the future.
Conclusion
Facebook continues to outpace analysts expectations and stands at the nexus of a burgeoning trend of mobile advertising. The significant revenue growth coupled with margin expansion is a clear indication of Facebook's utter dominance within this industry. The potential of monetization with the growing albeit smaller social networks may not be reflected in the stock price. Similarly Facebook's plausible strategy of entering the wireless carriers industry provides a positive outlook for this social media conglomerate. Look for much upside from the current trading levels moving forward.
Disclosure: I am long FB. I wrote this article myself, and it expresses my own opinions. I am not receiving compensation for it (other than from Seeking Alpha). I have no business relationship with any company whose stock is mentioned in this article.