Greenlight Capital's Q1 2014 investor letter proved to be an interesting read and we were particularly drawn to the comments regarding high-flying momentum stocks. Greenlight has a decidedly bearish view on the valuation levels of today's market darlings. In the letter, Greenlight discloses that it has established a short position in "a basket of bubble stocks". Coincidentally, our Fund also has a similar strategy in place which has recently started to pay off.
Greenlight notes, "there is a huge gap between the bubble price and the point where disciplined growth investors (let alone value investors) become interested buyers. When the last internet bubble popped, Cisco (the best of the best bubble stocks) fell 89%, Amazon fell 93%, and the lower quality stocks fell even more."
Unlike one Seeking Alpha member, we don't have the inside track on Greenlight's actual positions so we can only speculate but we suspect all of the stocks in the "bubble basket" have the following characteristics:
· disconnect from conventional valuation methods
· "cool kid" companies
· cheerleading Wall Street analysts
Independently of Greenlight, our Fund created an internal metric dubbed the "Insanity Index", which we use to gauge the euphoria that is baked into these sorts of stocks. The Insanity Index takes the EV/Revenue multiple and normalizes it by the respective near-term growth rate (using FY 2014 Street estimates). It is highly likely that all of these companies will prove to have been significantly overvalued at today's levels but this metric allows us to highlight which ones are the most obscenely valued.
We speculate that Greenlight's "bubble basket" looks something like this: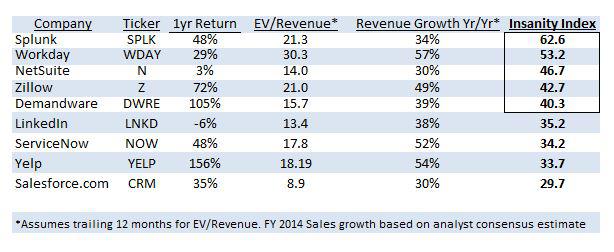 (Source: Author)
According to the Insanity Index, Splunk (NASDAQ:SPLK), Workday (NYSE:WDAY), NetSuite (NYSE:N), Zillow (NASDAQ:Z), and Demandware (NYSE:DWRE) are the most overvalued companies. I've always found it useful to think about EV/Revenue in terms of a payback period. If we suspend all logic and assume these companies incur $0 of expenses to run their businesses, the current stock prices equate to payback periods of between 14-30 years!
Disclosure: I am short SPLK, Z, DWRE. I wrote this article myself, and it expresses my own opinions. I am not receiving compensation for it. I have no business relationship with any company whose stock is mentioned in this article.
Additional disclosure: The author and/or employer may buy or sell shares in any company mentioned, at any time, without notice. The information contained herein is believed to be accurate as of the posting date. Readers should conduct their own verification of any information or analyses contained in this report. The author undertakes no obligation to update this report based on any future events or information. This article represents best efforts to convey a fact-based opinion. Our conclusions may be incorrect. This is not a recommendation to buy or sell any securities. This document does not in any way constitute an offer or solicitation of an offer to buy or sell any investment, security, or commodity discussed herein or of any of the affiliates of the Author.