The landmark legal battle in the Supreme Court over potential copyright infringement from Aereo has, so far, centered around what effect a ruling in favor of Aereo would have on broadcasters, such as CBS Corp. (NYSE:CBS), Disney (NYSE:DIS), Comcast (NASDAQ:CMCSA), NBC, and 21st Century Fox (NASDAQ:FOX). However, television providers, such as DirectTV (NYSE:DTV), Verizon (NYSE:VZ), Dish Network (NASDAQ:DISH), and Time Warner Cable (TWC) will soon be caught in the crossfire. If Aereo prevails in court, all of these companies will see an effect on their bottom line.
Cord Cutters
Over the past couple of years, there has been an emergence of "cord cutters" -- people who are dropping their overpriced cable and satellite subscriptions in favor of inexpensive over-the-air (OTA) or online options, such as Netflix, Hulu, or Aereo. In fact, The Consumerist's annual "Worst Company in America" bracket included Time Warner Cable, Comcast, DirecTV, and Verizon all as contenders (spoiler alert: Comcast won "Worst Company in America" for 2014). With such vitriol being spit at some of the top television providers, it's no surprise that people are looking for alternatives. According to HedgeChatter (a service that tracks social media sentiment for publicly traded companies), sentiment for Comcast is dead even -- 50% strongly positive, 50% strongly negative.
Click to enlarge images.

Source: HedgeChatter
Some of the frustrations among cord cutters involve the lack of live options for people who just can't miss knowing who is getting booted off "American Idol," and sports fans who don't have a real alternative to cable for watching the game. This has been the most significant detractor to people considering cutting the cord. However, Aereo could be the catalyst many people need to finally make the switch. If the Supreme Court rules in favor of Aereo, it would legitimize the business, and it might as well serve as a national advertisement for the company as the crusader against these companies. But will people be willing to make the switch?
Battle of the Set-Top Boxes
When it launched the Apple TV in 2006, there was little competition for the war over the set-top boxes. However, fast-forward to 2014, and we see Roku, Apple, Google, LG, Samsung, and the newest participant, Amazon, fighting for control over who will bring content to your living room television. With Internet-connected set-top boxes and smart TVs becoming more prevalent, the convenience of being able to watch anything on demand, without commercials, has helped spur sales of these devices. Roku is currently the only device that offers the ability to watch Aereo directly (unless you want to AirPlay it from an Apple device), but I suspect more to add the functionality to stream from Aereo as the streaming service expands.
With the capacity to watch live, local television built into these devices, combined with the convenience of Netflix, Amazon Prime, and Hulu for on-demand content, the adjustment curve to cutting the cord is shrinking. While cord cutting was once for hobbyists, vehement opponents of cable providers, and those on a shoestring budget, Aereo could bridge the gap for the masses. Additionally, Amazon's introduction of the Fire TV is a completely new source of revenue for the company. A boom in set-top box sales would certainly contribute to Amazon's earnings, and combined with Amazon Prime for on-demand video, could become one of the more attractive options to users deciding which box to purchase.
On April 23, Amazon announced a new deal with HBO to bring its content to Amazon Prime, further squelching the arguments of those against making the switch to online-only content, and positioning it as the frontrunner in potential set-top box sales for people making the switch from cable. As more content providers follow along and provide their content directly to these online providers, cable companies will continue to lose their grip on their customer base.
Cable Providers
In DTV's own 2013 annual report, two material risk factors faced by the company include increased customer churn and increased subscriber acquisition cost. While this is specifically from DirecTV's annual report, the same can be said for any other the major cable companies, such as Dish Network, Time Warner Cable, and Verizon. A ruling in favor of Aereo has the potential to impact both risk factors. The low-cost alternative to satellite for many of the cable customers will certainly entice some to leave the dish behind, increasing customer churn. Cable companies are extremely dependent on a growing customer base to continue driving up revenue; a service that disrupts growth of the customer base poses a serious threat to these cable companies, who will be forced to find alternative sources of revenue.
The catch-22 here is that raising subscription costs would just drive more people away, forcing them to consider other ways to maintain profitability, such as fighting for lower costs from the broadcasting companies. According to data from Trefis.com, on average, 16% of broadcast companies' stock price stems from these fees collected from cable companies to stream their content; they won't give it up without a fight. While Disney and 21st Century Fox are well-diversified and will suffer minor damage if revenues from re-broadcasting fees drop, CBS and Comcast see nearly one-fourth of their revenue from these sources; CBS and Comcast will be much more susceptible to changes in these fees. If the cable companies are unsuccessful in lowering the cost to stream the broadcast companies' content, the drop in customers is likely to cause the broadcasters to try to pass the cost back on to the cable company. So, the spiral continues, each wanting the other to carry the cost of increased competition.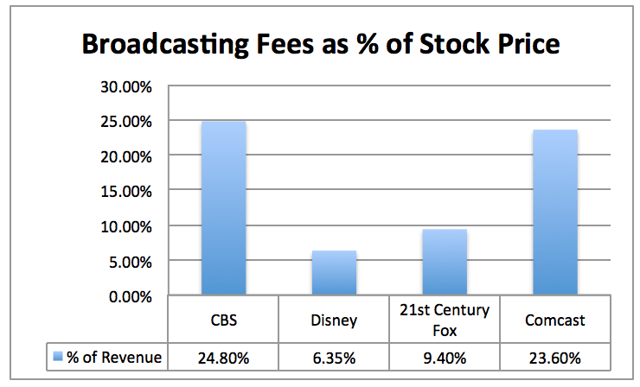 Source: Data from Trefix.com (FOX/CMCSA/DIS/CBS); graph by author
What Will the Supreme Court Decide?
The decision is up in the air; the Wall Street Journal posted an article today describing the conflicted justices. According to the article, the Supreme Court Justices are having a hard time weighing the consequences of either side. Both carry significant implications for the future of broadcasting. The justices worry that a ruling against Aereo would carry a significant impact on future cases involving cloud-based services; however, they also worry that siding with Aereo will encourage skating through holes in copyright laws.
As for whether or not I think they will side with Aereo, I believe they will. Aereo is retransmitting over-the-air signals that are freely available to anyone in the service area with an antenna. What they are doing is effectively no different than purchasing an antenna from an electronics store and watching it yourself. Several of the justices has expressed concern that a ruling against Aereo will affect cloud services, such as Dropbox, Google Music, and Apple's iCloud; they also strongly expressed that they do not want the ruling on this case to affect future technological advances that may be a similar business model as Aereo. In the end, the justices will likely be nearly split down the middle, allowing Aereo to continue rebroadcasting the OTA signals -- perhaps with a condition that will satisfy the cable companies, such as requiring Aereo to pay royalties to the program providers.
Conclusion
Regardless of the outcome, this case will have a lasting impact on both the broadcast service and online video service industries as a whole. If the Supreme Court rules in favor of Aereo, the effect on the broadcast industry could be devastating in the long run. On the other hand, such a ruling would spur a boom in internet set-top box and smart TV providers. If you think there's a chance that the Supreme Court will rule in favor of Aereo, steer clear of companies like TWC, DISH, DTV, FOX, CBS, CMCSA, VZ, and DIS until the fight is over as to who will bear the cost of dropping rebroadcasting revenue. You might also consider picking up a few shares of GOOG, AAPL, and AMZN for the long term, as sales of set-top boxes will rise.
Disclosure: I have no positions in any stocks mentioned, and no plans to initiate any positions within the next 72 hours. I wrote this article myself, and it expresses my own opinions. I am not receiving compensation for it (other than from Seeking Alpha). I have no business relationship with any company whose stock is mentioned in this article.