By Craig Bowles
Overview
Visa, Inc. (NYSE:V) is slated to report 2Q2014 earnings after the bell on Thursday, April 24th. The earnings release is expected at approximately 4:00 p.m. EST with a conference call to follow at 5:00 p.m. that is webcast through Visa Investor Relations . A member of the Dow Jones Industrial Average, Visa has significant market influence and the potential to impact the broader market gauges.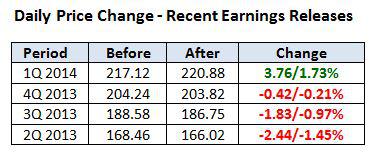 Outliers & Strategy
Key measures:
Adjusted Earnings Per Share: The current Street estimate is $2.18 with a range of $2.12 to $2.26. Consensus was $2.21 three months ago. (Source: Yahoo! Finance). A GAAP number will be the comparable value if no adjusted EPS.
Revenues: Analysts expect an increase of 7.8% y/y to $3.19 bln (range $3.15 bln to $3.22 bln).
In terms of guidance, the company guidance is to average EPS growth in the mid to high teens during 2014 and to grow revenues in the low double-digits.
Last week, American Express (NYSE:AXP) reported its 1Q 2014 earnings per share of $1.33 vs. expected $1.30. This compared to the year-ago quarter figure of $1.15 a share.
The majority of analysts (81%) rate Visa as a buy.
Insiders have sold 645,886 shares the last six months. The company approved a $5 bln buyback in October, up from the 1.5 bln a year earlier.
Visa shares have a 1-day average price change on earnings of 3.29%. Options imply a 3.08% move.
Recent News
04/24: Russian President Putin said Visa Inc. and MasterCard Inc. will lose market share in Russia after they blocked some transactions because of U.S. sanctions on individuals and banks, according to a post on Bloomberg.com.
04/24 New payments business models coming from the giants of tech like Google (NASDAQ:GOOG) (NASDAQ:GOOGL), Amazon.com (NASDAQ:AMZN) and eBay (NASDAQ:EBAY) with its PayPal business could soon spell a changing dynamics of the broader payments industry, according to a press release by TheMotleyFool.com.
04/14: Robert W. Baird upgraded Visa to Outperform from Neutral citing a more attractive risk/reward following the recent pullback in shares. The firm has a $245 price target for the stock, according to a post by TheStreet.com.
04/10: Visa Inc. created a new Vice Chairman role for risk and public policy.
Technical Review
Visa's steady uptrend since 2010 just had its biggest pullback but only briefly tested the 200-day moving average. Current trading at around $209 will encounter resistance at $225 and support at $195, so there's potential for a $15 move in either direction off earnings. (Chart courtesy of StockCharts.com)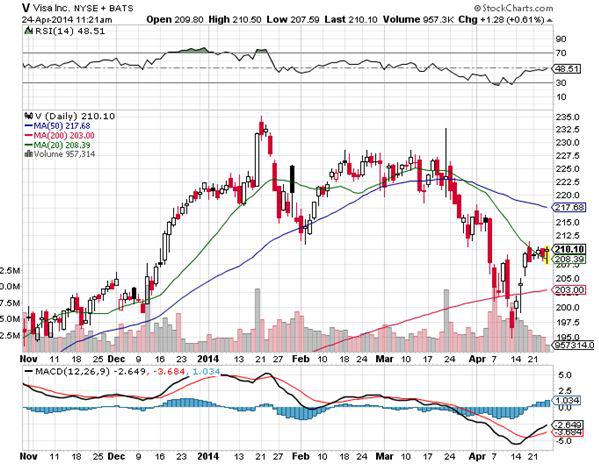 Summary
Visa has beaten or matched estimates in each of the last four releases but with varied market reactions. Earnings probably need to come in above $2.21 to support the stock's uptrend. The whisper number is $2.20 but the company has beaten estimates by at least 4c in three of the last four quarters. Revenue growth guidance was reduced last year, so coming in above 3.200 bln would be a pleasant surprise.
DISCLAIMER: By using this report, you acknowledge that Selerity, Inc. is in no way liable for losses or gains arising out of commentary, analysis, and or data in this report. Your investment decisions and recommendations are made entirely at your discretion. Selerity does not own securities in companies that they write about, is not an investment adviser, and the content contained herein is not an endorsement to buy or sell any securities. No content published as part of this report constitutes a recommendation that any particular investment, security, portfolio of securities, transaction or investment strategy is suitable for any specific person.
Disclosure: I have no positions in any stocks mentioned, and no plans to initiate any positions within the next 72 hours. I wrote this article myself, and it expresses my own opinions. I am not receiving compensation for it (other than from Seeking Alpha). I have no business relationship with any company whose stock is mentioned in this article.