We have a lot of news this morning, ranging from geopolitical, to energy to earnings. As we have been discussing the past few days, tensions continue to escalate between Russia and Ukraine as Ukraine continues to go on the offensive against these pro-Russian insurgents. News broke earlier this morning that in response to Ukraine's actions, Russia would be mobilizing their forces to partake in military exercises near the border that the two countries share. Any further escalation here, especially clashes between the two countries' armed forces would be terrible news for shareholders of BP (NYSE:BP) which finds itself in a precarious position right now as western countries are talking of ramping up economic sanctions against Russia.
Chart of the Day:
Natural gas opened strong in the morning but has lost strength as the session has progressed. As far as accidents go, this was the perfect time for the market to have to deal with a supply disruption as most of the country is experiencing decent Spring weather. A few months sooner and the winter blizzards would have pushed prices even higher and a few months later in the heat of the Summer would have been equally bad.
Although no spike today, if this affects the build in supplies it could have a long-term impact on prices but right now it is just too early to tell.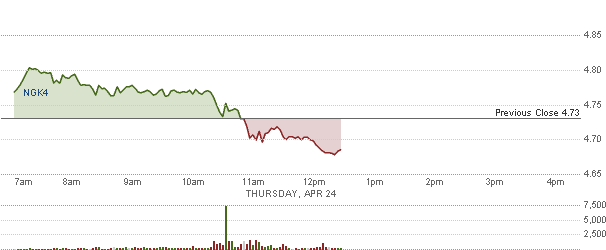 Source: CNBC
Commodity prices are as follows (at time of submission):
Gold: $1,289.90/ounce, up by $5.30/ounce
Silver: $19.64/ounce, up by $0.202/ounce
Oil: $101.92/barrel, up by $0.48/barrel
RBOB Gas: $3.1014/gallon, up by $0.0079/gallon
Natural Gas: $4.691/MMbtu, down by $0.039/MMbtu
Copper: $3.119/pound, up by $0.06/pound
Platinum: $1,411.70/ounce, up by $7.80/ounce
Explosion In Wyoming
As far as we know right now, there are no injuries to report from the explosion in Opal, Wyoming at a Williams Companies (NYSE:WMB) natural gas processing facility. The facility has been shut down and all employees accounted for, the news regarding the evacuation of the nearby town is true but was done for safety purposes and not because of any imminent threat.
What is known right now is that the fire has been contained to one portion of the plant and everything has been shut down as emergency personnel work to make sure the area is safe. This could have an effect on natural gas prices moving forward as the plant has the capacity to process about 2% of the daily demand of nat gas in the US. The press release from Williams Companies can be found here.
Caterpillar Delivers
The earnings this morning from Caterpillar (NYSE:CAT) were quite strong, with the company seeing a turnaround in every business segment other than mining. The stock continues to move higher, but what is good news for Caterpillar is not necessarily good news for everyone else in the industry. It is the core business for Caterpillar which is driving results, not the mining equipment segment that they added to at the top. This means that those looking for a turnaround in the mining companies' cap ex should probably begin to lower their expectations and investors might want to rethink any open positions that they have in Joy Global (NYSE:JOY). If the negative outlook on mining equipment spending that Caterpillar gave with their earnings pans out, then Joy Global will be impacted to a greater extent and the downside risk is real.
Caterpillar is where one wants to be long here. Deere would be second, but poses its own risks and Joy Global should be avoided at all costs due to its mining exposure.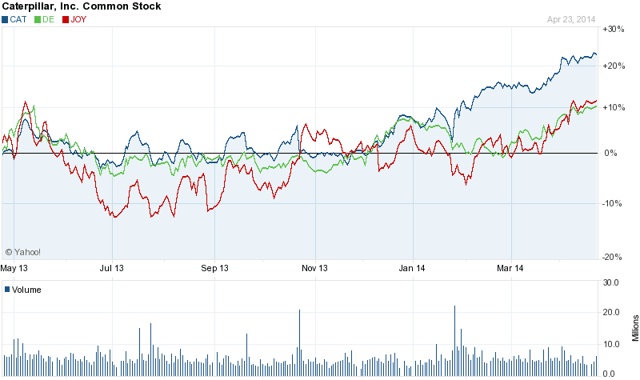 Source: Yahoo Finance
On the other end of the spectrum we are still watching Deere (NYSE:DE) and whether it can break out from its current resistance area. Earnings are not until mid-May, and investors may have to wait until then for a potential breakout but if the stock can move towards $100/share before then we would be profit takers on the majority of the position. Deere's management has a tendency to downplay their prospects, even after great quarters, and force the shares down so our game plan would call for minimizing risk ahead of the call to book any profits, if at all possible.
Disclosure: I have no positions in any stocks mentioned, and no plans to initiate any positions within the next 72 hours. I wrote this article myself, and it expresses my own opinions. I am not receiving compensation for it (other than from Seeking Alpha). I have no business relationship with any company whose stock is mentioned in this article. BP has previously been recommended.