Who is Borderfree, Inc.?
Borderfree, Inc. (NASDAQ:BRDR) provides cross-border e-commerce solutions. The company sells contractual access to its software platform that enables retailers in the United States to transact with consumers across the globe. Its customers include retailers, department stores, apparel brands, and lifestyle brands that sell a range of physical goods online, including apparel, handbags, jewelry, sporting goods, home décor, and toys.
BRDR held an IPO on 3/21/2014 and has traded in a wide range since opening. The stock is currently down 30% from its post-IPO high and is trading down 6% relative to its offering price.
What do they do and how do they expect to remain competitive going forward?
BRDR operates a software platform that allows their clients to sell to customers in over 100 countries worldwide. They focus solely on international, cross-border e-commerce and use their platform to manage the list of obstacles that most commonly prevent this from taking place. The BRDR platform allows clients to seamlessly integrate an all-inclusive solution to their existing domestic business models and manages all aspects of the international shopping experience, including site localization, multi-currency pricing, payment processing, fraud management, landed cost calculation, customs clearance and brokerage, and global logistics services.
The two largest problems facing retailers are that selling to international markets is complex and often times not cost-effective. The only current methods of selling internationally are to either implement locations in the prospective market or to cross-border trade via the internet and shipping. Both are not close to ideal with the time and CAPEX needed to satisfy the first option (among other risks like FX risk, tax risk, etc) and the increased risks of fraud and regulation/legal compliance violations that come with using the second option. For consumers, the above options present issues as well. Usually, if a company has a location in their international market, the inventories are fractions of the inventories found at their larger American counterpart stores. Meanwhile, if a company is strictly selling using the direct to consumer channel (internet) the inventory is smaller, payment methods may be limited, and the cost to ship is higher than domestic shipping prices. Higher shipping costs erode the value of the purchase (by forcing the customer to abandon the purchase or decide to enter a higher price point - neither of which are good).
BRDR's solution is unique in that it is comprehensive in coverage, maintains a high quality of customer experience that eliminates negative surprises, is fully customizable from a promotion and markdown standpoint, enables access to hard to reach markets, and most importantly is cost effective. The company believes their software solution helps solve the above issues for both parties involved and makes initiating an international growth strategy a legitimate possibility for clients with no current plan.
The cross border e-commerce market is huge and growing in potential as globalization and internet shopping become the norm. BRDR believes that in 2014 alone international consumers will purchase $24 billion worth of goods from US online retailers. They also believe that there is significant opportunity for monetization in this market with only 60% of US based online retailers selling internationally. One thing that US retailers have begun to do as a quick, CAPEX friendly way of expanding margins, controlling inventories, making supply chains more efficient for raw materials (fabrics, etc), and helping improve the customer experience is develop their DTC channels. This has become one of the sure fire ways for companies who do not have a DTC channel to immediately see upticks in sales, revenues, and margins. Even extremely large corporations who have recently made this a focus have seen recent, relevant increases in these categories - just ask Urban Outfitters and The Gap. The point is that companies of all sizes and sophistications already know just how powerful implementing and executing a DTC based growth strategy is; they just haven't been able to replicate this same level of success with an internationally based DTC approach. Obviously the challenges listed in the beginning of this article make the international markets harder to enter but the solution being provided by Borderfree can be a value even at an extra top end cost to the client. The market is big, that's for sure, but I also think they're ready to be convinced about taking a global chance on DTC.
BRDR's platform has several competitive advantages that help provide competitive advantages for BRDR as a company in this market. With BRDR as a partner, retailers can begin selling internationally almost immediately, the platform is extremely low-risk from a CAPEX standpoint, has very little risk from a recurring expense standpoint (BRDR derives revenues from a percentage of the transactional sales volume that takes place as a result of their platform), and BRDR can help make relevant recommendations as to the particular target markets tendencies that a retailer is looking to sell to (based on massive amounts of data collected by BRDR and the analytics that BRDR provides stemming from that data). What their platform has done for them as a company in comparison to competitors is allow them to scale with clients without large investments or CAPEX, do business in over 100 countries and 60 currencies, and collect tremendous amount of monetizable data.
Finally, BRDR has a unique expertise in foreign exchange transactions that I believe is a huge selling point and major competitive advantage that they take into sales meetings with prospects. BRDR at one point also operated a separate Global Settlement Services business from which they derived a significant amount of revenues; this history has helped them provide guidance to current clients through the FX side of their international DTC channels. The fact that they were providing these services as a major contributor to revenues means something and is a differentiator to clients, in my opinion. They no longer own the GSS business - it has since been sold (in 2011) - but they can still use the experience as a tangible asset when speaking with clients.
Finally, BRDR has been able to land and maintain some very marquee names in the retail space as clients, including Macy's, Neiman Marcus, and Under Armour. The halo effect from these clients being users of the service can be leveraged and I believe has been leveraged to some point. This is one competitive advantage that is hard to quantify but it is real, especially in the retail arena. Usually, what works with one retailer (when speaking of broad initiatives like DTC, "pick, pack, ship", etc) works for others with small changes. The fact that these names have seen success will soon start to garner BRDR attention if it hasn't already.
What's the growth strategy and where's the trade?
BRDR's growth strategy is well thought out and I think easily executable. Obviously, any strategy where you get paid based on transactional volume should include growing organically. BRDR plans to continue to use their data collection points to make analytical decisions as to how to more effectively sell to clients in each international market and how to create more volumes of transactions. They also plan to create volumes by expanding the carrier and payment provider integrations, streamlining browsing and purchasing on mobile devices, supporting in-country multi-channel pricing strategies and fulfilling orders using regional inventory and finally by earning new external business as the year goes on. They want to leverage their volumes and their size to drive down the overall costs of shipping and other logistics which in turn should help drive down costs passed on to consumers which should create more volume which would create more leverage, and so on and so on. That particular strategy, in my opinion, is a solid base on which to buy the stock. Increasing volumes by any of the other options (in this case outside of organic) is uncertain; however, domestic DTC data shows that DTC channels tend to grow consistently for the first five years before beginning to slowly taper (using large companies as a data set - Macy's, Urban, L Brands, etc) and I could see that trend carrying over to the international DTC channel as well. So the organic growth, I would be comfortable pricing into models for the company and as we just said that growth will create leverage to create further organic growth. That's the core reason that DTC has been so effective domestically. I think it translates in this case. The final piece to the growth strategy is to look for and opportunistically act on strategic acquisition opportunities. This is not only a smart way for BRDR to quickly expand; it is realistic based on the company's financials.
To me, the number one reason to buy this stock, or to consider a long position, is the financials. This company has done an incredible job managing itself the last few years and into this IPO.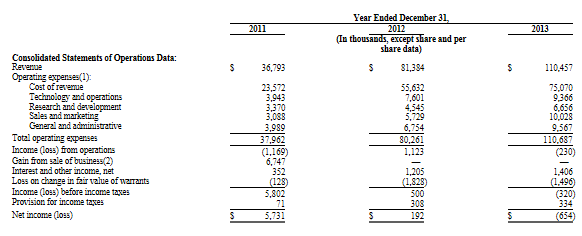 The company looks stellar across the board. It offers excellent free cash flows generated from a highly profitable underlying business, very little long-term debt, excellent cash and cash equivalents. In addition, Borderfree is growing revenues at a rate just slightly behind expense growth, which is an extremely rare attribute of a company in this stage of development. It is using CAPEX and SG&A to increase sales, and growing Adjusted EBITDA, all leading to what I believe (give me some wiggle room for increases in expenses that exceed my modeling) a company that is two quarters away from consistent profitability, if it takes them that long. I think these guys are on the cusp of taking their first strides into some serious beats on the top and bottom lines and that if they can make a smart acquisition or two they can really start to expand margins by improving the dynamics talked about above. They have - again, extremely unusual - a very small accumulated deficit of $16 million and have never paid dividends, which has helped manage the deficit and shows that management and ownership values retaining any earnings and/or not growing net losses for short-term comp. Looking at accumulated deficit and dividend payouts is one of my must do items when contemplating taking a long position in an IPO; these guys pass with flying colors. They have made the right decisions so far when it comes to the long-term health of their company. One last thing that's important to note about the above financials: I know on the surface it doesn't look like a great amount of progress has been made on closing the net loss gap and that the company has seen negative fluctuations over the '11, '12, and '13 campaigns but that isn't the case at all. Even if that were the case, with the marked increases in overall expenses, flatlining a the OPERATING loss or gain would still in fact be looked at as a positive because that means the expenses were well spent and effective and helped drive top line revenues to an equal amount of growth. That's a very healthy sign.
That being said, that wasn't the case. If you break down the 2011 to 2012 campaign, most of the closing of what would have been large OPERATING loss that year came from the sale of the GSS business which artificially propped up the NET loss number and the financial results on a one-time basis. So what I'm saying is without that one time event a wider NET loss would have been posted in 2011 which would have seen a huge closing of the gap in 2012 that would have been noticeable, a sign of the profitability of the underlying business on an OPERATIONAL level, which is still evident above, and a NET level. What I would pay attention to in evaluation of this opportunity is the OPERATIONAL gain/loss line and not the net line. The net line was altered by the GSS sale and by a substantial increase in the loss in fair value of warrants in sequential year, neither which have anything to do with the actual business.
As much as I like the financials and management's history of good decisions, there are some risks that need to be discussed. First, I don't think the "contracts" that BRDR has in place are ideal. They allow for cancellation at any time with "cause", which according to the company can fall under something as vague as being unhappy with the services. It's not something I'm immediately concerned about, based on the existing competition and the price points that BRDR is at, but it could turn into a concern long term. Second, the competition in the space is growing, and that means large competitors beginning to dip thier toes in the water and eventually it means pricing pressure. The two largest competitors testing the market are Oracle and SAP. Two companies with limitless resources, that can make concessions from pricing and contractual standpoints to build a client base. They also have the employee resources to focus on single issue solutions to create "best of breed" solutions that could fragment the value of the comprehensive strategy that BRDR is pitching. If these companies can provide one solution with a distinguishable upgrade over BRDR's competing solution, why do business with BRDR without some type of pricing concession? Again, it's something to be aware of, but nothing on the immediate horizon says this risk needs to be priced into the stock. Third, the company didn't state this as a major growth initiative for 2014, but they did say it's something they have on half their mind at all times: when the company does decide to increase CAPEX in an effort to expand to international markets (helping them serve their international markets), that will introduce a significant amount of risk to BRDR. The capital alone is at risk, but add to that the fact that they would then be exposed to what could be less stable economic environments, less stable governments, increased financial and accounting burdens, and many other unique challenges. How the company handles this will go a long way (depending on the amount of CAPEX total) in increasing or maintaining the overall risk profile of the stock. Finally, the risk that their sales cycles increase or that the sales in general fall behind the increased expenses for selling and marketing. The company has done a great job at balancing the two to this point, and that's led to the strong financials bull case that I'm so behind; but if that changes you would see an accelerated rate of net loss and a larger turn around time to eventual profitability. This is a serious risk considering the growth in expenses the company is projecting. It wouldn't be the end of the world because of the great job they have done so far, but it would be a reason for the stock to be priced down.
Overall, I would say the largest risk the company faces long term is the shaky status of their contracts. How easy would it be for a large client like a Macy's to let BRDR grow their international sales to a point where they could slowly phase BRDR out of the picture and bring in a prop software solution as a substitute? Easy enough that I'd like to see this change sooner rather than later. I'm confident that BRDR will do a good job going forward but these risks need considered.
Fundamentally, I think the stock is undervalued. Technically, I really think the stock is undervalued. As stated in the intro of the article, the stock is down 30% from its highs, and down 6% from its offering price. The fact that it's down 30% from highs that weren't outrageous is value enough for me to say that technically this is an attractive spot to initiate a long. I'm not sure if the markets have pounded the stock down from the buying that was being seen based on soft retail numbers domestically, believing that also translated to international markets, or the stock is trading down based on general international geopolitical uncertainty currently. The international economic environments aren't exactly hot right now but the brands that BRDR represents have selling power that can push through, in my opinion.
The stock did bounce hard off the lows, which to this point have been at the $14 level but have come back down on low volume. What may be the best risk/reward technical spot to watch is that $14 mark as that will either act as a double bottom or as a flush point as I'm willing to bet there are quite a few stops set at that point. I don't think this is a situation where you have to buy now to prevent missing a massive run upwards, so you can wait for that "key" technical level (hold the laughter, I know the stock has only been trading roughly a month) but again I don't have a problem if somebody thought right here in the middle of the bounce range was a good spot to initiate. The last thing I would watch from a technical perspective is the order sizes and volumes at $14, $14.25, and $14.50. I would actually print the orders for the day, with roughly 300k shares being traded on a good day this is possible, and look through the big brick orders. Orders of big size at those marks, in my opinion, could shed some light on the amount of larger buyers (institutions and small funds) that are buying the stock and you could set future stops at those levels if the selling dries up or even if the selling presses through those buy points. Knowing where the buy triggers are could be a great, cost free, layer of protection on a technical level that is worth tracking at this point.
Bottom line, I like these guys. I think they are fundamentally sound, have good management, a realistic growth strategy, and a bright future. I'm excited for the next few quarters of earnings and could see them spiking back up to the post-IPO highs after their first report; that's 25% upside in the short term. I'm confident in their financials and confident in the historical returns that DTC channels have provided and look for a translation in the international markets. Good luck to all.
Disclosure: I have no positions in any stocks mentioned, and no plans to initiate any positions within the next 72 hours. I wrote this article myself, and it expresses my own opinions. I am not receiving compensation for it (other than from Seeking Alpha). I have no business relationship with any company whose stock is mentioned in this article.