All of those Apple (NASDAQ:AAPL) alarmists are eating crow for breakfast. They chastised Tim Cook for months. They declared the death of the tech manufacturing giant at every opportunity. And today, the Cupertino-based multinational is asking those same naysayers, "How do you like me now?"
Sentiment changes quickly on Wall Street. The "brightest minds" now concur that there's a whole lot to love about the top-line revenue beat, the bottom-line profit beat, the 7-for-1 stock split, the dividend hike of roughly 8% as well as a 50% annual increase in Apple's stock buyback plan.
Granted, there are those who have reacted with extraordinary skepticism. They view the company's shock-and-awe presentation as a pathetic scheme from a team that has run out of innovative ideas. From my perspective, though, the majority of folks respect when big firms emphasize ways to reward shareholders. Stock buybacks? Dividend hikes? Stock splits? Historically they all tend to work in favor of the owners, not the sellers.
Let me caution those who think that I am enamored with AAPL or even Apple products. The truth is, I may trade in my iPhone for a Samsung if the upcoming iPhone 6 fails to impress. And those remarkably packed retail stores? I can't prove it, but the traffic at Apple retail outlets appears to be thinning out.
None of my concerns make me bearish on the California corporation's shares, however. If anything, the iEverything producer has increased my confidence in one of my top client holdings, First Trust Technology Dividend (NASDAQ:TDIV). Not only is Apple a constituent, but TDIV's 30-day SEC yield of 2.7% is 85 basis points better than that of the broader SPDR S&P 500 Trust (NYSEARCA:SPY).
The majority of my clients are petrified by technology companies because of their experiences with the dot.com blow-up of 2000. Moreover, the news regarding momentum-based "new tech" - Facebook (NASDAQ:FB), Netflix (NASDAQ:NFLX), Weibo (NASDAQ:WB), IPOs, 2.0 - has not alleviated those fears. Fortunately, "old tech" that rewards its shareholders via buybacks and dividend increases are easy to support. For one thing, the ownership of Cisco (NASDAQ:CSCO), Oracle (NYSE:ORCL), Apple, Microsoft (NASDAQ:MSFT) and Qualcomm (NASDAQ:QCOM) in a single basket enhances diversification. Separately, in an era of ultra-low interest rates, an ETF like TDIV is serving up an admirable income stream.
There may be another layer of protection for First Trust's dividend darling. Specifically, it trades at a handsome discount to broader equity benchmarks. Birinyi Associates pegs the trailing 12 month P/E for the S&P 500 at 17.9. In contrast, TDIV is trading at a more fundamentally attractive 14.5. Some have pointed out that several of the top constituents in TDIV are trading at P/E multiples that are below long-term historical averages.
It is true that dividend ETFs of all stripes have fared quite well in 2014. That said, are those funds giving you enough exposure to cloud computing via Oracle? Do those funds have a high weighting to International Business Machines (NYSE:IBM) - a company that Warren Buffett positively adores? And, of course, with Apple getting back in the good graces of the wonderfully colorful Wall Street analysts, how are you profiting from the uptick in sentiment? For me, First Trust Technology Dividend (TDIV) is a smart step in the right direction.
Do The Best Dividends Eminate From The Technology World?
Approx YTD %
iShares Select Dividend (NYSEARCA:DVY)
4.9%
First Trust Technology Dividend (TDIV)
3.1%
SPDR S&P Dividend (NYSEARCA:SDY)
3.1%
Vanguard High Dividend Yield (NYSEARCA:VYM)
1.7%
Vanguard Dividend Appreciation (NYSEARCA:VIG)
1.5%
Technical strength with TDIV is evident as well. The price is above its short-term moving average (50-day) as well as its longer-term trendline (200-day). Perhaps the only cautionary note is the fact that TDIV has yet to break out to new 52-week highs. Energy and utilities have been the most noticeable sectors on the 52-week high list.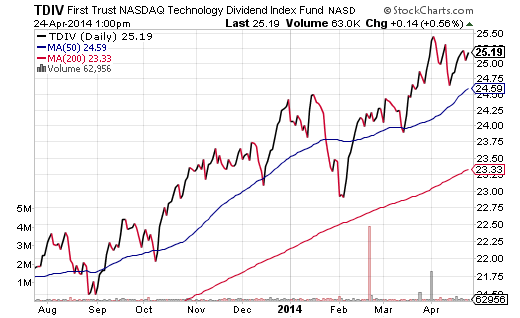 Disclosure: Gary Gordon, MS, CFP is the president of Pacific Park Financial, Inc., a Registered Investment Adviser with the SEC. Gary Gordon, Pacific Park Financial, Inc, and/or its clients may hold positions in the ETFs, mutual funds, and/or any investment asset mentioned above. The commentary does not constitute individualized investment advice. The opinions offered herein are not personalized recommendations to buy, sell or hold securities. At times, issuers of exchange-traded products compensate Pacific Park Financial, Inc. or its subsidiaries for advertising at the ETF Expert web site. ETF Expert content is created independently of any advertising relationships.