From the 5-Min. Forecast comes this revealing graph: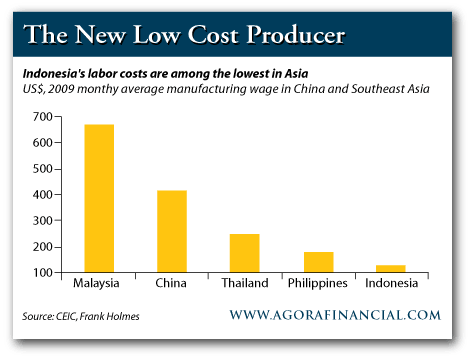 The Forecast quotes Frank Holmes at the Agora Financial Symposium in Vancouver:
"Thailand, Indonesia and Columbia have been the best performing markets so far this year, and no one is talking about them.

"12 years ago, Indonesia was a basket case. Today, it is a top economy. Mainland China is now outsourcing to Indonesia. This country has made its mistakes, and now it is poised to prosper." Indeed, making consumer products for the world's fastest growing economy isn't a bad gig.
I love British Columbia; I should have gone to the symposium.
Here is a summary of country funds for the countries mentioned in the graphic and the Holmes remarks. Most are ETFs, except for The Phillipines which is represented by Lion Global Phillipines Fund, a closed end fund available in the Singapore market.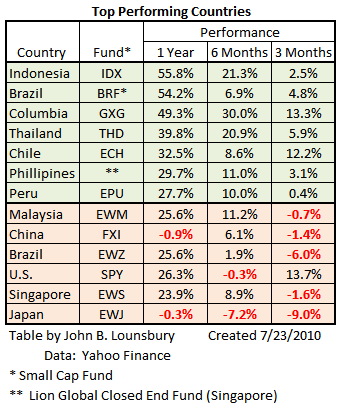 The funds shown in the green section are the top performers for the past year that also have positive returns for the past three and six months. The funds shown in the red section are shown for reference.
Note that Malaysia failed to make the green section because of a small three month loss. Also, Brazil broader market returns are well below small caps for that country. Finally, performance for both China and Japan are dismal. There are other ETFs for China that show slightly better performance numbers than FXI, but far below green section numbers.
The U.S. fails to make the green zone because of a fractional loss for the past six months for the S&P 500. The NasDaq 100 (not shown in the table) would fail to make the list because of a 7.1% decline over the past three months and because the one year return of 17.1% is too low to match the other one year returns.
Disclosure: Long several S&P 500 stocks as well as long and short some Nasdaq stocks.