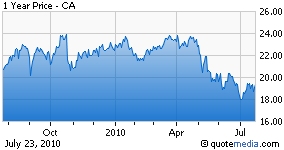 CA Technologies (NASDAQ:CA) grew steadily during calendar 2Q10, reporting $1.09 billion in revenue, marking 4.5% year-to-year growth. The company reported that growth was mainly due to an increase in sales of Service Assurance and through the additions of 3Tera, Nimsoft, and NetQoS, which CA Technologies had acquired at the end of calendar 2009. These increases outweighed the declines in virtualization, Service Automation, Identity & Access Management, and mainframes. Despite some declines in business segments, revenue growth remains consistent with prior quarters.
CA Technologies also reported a shift from contracts to standalone products, as the company released 20 new products within the quarter. TBR believes that as CA Technologies works to rebrand the company away from a comprehensive software portfolio to a more focused, product-centric portfolio, it will continue to see a shift toward standalone products. As a result of this trend, bookings decreased 30% year-to-year to $750 million, while the backlog increased to $7.7 billion.
CA Technologies' backlog is a better indication of future performance as it smoothes the revenue curve. Subscriptions in the backlog are recognized over time and allow revenue growth to remain steady, making the overall business more stable and less susceptible to the causal effects of the recession. As a result, CA Technologies suffered minimal declines during the worst quarters of the recession and provided modest growth guidance of 4.4% - 4.5% for fiscal 2011.
A new customer focus
CA Technologies is outlining new strategies to compete in the software industry after a history of being a comprehensive software vendor without a unified solution set. Rather CA will focus on technologies that will drive growth, and divest technologies which are not strategic to the company. CA Technologies outlined five strategic areas for growth: virtualization, Software-as-a-Service (SaaS) management, security, cloud, and mainframe. With a product-centric strategy outlined, CA Technologies is aligning its go-to-market strategy to become more customer oriented.
CA created a new organization called Customer Solutions Group, headed by David Dobson, to help the company refocus technologies and strategies on customer solution areas. Applications vendor, SAP, also began to drive a more customer focused strategy after reorganizing the company in calendar 4Q09. TBR believes taking a more customer focused approach, like SAP is also trying to do, will help CA Technologies gain customer loyalty.
Cloud opportunities are huge
TBR believes that CA Technologies' focus on cloud, virtualization, and SaaS is a long-term strategic focus for the company as these markets begin to explode with growth. Although mainframe remains the bread and butter for the company and has an image of being stagnant technology, CA's cloud portfolios will revitalize customer perceptions, which aligns with the corporate goal to rebrand itself as a vendor that is on the forefront of technology.
TBR 2009 cloud studies indicate that by 2015, there will be a $250 billion cloud market opportunity, with SaaS driving 54% of that opportunity. TBR believes CA Technologies is positioning themselves to capture growth in a market that will disrupt the software industry landscape.
Disclosure: No position